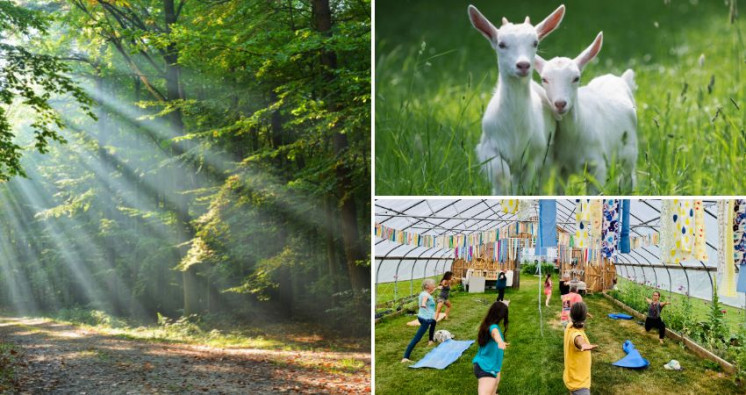 There are many ways to take care of ourselves. Whether it's spending time on a favorite hobby, digging in the garden, going for a hike, or attending a weekly yoga class, wellness means different things to different people. Taking a moment or an afternoon for yourself is vital to wellbeing, health, and overall happiness. Vermont Open Farm Week is the perfect time to get outside, focus on being present, and do something just for the fun of it.
Let's go for a walk
Cambridge
Monday, August 9th, 7:30am - 9:00am
Join The Farm Between for a morning birding walk around the farm. The group will gather at the parking area and then explore the farm's trail system across 18 acres of fields, fruit trees, and berry plants with longtime birder John McKay. While the tour will be in mown areas, prepare for wet and possibly tall grass and dress appropriately. No pets please.
Please register by emailing [email protected].
Putney
Tuesday, August 11th, 6:00pm - 7:00pm
Take a guided walk through Morse Brook's fields and enjoy the trails and views with their enthusiastic hiking goats. Please leave your canine companions at home, the goats will appreciate it!
This activity is weather dependent; and there are a few hike options depending upon the length and difficulty level you would prefer.
Pre-registration is required.
Tunbridge
Tuesday, August 10th, 3:00pm - 6:00pm & Thursday, August 12th, 9:00am - 12:00pm
Come enjoy a short hike through meadow to the edge of the forest for views of the First Branch Valley, and learn about the new White River Land Collaborative, the history of the property, regenerative grazing, agrovoltaics, and more! The hike is self-guided but information about the trail and the project will be provided and a member of the White River Land Collaborative will be on hand to answer questions.
Free; no registration required. No dogs allowed.
Danby
Thursday, August 12th, 5:30pm - 7:00pm
Join Bruce Ketcham and Scott Lehmer for a wild edible walk around the main campus and shaded hedgerow of Smokey House Center. Wild edible plants and beginner level plant identification will be discussed through basic botany, as well as how, where, and when to look for specific seasonal edible plants for culinary and medicinal uses.
Bruce Ketcham is a trained herbalist. Scott is a local Danby resident who has spent hours in the forest at Smokey House Center. Together, they are both self-proclaimed plant geeks!
This workshop will take place outdoors and involves movement. The full walk is just shy of 1 mile with minimal elevation gain.
Meet in the Smokey House Center parking lot at 426 Danby Mountain Road in Danby. Due to the fact that this event is a walk, please try to arrive on time otherwise the group might not be within visible sight. Comfortable walking shoes and water suggested.
Let's have a picnic!
Plainfield
Tuesday, August 10th, 11:00am - 2:00pm
Bring a blanket and a lunch and enjoy a picnic adjacent to the pasture of the oldest registered fold of Highland Cattle in the United States. Gaze out at the Worcester Range and beyond to the Adirondacks, enjoying one of the most picturesque views in Vermont. Comb a Highland cow or calf and discover how peaceful communing with this heritage breed can be. Greenfield Highland's 100% grass-fed and finished beef can be purchased at the Plainfield farm. Event cost is by donation.
Hubbardton
Thursday, August 12th - Saturday, August 14th,

11:00am - 7:00pm
Come take in the beauty of the Taconic Mountains, and this historic 210 year old farm built around 1810. Built by one of the Hubbard family members, it is one of the original homesteads in what is now known as Hubbardton. The walk will take you through Frog Hollow Farm's 45 acres of fields and pastures on the farm, sharing some of the history and what's being done to restore the buildings and the land. See the sheep and cows in the pasture, the chickens and goats roaming the farm, and walk through the fields growing heirloom produce.
The hike will take you to one of the farmers' favorite spots on the farm: the 100 year old orchard. Here you can take in the incredible views of the mountains and nearby Lake Bomoseen while you enjoy an optional picnic that can be purchased and picked up prior to your hike. Picnic lunches will include everything you need for a lawn picnic, prepared by Frog Hollow Farms owner & executive chef - just bring your own blanket.
The farm will be open rain or shine, and the hike does include some steep rolling hills. Dress appropriately for the weather, and wear comfortable hiking or walking shoes. No dogs please, the hike is great for children and families. Wagons recommended for children that may have trouble walking the entire trail – strollers are not recommended.
Free, donations accepted for farm trail maintenance.
Registration not required, but recommended on the Frog Hollow Farm website: froghollowvt.com. Picnics can be purchased in advance, or first come, first served at the farm. To guarantee picnics, please order in advance.
Health & wellness with friends
Randolph
Tuesday, August 10th,

5:30pm - 6:30pm
Spend an afternoon of connection to yourself, the earth beneath your feet, and each other, with yoga teacher Beth Umba of the Yoga Farm (Bethel) and True Center Yoga (Randolph). The group will be practicing outdoors at Howling Wolf Farm, either hillside above Randolph village or in the backyard, depending on wind conditions. This will be an all-levels, hatha/yin (slower-paced) class.
$15/person. Register here.
Wolcott
Wednesday, August 11th, 4:00pm - 7:00pm
Michelle Rauch is offering 1:1 consults for Infinite Possibilities Life Coaching - the ART of living your BEST life from 4:00pm - 7:00pm, while Gianna Rose, professional yoga therapist & women's holistic health practitioner, is offering sunset yoga.
Sunset Yoga:
5:45pm until the sun sets over the exquisite venue of Sandiwood Farm
45 min. class which includes breath, postures and meditation
All ages and abilities - ADA accessible
Designed to create strength, flexibility, and balance
Community oriented
Professional yoga/pilates/meditation instructors and therapists
Outdoor in the field or under the event greenhouse
Bring a mat, towel, water and an open heart/mind
Suggested donation: $5-$20/person, with all donations supporting the Clarina Howard Nichols Foundation - a safe haven for women in Lamoille County.
Wolcott
Friday, August 13th - Sunday, August 15th
This weekend retreat is an opportunity to reconnect with your soul, spirit, and self in a community of women! You'll receive:
Tools for transformation and thriving
Deeper sense of authentic self
Infinite Possibilities workbook filled with your insights, inspirations, and affirmations
Personally tailored yoga/pilates therapy
Practices to unify mind/body/spirit to serve the highest self
Emotional Freedom Technique Practitioner Certification
Accountability partner
Wider & deeper wellness support community
Tour & stay at a unique organic producer, flower, and hemp farm
Pricing includes workshops on Infinite Possibilities - the art of living your best life and radical self care & embodiment, plus six organic, local farm-fresh meals & snacks with eggs and produce from Sandiwood Farm, and daily yoga/pilates classes. 10% of the proceeds benefit the Clarina Howard Nichols Center - a safe haven for women in the Lamoille County.
You choose your accommodation pricing:
Bring your own tent/van/shelter, etc. - $499
Tipi - $599
Double cabin - $799
Single cabin - $999
Get more information and register on their website: bewellintegrative.health. Email [email protected], [email protected], and/or [email protected] with any questions.
Shelburne
Thursday, August 12th, 6:00pm – 8:00pm
Experience the warmth and green glow of summer with Forest Bathing. Slowly walk and pause beneath the green canopy of trees, visit the plants of the understory and take in the splendid view of the land from atop of Lone Tree Hill. Give yourself this time to unplug, slow down and de-stress. Follow certified Nature & Forest Therapy Guide Duncan Murdoch through a series of sensory connection invitations to support you and enhance your connection with the green world. A locally foraged tea will be served to complete your experience.
$30/person.
Registration required. Reserve your spot here.
Brattleboro
Saturday, August 14th, 9:00am - 10:30am
Join the talented teachers from Inner Heat Yoga on the Farm for a 1-hour session of Goat Yoga featuring Retreat Farm's herd of playful and curious baby goats, followed by a 30-min meet and greet. Kid goats are naturally curious and playful and love to climb on anyone and anything. This class is designed for all levels (including beginners) and focuses on deepening our connection to nature, nurturing communications with animals, and fostering mindfulness, breath, and meditation in a gorgeous setting with some sweet and cuddly assistants.
Register ahead of time here. $25/person.
Let's play with art
Brattleboro
Wednesday, August 11th, 10:00am - 12:00pm
Put your imagination and creativity to work as you transform rocks into our smallest woodland creatures during Vermont Open Farm Week!
Free. All supplies provided. Donations welcome & appreciated.
Brattleboro
Saturday, August 14th, 10:00am - 12:00pm
Transform yourself into royalty by using petals, herbs, and leafy greens to create your very own nature crown using elements found at the Farm!
Free. All supplies provided. Donations welcome & appreciated.
Enjoy a sip with a view
Grand Isle
Saturday, August 14th, 11:30am - 3:15pm
You're invited to Ellison Estate Vineyard during Vermont Open Farm Week to meet the farmers and winemakers and explore the stunning 50-acre farm on Lake Champlain with a self-guided tour - maps will be provided. Afterwards, join for a wine tasting and check out their new tasting room on site! Last year for farm week, they had not yet released their wines, but this year, there is wine! Ellison Estate can't wait to share what they have been up to in the last year!
Registration details are on the website. Wine tastings are available at an additional cost.
These are just some of the 90+ events that await you during this fun and delicious week - there's so much to discover! Check out the complete list of Vermont Open Farm Week happenings across the state.
Funding for Open Farm Week was made possible by the U.S. Department of Agriculture's (USDA) Agricultural Marketing Service through grant
AM190100XXXXG100 . Its contents are solely the responsibility of the authors and do not necessarily represent the official views of the USDA.