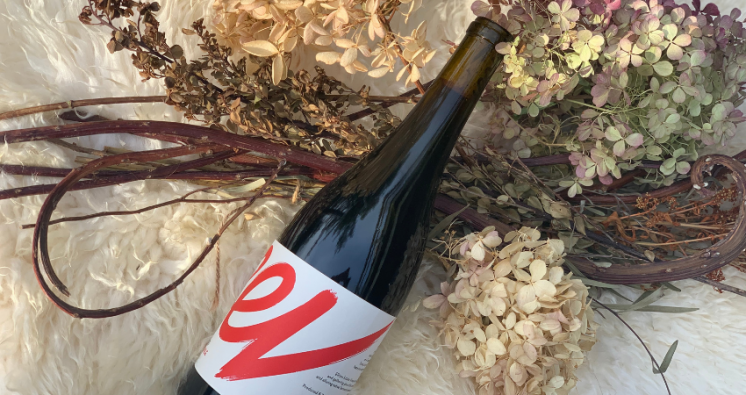 Go next level with your locally sourced Thanksgiving meal when you pair it beverages from Vermont wine and cider makers. Options for these locally produced beverages, using ingredients grown here in Vermont, only get better each year. Use the ideas below for a starting point, but be sure to check out all the local producers listed on DigInVT.
Vin de Table 2019 from Ellison Estate Vineyard - Wafting cherries and red apple skin balanced by captivating forest floor notes of autumn leaves and wet earth, with a soft leather finish, make this light to medium body still red wine an excellent addition to a Thanksgiving table. The beautifully balanced acidity, fruit and earthiness pair perfectly with turkey and the savory dishes of Thanksgiving. This wine is harmonizing and playful, a still red blend of St. Croix 56%, Frontenac Noir 19%, and Prairie Star 25%, made for a celebration.
Marquette Nouveau 2020 from Lincoln Peak - We have to start with this Nouveau, Vermont's answer to Beaujolais Nouveau (aka "Thanksgiving Wine"
Ice Cider Cocktails - From an earlier Vermont Fresh Network post of ice cider ideas, we present these cocktail hour possibilities: Ice Cider Basil Royale, Vermont Ice Cider Cocktail from Boyden Valley Winery, Cider meets Guinness (if the Internet says it tastes good then it must), a long cocktail list from Quebec (technically they had ice cider first, so it's okay, we can trust them).
Putney Mountain Simply Cranberry Wine with Vermont Blue Cheeses: Cranberries and blue cheese are a classic combination, so it's no surprise that the same is true for cranberry wine
Sparkling Cranberry Mead from Artesano Meadery: A slightly unexpected version of "cranberry", this light effervescent mead matches particularly well to dishes with a strong spice profile - and if you're the type to pile all the leftovers into a giant sandwich the next day, this is a great choice (every dish needs a recommended pairing, even Dagwoodian sandwiches).
Maquam Pear Wine (it's in high demand and short supply!), Putney Mountain Simply Pear Wine, or Eden Cider's Harvest Ciders have the hint of pear and apple that pair with your holiday menu.
Sapling Maple Liqueur from Saxton's River Distillery and Whipped Cream: Combine this maple dessert beverage with fresh Vermont heavy cream, whip, dollop, and any dessert will be heavenly. (To be more specific, combine 1 cup cream, 1.5 Tb liqueur, 1 Tb confectioner's sugar in a chilled bowl and whip until there are soft peaks).