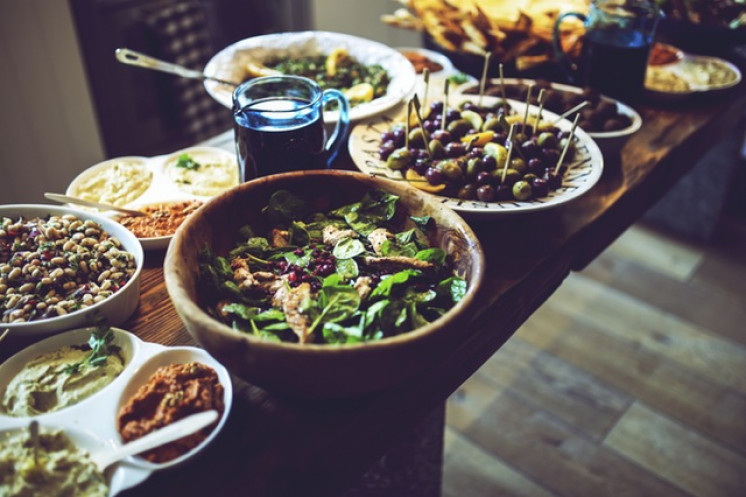 Make this a truly local Thanksgiving and try one of these seasonal recipes from your favorite VFN chef or farmer.
Need help finding ingredients? Try a DigInVT Farm Market, Co-op or Local Food Market! 
Brussels Sprouts with Vinegar Cured Guanciale and Cheese from Edson Hill, Stowe
Ingredients:     
2lbs Brussels Sprouts 
2 tablespoons butter 
2 teaspoons red chili flake 
1 lemon juiced and used for zest 
8 oz of favorite local Vermont cheese (your choice, great with goat cheese, or firmer cow's milk cheese like Mt. Mansfield Chin Clip)     
Guanciale Mixture:     
2 cup local cured pork jowl, finely chopped in a brunoise (small pieces) 
¼ cup rice wine vinegar     
Prepare: To make the guanciale, place chopped jowl in pan, render on low heat. Add vinegar and leave all of the rendered fat. Cook until the guanciale is crispy.     
To make brussels sprouts. Wash and cut all in half. Place on sheet tray, season with salt and pepper and place in oven at 350 degrees for 14 minutes. Take the sprouts out of the oven and place in skillet with butter and chili flake. Saute the brussels sprouts until browned. Add ¼ cup of guanciale and vinegar mixture. Add the juice of one lemon. To finish, place in bowl and top with the zest of ½ the lemon rind. Top with grated firm cheese or soft cheese of your choice.
Danish Rødkål (red cabbage, literally) from Lincoln Peak Vineyard, New Haven
Ingredients:
1 large head red cabbage 
2 apples 
3/4 cup apple cider vinegar 
2/3 cup black currant syrup or juice (or red currant, pomegranate, or elderberry, in order of preference if you don't have it) 
3 – 4 tablespoons sugar 
1/2 tablespoon salt 
1 tablespoon butter   
Prepare: Slice cabbage thinly, removing outer leaves and core. Peel and dice apples. Cook cabbage, apple, vinegar, juice, sugar, and salt in a large pot over low heat. Simmer covered for 3 hours, stirring occasionally. When done, stir in butter until melted and serve hot.
Sweet Potato Chess Pie from The Dorset Inn, Dorset
Ingredients:
1 pie crust 
1/2 cup butter, melted 
1 sweet potato (about 1 pound), baked and pureed 
1 cup granulated sugar
1/2 cup brown sugar 
1 TBSP vinegar 
1 tsp cinnamon 
4 eggs 
2 tsp vanilla 
3 TBSPs all-purpose flour 
5 oz marshmallows 
Prepare: Preheat your oven to 350 degrees and line a deep dish 9-inch pie pan with your pie crust. 
Whisk together the potato and melted butter. Stir in all the remaining ingredients except the marshmallows. Pour it into the pie crust and bake for 40 to 45 minutes, until the edges are set but the middle has a little jiggle still to it. Take the pie out and dot it with the marshmallows. Turn on your broiler and put the pie back in, watching very closely. Broil until the marshmallows turn brown on top, about five minutes. When you take the pie out, the marshmallows will be standing up and look weird, but as the pie cools they will fall and make a nice toasted marshmallow layer. Let cool on the counter for a half hour and then completely in the refrigerator overnight.
Festive Salad from Dorset Rising, Dorset 
Ingredients:
1 1/2 lb. small sweet potatoes, cut lengthwise into 1/2" wedges 
1 small head cauliflower, cut into florets 
7 tbsp. extra-virgin olive oil, divided 
Kosher salt 
Freshly ground black pepper 
3 tbsp. sherry vinegar 
8 c. torn mixed lettuces 
2/3 c. pomegranate seeds 
Prepare: Toss together sweet potatoes, cauliflower, 3 tablespoons olive oil, salt and pepper on a rimmed baking sheet. Roast at 425 degrees F, tossing once, until golden, 25 to 30 minutes; cool.  Whisk together remaining olive oil, sherry vinegar, salt and pepper in a bowl. Add lettuces, pomegranate seeds, and roasted vegetables; toss to coat. Serve immediately.
Oyster Mushroom Bread Pudding from MoTown Mushrooms, Morrisville
Ingredients:
4 cups (1/2-inch) fresh bread cubes (preferably brioche or challah; about 5 ounces)
1 1/2 pounds mixed fresh oyster mushrooms (pearl, blue, gray or king), trimmed
1/2 cup finely chopped shallot
2 tablespoons unsalted butter
2 tbsp spoons finely chopped flat-leaf parsley
2 tsb spoons finely chopped fresh rosemary
2 tbsp spoons cup finely chopped fresh thyme
1 tbsp spoon finely chopped fresh sage
2 large garlic cloves, finely chopped
2 cups heavy cream
4 large eggs
2/3 cup grated Parmigiano-Reggiano
Equipment: 2 mini-muffin trays or 1 regular muffin tray
Prepare: Preheat oven to 350°F with rack in middle. Bake bread cubes in a single layer in a large shallow baking pan until crispy without browning them, about 10 minutes.
Tear or cut mushrooms lengthwise into 1/4-inch-thick pieces. Cook shallot in butter in a 12-inch heavy skillet over medium heat, stirring occasionally, until beginning to soften, about 3 minutes. Add mushrooms, 1/2 teaspoon salt, and 1/4 teaspoon pepper and cook until liquid mushrooms give off has evaporated, about 15 minutes. Add herbs and garlic and cook, stirring, 2 minutes. Remove from heat.
Whisk together heavy cream, eggs, 1/2 cup of cheese, 1/2 teaspoon salt, and 1/4 teaspoon pepper in a large bowl. Stir in mushrooms and bread cubes until coated well and let stand 10 minutes for bread to absorb some of egg mixture.
Meanwhile, spray muffin trays with cooking oil. Spoon mixture into muffin trays and finish by adding the leftover cheese on top.  Bake until firm to the touch and golden brown, 20 to 35 minutes.
Unmold puddings and serve.
Ingredients:
2 cups maple syrup
6 cups toasted almonds
Prepare: Boil 2 cups of maple syrup to 250 degrees on a candy thermometer. Pour over 6 cups of toasted almonds. Stir. Each nut will be covered with a fine, maple sugar coating.