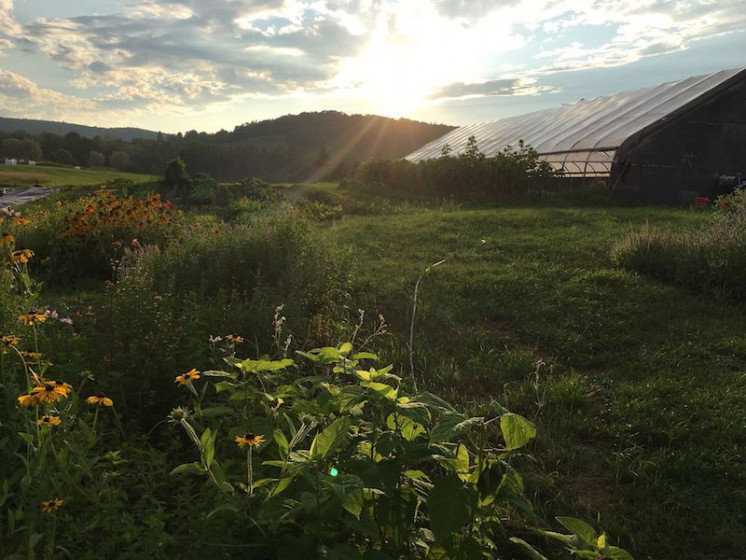 Last week was the third annual Vermont Open Farm Week and what a week it was! Farmers throughout the state worked tirelessly to provide guests with incredible, accessible experiences - and the response was fantastic! Visitors came from near and far to find some on-farm fun. Whether farms hosted a dinner, workshop, tour or tasting - each event was successful in bringing people closer to Vermont's working landscape and offered a unique glance into Vermont's diverse agricultural communities. You can make every week an Open Farm Week! Use DigInVT.com to find farms open to the public and farm and food events across Vermont.
The Open Farm Week organizing committee was lucky enough to visit some of these farms to take pictures and chat with guests. We ate farm-fresh fried chicken & pancakes, braided garlic, pet goats, fed ducks, taste-tested maple & beef, brushed Highland Cattle, made our own wool slippers, learned about flowers, herbs, bees & more! Below are some highlights from the week. 
Open Farm Week is a collaborative statewide agritourism project organized by members of the Vermont Farm to Plate Network including City Market, DigInVT.com, Shelburne Farms and Farm‐Based Education, NOFA‐VT, University of Vermont Extension, Vermont Agency of Agriculture, Food & Markets, Vermont Fresh Network and the Vermont Department of Tourism and Marketing. DigInVT.com is an online agritourism platform, run by a partnership of local nonprofit organizations, and virtual home to Open Farm Week. Vermont Open Farm Week is made possible by the generous support of its Premiere Sponsor, City Market/Onion River Coop and Media Sponsor, Front Porch Forum.
A huge thanks to participating farms, the Open Farm Week Organizing team and our generous sponsors for making the week a success.
Cows at Vermont Farmstead Cheese Company, Woodstock
Poetry Reading and Farm Tour at Crossmolina Farm, Corinth
Pigs and big sky! at Crossmolina Farm, Corinth
Garlic Braiding at Last Resort Farm, Bristol
The finished product, Last Resort Farm, Bristol
Maple Wind Farm Fried Chicken Dinner, Richmond
Chore Tour at Rebop Farm, Brattleboro
Farmer Ray Shatney at Greenfield Highland Beef, Plainfield
The perfect way to enjoy a hot day at Greenfield Highland Beef, Plainfield
Farm Dinner at Sandiwood Farm, Wolcott
Basket Making at Sandiwood Farm, Wolcott
Slipper making and lunch at Trollhaugen Farm, Newfane
Touring Trillium Hill Farm before dinner, Hinesburg
Paint and Sip Sap Buckets at Jed's Maple, Derby
Tour and Tea Tasting at Free Verse Farm, Chelsea
Goat meet and greet at Boston Post Dairy, Enosburg Falls
Crop mob with City Market at Pitchfork Farm, Burlington