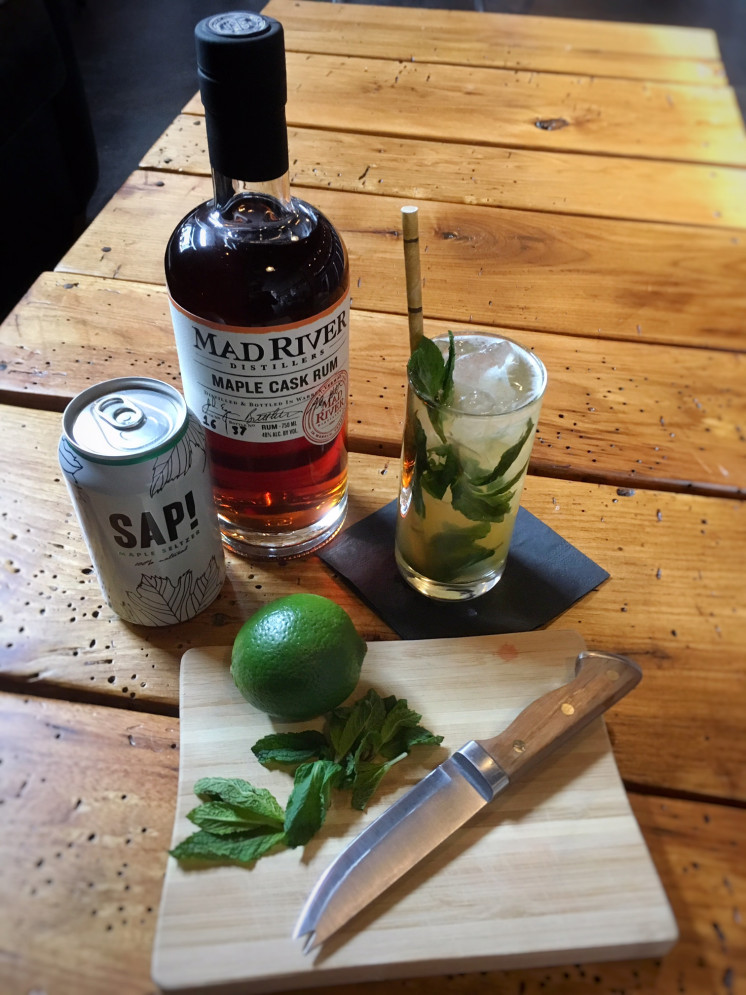 Maple Cask Rum is a collaboration between Mad River Distillers in Warren and Wood's Vermont Syrup Company in Randolph. After aging the First Run Rum in charred and toasted new oak barrels, Mad River sends the empty rum barrels to Al Wood. He fills them with his homemade maple syrup and then ages the product at his sugarhouse. Once the syrup is bottled, the seasoned barrels are returned to Mad River Distillers, where aged rum is finished inside of them in their rickhouse. The resulting Maple Cask Rum is a sugar cane based spirit that drinks like a whiskey. It has notes of maple sweetness and oak, vanilla and toffee flavors.
Mad River Distillery still is tucked away inside Vermont's beautiful Mad River Valley, where they produce their locally inspired liquors. Just last year, they opened a cocktail bar and tasting room in downtown Burlington, Vermont where they can share their love of craft cocktails with a rapt audience. 
What We're Drinking: Maple Cask Rum Maple Mojito, paired with mint and SAP! Maple seltzer
Where: Mad River Distiller's cocktail shop in Burlington. 137 St. Paul St. Burlington, VT 05401.
Maple Mojito

2 oz Maple Cask Rum
.5 oz Fresh Lime Juice
.75 oz Simple Syrup
6 mint leaves
Shake the ingredients over ice until frosty and strain into an ice-filled highball glass. Top with SAP Maple Seltzer and garnish with fresh mint.