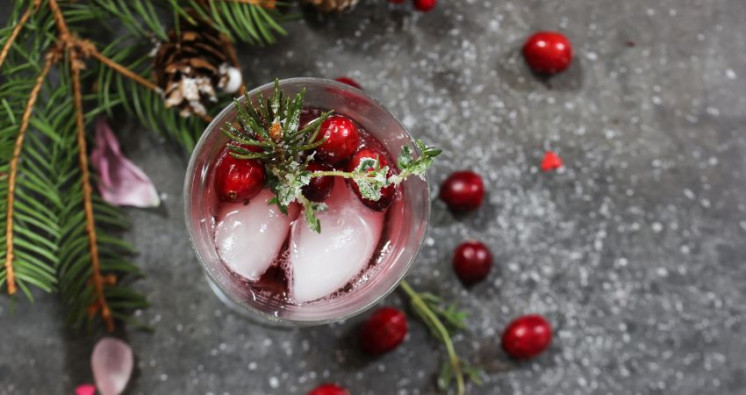 Here at DigInVT we love cocktails year round, but we especially love them during the Holiday time. When the sun goes down early and it's cold outside, we find ourselves venturing out to find the perfect cocktail to warm us up. We reached out to some of our favorite restaurants, mixologists, and makers to find out what their favorite cocktails are this Holiday season. With the option to drink these seasonal cocktails at Caledonia Spirts Distillers of Barr Hill Gin, Saxtons River Distillery, Wunderbar, Mad River Distillers, or Hen of the Wood or make them at home, you'll definitely be inspired to get your Holiday drinking on.
The team at Caledonia Spirit Distillers of Bar Hill Gin says-
The Jungle Cat is a refreshing wintry spin on a classic tropical cocktail. It's not your typical holiday cocktail but it's rich and enveloping with a beautiful bittersweet balance. It's a fun cocktail for the holiday season and shows that certain tropical cocktails can work even in the colder months. Plus who doesn't want a little tropical escape in the winter??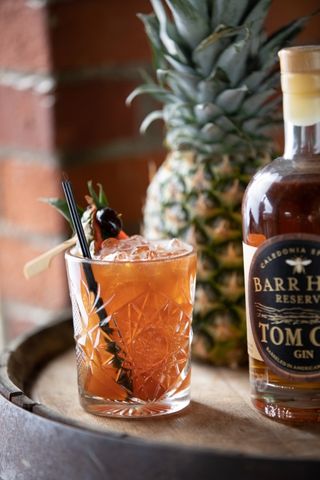 The Jungle Cat
1.5oz Tom Cat Gin
0.75oz Campari
1.5oz Fresh pineapple
0.5oz Fresh lime juice
0.5oz VT maple syrup
Shake all ingredients with ice and strain over crushed ice.
The bartending team at Saxtons Distillery (155 Chickering Blvd, in Brattleboro, VT) works together to develop a rotating menu of cocktails.
The team noted that one of their favorite holiday cocktails is "The North Star because of its simple yet gratifying local ingredients. The combination of maple, orange, and walnut is reminiscent of warming holiday flavors." Saxtons River Distillery just opened its first store. The Saxtons Tasting Room and Mercantile can be found at 2 Elliot St. in Brattleboro. All of the ingredients below can be purchased at the mercantile, so you can easily make the North Star at home too!

The North Star
2.5 oz Saxtons Sapling Double Barrel Maple Bourbon
2 dashes orange bitters
1 dash of Nocino* by Vermont Vermouth
Star anise, whole, for garnish
Add all ingredients to a rocks glass with an ice sphere or large cube. Stir gently and garnish with star anise.
*Nocino is an Italian liqueur made with unripe walnuts
**Please note that Saxtons uses local maple syrup in their Maple Bourbons and Ryes. Vermont Vermouth uses local unripe walnuts in its Nocino.
The team at Mad River Distillers says-
We love to incorporate and support other local products in our cocktails. In our Hot Toddy and Trickster cocktails, we use locally sourced Pure Raw Honey. We're currently using Natures Own Bees which is based out of Fairhaven. We like to use local, raw honey specifically, as it is thought to help with allergies. These are popular cocktails around the holidays as they are perfect for getting cozy when the weather is cool.

Hot Toddy
1.5 oz Maple Cask Rum (or Bourbon)
1/2 oz fresh lemon Juice
1/2 oz honey ginger syrup
2 dashes El Guapo Chicory Pecan Bitters
2 dashes Bennett Aromatic Bitters
Hot Water
Combine ingredients in your favorite mug.
Top off with hot water.
Stir and garnish with candied ginger and a lemon peel.
To make honey ginger syrup:
Dissolve 1 part raw local honey with 1 part hot water to make a honey syrup.
Dissolve 8 parts honey syrup with 1 part fresh juiced ginger root.
This simple cold weather warmer pairs the flavors of honey and lemon with our Maple Cask Rum or Bourbon.
Maggie Bozzuti, the Bar Manager at the Burlington Hen of the Wood says-
The Vesper in the Woods is a simple, aromatic take on a classic, featuring one of my favorite local spirits as its base heightened by Hooker Mtn. Farm & Distillery's Spruce Gin, a bright and woodsy herbaceous spirit. I'm briefly aging this cocktail in small oak barrels to soften the edges and bring out the earthiness of the spruce and adding a touch of honey to finish. In my mind it's as if a great martini took a walk in the woods...

The Vesper in the Woods
1.5 oz Barr Hill Gin
0.5 oz Hooker Mountain Spruce
0.5 oz Lillet
0.5 oz Vodka
Barspoon Honey
Stirred, strained into a coupe, and garnished with a lemon zest

Buffalo Plaid
1.75 oz Wild Turkey 101
1.5 oz local Apple cider
0.5 oz Averna Amaro
0.25 oz lemon juice
1/2 tsp Allspice Dram
1 tsp Demerara simple syrup
2 dashes of allspice bitters
Add all ingredients to shaker filled with ice. Shake for 20 seconds until chilled. Double strain into rocks glass over large ice. Garnish with orange peel or dehydrated orange wheel. Cheers!