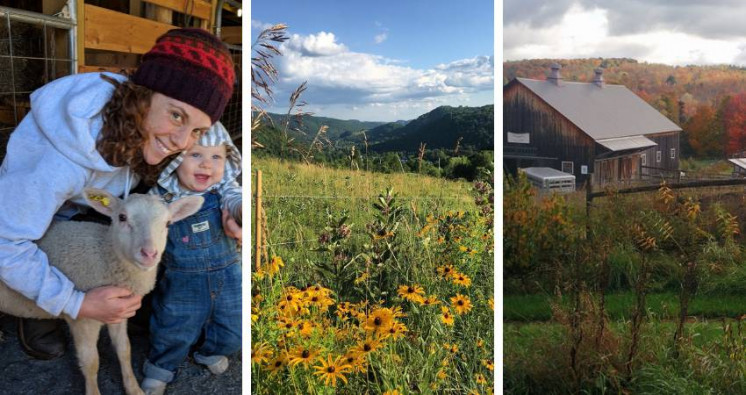 Have you decided where you're staying during your next trip to Vermont?  Consider a farm stay.  Spending time at a farm offers a unique experience, which pairs the enjoyment of local food with a first hand account of where it comes from. The best part....you get to meet the farmers.  So take out your calendar, pick a week or a weekend, and plan a farm stay.
Explore the map
There are farm stays all over the state. This is a great way to explore a new area of the state or to visit an old favorite and get a new perspective.  Check out our map of farm stays in Vermont.
"If you're considering a farm stay, I'd recommend picking somewhere where you'd actually like to spend a bit of time. Staying at a farm offers a much more engaging experience than staying at a hotel or Airbnb, since you're staying on land that is managed with intention, often in a picturesque location! As a result, I'd recommend not over-scheduling your trip, which will allow you to enjoy some downtime at your farm stay. When people come to camp on our farm, we're always happy to give them recommendations for great places to hike, bike, swim, drink, and eat. But we also find that a lot of people just want to get some groceries and then relax at their campsite!
We often find ourselves talking about our farming practices, what we make and grow, and what our community is like. Since campers are usually coming from cities, they are often content to learn a little about what we do, and then head off to their campsite to relax, enjoy the view, cook up some simple food (accompanied by a few Vermont microbrews), and prepare for a night full of stars and a morning with a stunning, mist-laden sunrise."
How do you like to travel?
Are you looking for a cozy weekend for two with a fully equipped cabin or do you prefer a more rustic camping experience with the kids?  Vermont farms offer many different types of accommodations and experiences. From completely off-grid to internet accessible, from prepared meals of farm fresh food to an onsite kitchen where you can cook straight from the garden.  
Todd Heyman from Fat Sheep Farm in Hartland says….
"There is a big variety of the type of lodging and the farming activities to choose from. Some places are more rustic with rooms in the main farm house, and others are the opposite, for example, we offer modern, private stand-alone cabins with kitchens to use the food we produce.  Also, some places focus on just vegetables, livestock, or dairy, and others have a variety of enterprises to explore. We do vegetable tours, the opportunity to take our sheep and goats to pasture, collect the eggs from the hens, milk the sheep, and this year, the chance to check out our creamery where we will be making sheep's milk cheese. People should think about the type of activities they would enjoy, particularly for kids if it is a family traveling."
Family time
Do you want to introduce your kids to where their food comes from? Stay at a working dairy farm that serves a family meal.  Why not pair a favorite family hobby or pass time with a farm stay.  Your kids can enjoy gathering eggs for breakfast and then go hiking or fishing depending on the season.  
Embrace the experience
While you are learning about your farm, don't be afraid to get a little dirty.  Gather the eggs for your breakfast, pull the carrots for your dinner, and learn about the animals and how they are raised.  This is your chance to really see where your food comes from.
"Be open to the true intimacy of authentic experiences on working farms. Some folks arrive with expectations of interacting with livestock as if they are pets, sometimes fixated literally on wanting to pet the pigs or hold the chickens. You can have that experience at a petting zoo. But on a working farm the special opportunity is to access farmers, plants and animals doing their real life thing. Often visiting our farm is more akin to watching nature and wildlife.
Every day, every moment is different. You will watch the flocks of chickens and turkeys adeptly finding bugs for snacks and chowing on succulent pasture. You will smell herbs crushed underfoot or the soil after the rain, see fruits hanging in reach and wind up tasting it spontaneously. You'll hear a proud hen and find her egg is still warm to the touch or watch pigs napping in a pig pile, making Vitamin D. The mundane bits invite you in and help you unplug from our busy tech-heavy world. Beyond unplugging, the even more powerful opportunity is to plug into the cycle of life. Birth, death, growth and senescence are always part of a farm day and a farm stay can be fundamentally grounding and fulfilling if one arrives with curiosity."
Enjoy the season
Don't feel like your time at the farm only needs to happen in the summertime. You can enjoy a farm stay experience year round. In the winter, cross country skiers and snowshoers should consider staying at a farm with groomed trails onsite or nearby. If you like to bake, consider choosing a place that offers PYO berries in the summer or apples in the fall with an onsite kitchen.
Area Events
Some of our farms have concerts or fried chicken dinners and other events onsite. While you're staying at the farm you can also attend some of the many events happening in the area.  If you are planning to attend a very special dinner in August, why not stay at one of the farms providing the food.  Or maybe you are a fan of wine, choose to stay at a vineyard.