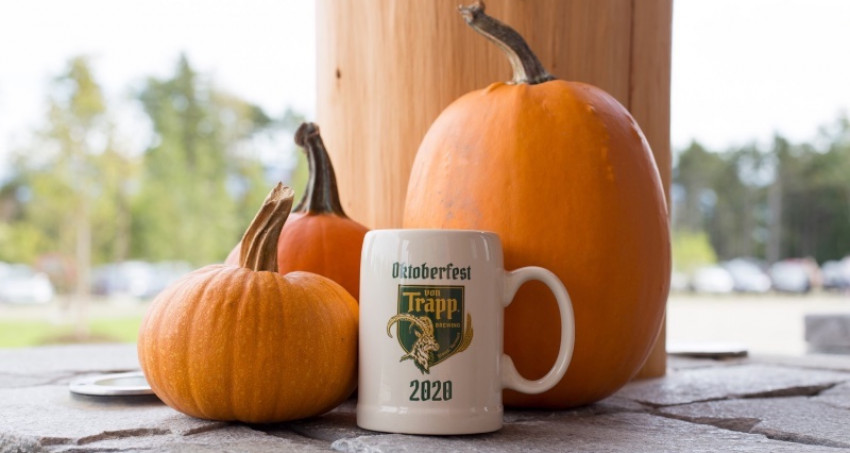 From von Trapp Brewing:
Our Biergarten and Bierhall will be transformed into an Oktoberfest celebration that will be fun and physically distanced. This year entry will be timed to ensure everyone has an assigned table to enjoy the day. Tickets are sold by the table this year to ensure related parties sit together in their social family.

Our 3 seating times for Saturday September 19 are:
12pm - 2:30pm
3pm - 5:30pm
6pm - 8:30pm

Our 2 seating times for Sunday September 20 are:
12pm - 2:30pm
3pm - 5:30pm

We are selling outdoor tables under a tent for 8 persons, and limited indoor tables for 4, 6 or 8 guests inside the Bierhall.

Tickets are $35 per person, plus tax and gratuity (which is included in the table's rate).

The first 400 tickets sold will receive a commemorative 2020 Oktoberfest stein!

Each ticket sold includes one lager beer, an array of Austrian-style foods for your group served family-style, live Bavarian-style music from the Vermont German band Inseldudler (on Saturday only), and either a commemorative stein (for the first 400 ticket holders) or a von Trapp Willi Becher logo glass.

(If you arrive with fewer guests than your table can fit, you will still receive enough food, von Trapp lagers, and glasses or steins for the number of people allowed at your table. i.e - If you arrive with 4 or 6 people and you purchased a table for 8, you will still get 8 beers, glass or steins and food for 8.)

We ask that parties eating together try to carpool.

We look forward to seeing you in Stowe, Vermont this September!

Prost!

* Tickets are sold by the table and include 17% staff gratuity. No child priced tickets available. Children are considered 1 seat at any table purchased. You may not seat more than the number of guests of your table's capacity due to Vermont state regulations. Tables are first come, first choice for seating. Masks must be worn at all times unless seated eating or drinking at your assigned table.