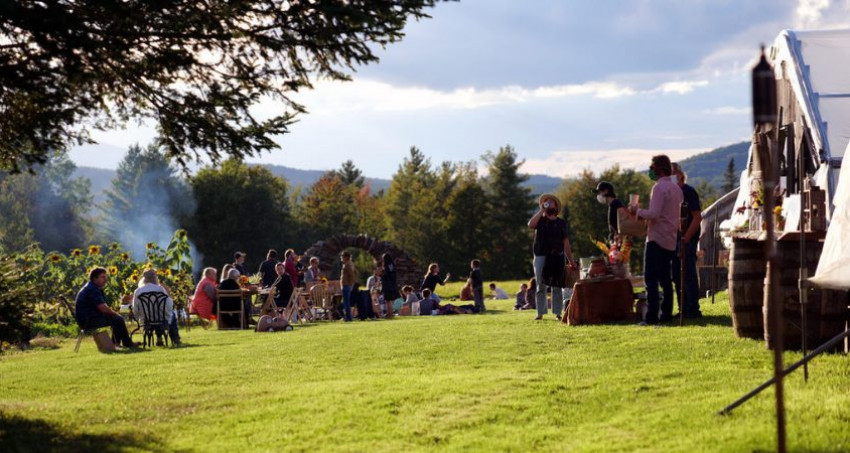 Sat, Aug. 13, 2022 6:00 PM – 9:00 PM
Come meet the growers Bob and Sara Schlosser, see some of the crops, experience an amazing sunset while enjoying live music from by Chris Lyons & Tristan Sellars, local musicians that will get you moving and grooving. A gourmet chef will be making a vegetarian boxed picnic dinner including farm raised produce, local bread, cheese, & more. Dessert will be included along with a complimentary local brew or lemonade. Bring a blanket, tables will also be set up outside and in our agritourism greenhouse. Rain or shine event!
Cost is $65/person. Children are $20. Pre-registration is highly encouraged: https://sandiwoodfarm.com/special-events/
A kirtan leader will donate time, music and energy for a yoga class from 4 -5:30pm before the farm dinner. Asking for $20 donations for the kirtan class to support the farm share program. You can come to yoga and not dinner or dinner and not yoga or both!
Note: Sandiwood Farm is located 1.7 miles up Town Hill off of Route 15 in Wolcott. Box 1665 will be on the right, while the driveway to the farm will be on the left.
Sandiwood Farm is a source of high-quality, low impact farm products and services. They offer naturally raised produce and farm shares (CSA), hemp & CBD products, as well as maple syrup, and a beautiful venue for one-of-a-kind events and farm stay experiences. Farmers Bob & Sara want to help people connect with fresh produce and have authentic recreational, dining, and farm stay experiences that keep the community fed and farmland in production.
Related Events (1)
Related Places (1)