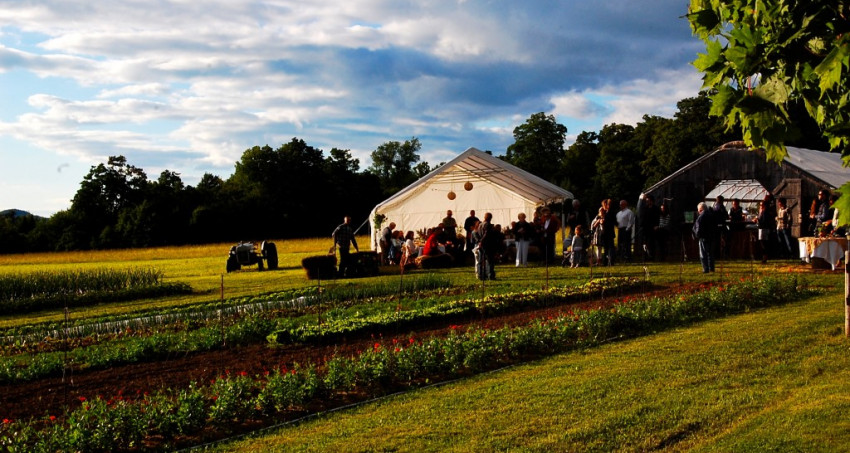 Sat, Jul. 16, 2022 5:00 PM – 6:30 PM
5PM farm opens; Ballet 6:30 PM
"Sandiwood Farm is a source of high-quality, low impact, farm products and services offering a unique, beautiful farm venue for one-of-a-kind events, artisan maple syrup & CBD hemp products with nationwide shipping, farmstand produce with value added farm products & farm stay experiences. Farm owner Sara Schlosser is a Justice of the Peace and takes great joy in marrying couples on and off the farm. We help people have authentic recreational, dining, farm stay experiences and connect with fresh produce which keeps our farmland in production."
FOOD ON-SITE: Enjoy a deliciously local "Boxed Farm Dinner" made with produce from Sandiwood Farm. We recommend pre-ordering your gourmet picnic meal with your ticket. Popcorn, brownies and lemonade will be available for purchase the day of the show, too. You are also welcome to bring your own picnic as well. You may also purchase a food box on site the day of the event while supplies last.

​EXTRA ACTIVITIES:​ There will be tables set up to purchase the dinners, lemonade, extra food items as well as fresh produce, fruits, maple syrup and CBD products. Guests can find a spot in the field, enjoy their boxed picnic meal. You can peruse some Ballet Vermont & Sandiwood Farm merchandise, too!
The Farm to Ballet Project is a dance project intended to celebrate Vermont's farming culture while expanding classical ballet's audience. The production is performed outside against the beauty of Vermont farms and their surrounding landscape. The performances are fundraisers to support and honor the work of our local farmers and food movement.
www.farmtoballet.org
photo credit: Jonas Powell