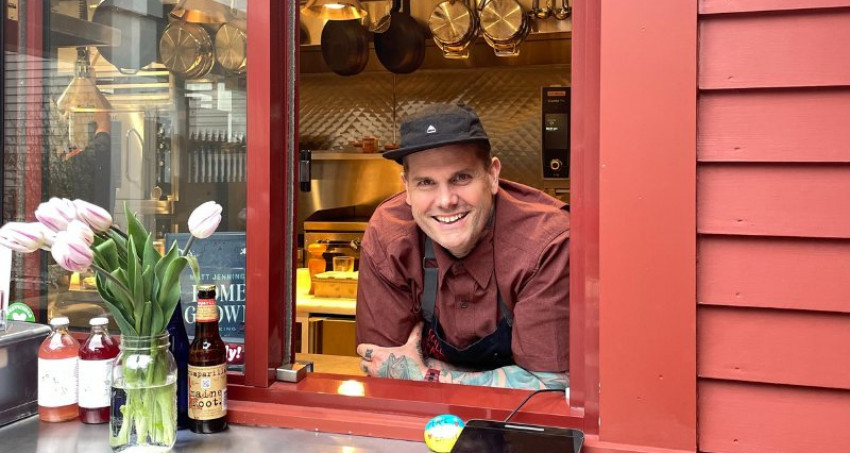 Fri, Jun. 24, 2022 6:00 PM – 8:30 PM
Join Hotel Vermont in welcoming Matt Jennings for an evening of homegrown cooking on the Brick terrace. Enjoy eats inspired by the Matt's cookbook Homegrown. Tickets include event attendance, a signed copy of Homegrown, a variety of passed and buffet style dishes, 2 welcome beverages, wine tasting with Vermont Wine Merchants, and a bit of time to chat with Matt.

Event is on Friday, 6/24 beginning at 6:00pm with a 1/2 hour arrival, followed by food served from 6:30–8:30pm.

The Menu
Lamb meatballs w/yogurt sauce
Fire roasted Harbison w/black garlic crostini
Smoked bluefish pate w/squid ink crackers
Clam rolls w/tartar sauce
Short rib and Moxie bean tacos w/spicy slaw
Red Barn Kitchen cured ham and radicchio on brown bread toast
Charcuterie, salame, country pate, liver pate etc.
Fried pickled ramps w/maple miso aioli
Cheese board, variety of local cheeses, nuts, jams

Boston Cream whoopie pies
Duck egg sabayon and strawberries
Birch beer floats

Thanks to the partners that are helping to make this event happen:
Phoenix Books
Performance Food Group
Vermont Wine Merchants
Event is in conjunction with Burlington Wine & Food.
Related Places (1)