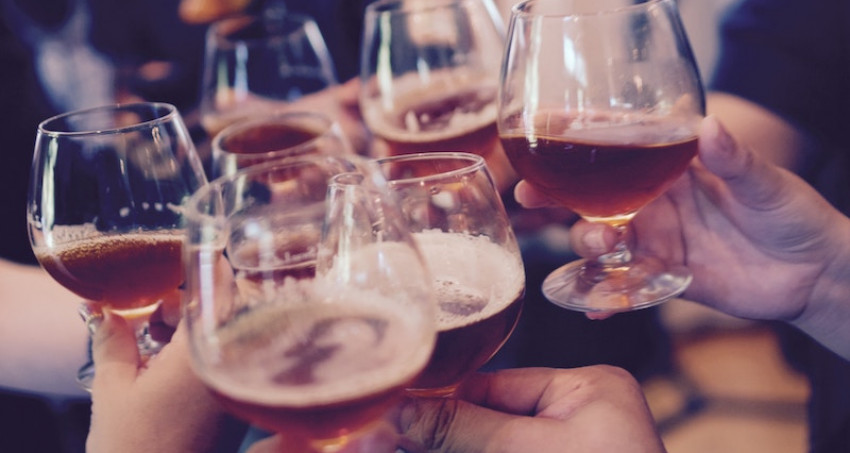 Sep. 29 — 30, 2023 12:00 PM – 5:00 PM
Wet your whistle with a backdrop of Vermont's finest autumn foliage and enjoy live music, fabulous food offerings, and dozens of the finest craft beers in the region.
Brewfest is one of Killington's most distinctive annual celebrations. This event will once again be returning to the Pico Mountain Base Area to enjoy the best in craft beers and Vermont mountain views.
Entry into Killington Brewfest is for people ages 21+ ONLY. Children of attendees and anyone under 21 will not be allowed into the venue. No outside food, drinks, backpacks, or pets will be allowed.
VIP Ticket Package
Access to festival area 1 hour before the general public
Free commemorative gift
VIP lounge area with light fare, exclusive beers, and indoor bathrooms
SCHEDULE SNAPSHOT
Friday, September 29th:
The Killington Classic, a new golf tournament featuring a festival village and live music, will take place on the day before Brewfest at the Killington Golf Course. Click HERE for full event information.
Saturday, September 30th:
VIP Tasting Session: 12:00 p.m. - 1:00 p.m.
GA Tasting Session: 1:00 p.m. - 5:00 p.m.
TICKETS
Early Bird on Advance tickets will be available on a first-come, first-served basis. Ticket pricing will automatically adjust to regular tier until the event is sold out. Please designate a driver and drink responsibly. Designated drivers will receive drink tickets for a water or soda to be redeemed at one of the Food & Beverage locations, as there will be no on-site bar.
VIP Admission: $88
Early Bird General Admission: $66 (ends on September 9th)
General Admission: $77
Designated Drivers: $15
*All prices listed above are without applicable taxes & ticketing fees.
Tickets include a commemorative drinking glass, 10-punch beer sampling card, dozens of brews to sample, and live music. An extra 5-punch sampling card will be available for purchase exclusively on-site.
This will be a rain or shine event and tickets are non-refundable. No pets allowed.
In accordance with VT Law, participants will only be allowed to purchase a total of 15 beer samples.
TASTING SESSION DETAILS
Saturday, September 30th: 1:00 p.m. - 5:00 p.m.
Since 1995, craft beer lovers have been flocking to the Green Mountains of Vermont to sample the finest brews in New England during the pinnacle of fall foliage. The event features around 40 breweries pouring dozens of craft beer styles, a vendor village, and live music.
A list of participating breweries will be published here when they are determined.
ENTERTAINMENT
The tasting session will be rocking with live music from start to finish. Live performers TBD.
IMPORTANT INFORMATION
Participants must be at least 21 years of age and a valid ID with proof of age is required. Brewfest staff may check your ID at any time during the festival. We reserve the right to deny alcohol to anyone and remove anyone from the property.
Beer samples will only be poured in 5 ounce, souvenir tasting glasses
Beers under 9% ABV: 4-ounce sample = 1 punch
Beers over 9% ABV: 4-ounce sample = 2 punches
*In accordance with VT Law, participants will only be allowed to purchase a total of 15 beer samples*
TRANSPORTATION
We will once again be offering shuttle service during the event that will loop Pico Mountain, Killington Road, the Grand Hotel, and the condos on East Mountain Road. We will also have designated pick-up areas along Killington Road for patrons. If you aren't planning to use the shuttles, please designate a driver and drink responsibly. See below for a list of scheduled bus stops:
All condos on East Mountain Road
Killington Grand Resort Hotel
The Lookout Tavern
The Wobbly Barn / Charity's 1887 Saloon
JAX Food & Games
The Foundry
The Rivershed
VENUE INFORMATION
RE-ENTRY INTO BREWFEST IS PROHIBITED. Please bring everything you'll need for the afternoon (sunscreen, hats, jackets, etc.) with you into the venue when you first arrive.
There will be a labeled smoking section inside of the venue. You will not be allowed to exit the venue to smoke if you plan on re-entering. Please refrain from smoking elsewhere in the venue.
For those who purchase General Admission tickets, the only bathrooms available in the venue will be porta-potties. VIP tickets include admission into the Pico Base Lodge, which has indoor bathrooms available.
Besides our indoor VIP access, our entire venue will be outdoors. Plan on wearing proper footwear, especially if rain is in the forecast leading up to the event.
Shaded portions of the venue under tents will be available, though limited.
Food & non-alcoholic beverages will be available for purchase from our F&B location in the venue and from certain vendors.
MUST BE 21 YEARS OF AGE WITH PROPER ID. FOR MORE INFORMATION OR TO BOOK YOUR WEEKEND, PLEASE CALL 800-621-MTNS.