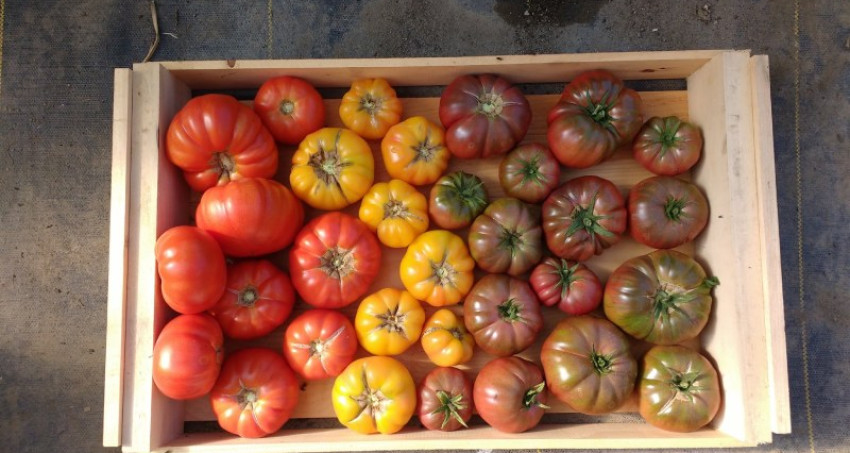 Sat, Aug. 13, 2022 4:00 PM – 6:00 PM
Come get to know Cate Farm with a choice of two events:
Cate Farm Tomato Trot 5K fun run at 4pm, and Farm Tour with demo of unusual farm equipment at 5pm.

Run around Cate Farm! The Tomato Trot 5K is a scenic trail run through farm fields and on woods roads, around the borders of Cate Farm.
The first kilometer snakes along the Winooski River and is relatively flat; the rest of the run is over small rolling hills. Each runner will receive a pound of Cate Farm tomatoes upon finishing the 5K, and anyone 65 or older who beats Richard's time gets 2 pounds of tomatoes! (FYI, Richard is not that fast:) Tomato Trot 5K registration fee is $5, sign up at www.catefarm.com. All runners must pre-register online.

5pm Farm Tour: Cate Farm has been farmed for over 200 years! A brief farm history and overview of current operations will be followed by pro tips for growing great tasting tomatoes and a tour of a tomato greenhouse. Afterwards, they'll fire up (very literally!) a tractor mounted flame weeder, and demo a soil block machine from the Netherlands used for plastic-free seedling production. Other unusual equipment will be on display (think Blind Tine weeder, Rolling Basket and Finger weeders, trolleys...) The 5pm farm tour is free of charge. Sign up on our website, www.catefarm.com.
Related Events (1)