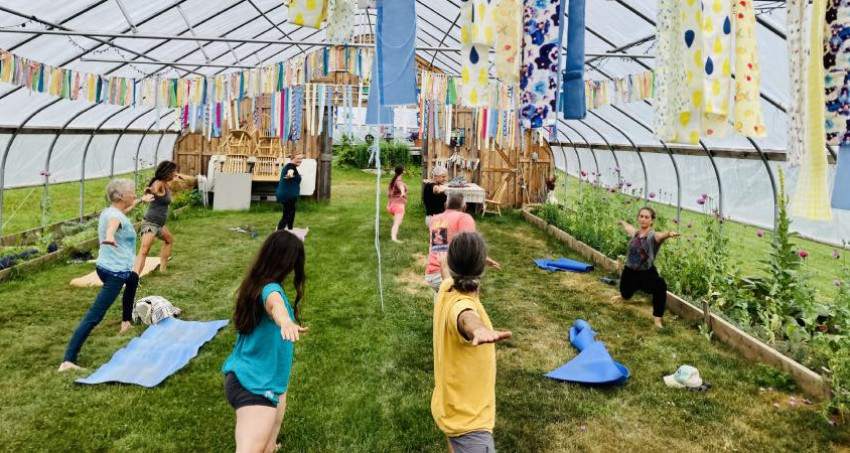 Wed, Aug. 11, 2021 4:00 PM – 7:00 PM
Head to Sandiwood Farm for Wellness Wednesday!
~Donation based health and consciousness connection classes for all ages and abilities~
Suggested donation: $5-$20/person, with all donations supporting the Clarina Howard Nichols Foundation - a safe haven for women in Lamoille County.
Michelle Rauch is offering 1:1 consults for Infinite Possibilities Life Coaching - the ART of living your BEST life from 4:00pm - 7:00pm, while Gianna Rose, professional yoga therapist & women's holistic health practitioner, is offering sunset yoga.
Sunset Yoga:
5:45pm until the sun sets over the exquisite venue of Sandiwood Farm
~45min class which includes breath, postures and meditation
- all ages and abilities - ADA accessible
-designed to create strength, flexibility, and balance
-community oriented
-professional yoga/pilates/meditation instructors and therapists
-safe, effective, and fun
-outdoor in the field or under the event greenhouse
-bring a mat, towel, water and an open heart/mind
About the practitioners:
Gianna Rose of Be Well Integrative Health: Gianna Rose is offering yoga classes in harmony with the energy of the community wellness of Sara and Bob Schlosser of Sandiwood Farm in Wolcott. Gianna believes that yoga is available for people and serving others is necessary for a healthy life. She is a professional yoga therapist and women's holistic health practitioner with over 20 years of experience. Her knowledge of body mechanics, energy and medical benefits of yoga inspires students to continue their journey. Contact Gianna Rose at 802-683-1361, [email protected]
Michelle Rauch, Life Coach is offering one on one consults to empower you to CREATE & LIVE your BEST life through Infinite Possibilities. A program that is personally tailored to give you tools to deepen your connection with inner wisdom, strength and grace. Through the gentle and powerful guidance of Michelle's years of experience as a counselor and love of life coaching you will become more insightful, inspired to be you. PLUS given accountability and action steps to support your sense of authentic self. Contact Michelle Rauch at [email protected]
Note: Sandiwood Farm is located 1.7 miles up Town Hill off of Route 15 in Wolcott. Box 1665 will be on the right, while the driveway to the farm will be on the left.
Sandiwood Farm is a source of high-quality, low impact farm products and services. They offer naturally raised produce and farm shares (CSA), hemp & CBD products, as well as maple syrup, and a beautiful venue for one-of-a-kind events and farm stay experiences. Farmers Bob & Sara want to help people connect with fresh produce and have authentic recreational, dining, and farm stay experiences that keep the community fed and farmland in production.