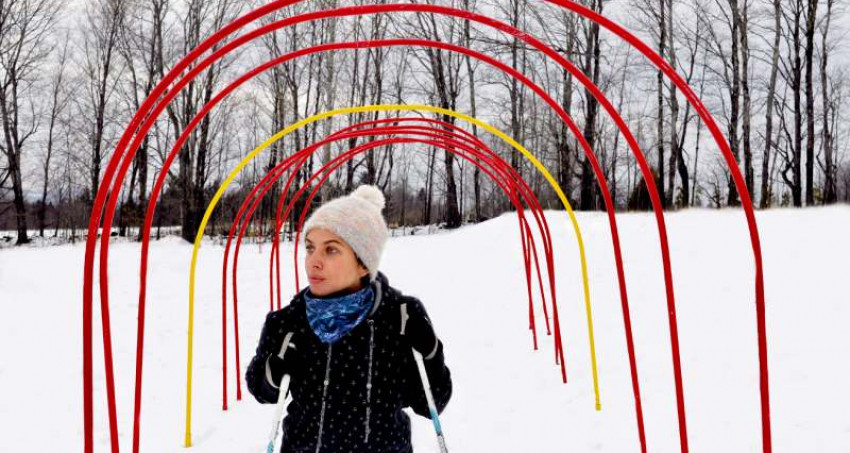 Gear up for a one-of-a-kind outdoor art experience! Ski or snowshoe at your own pace, and on your own time, in and through artwork by Vermont artists. The 1.8-mile trail begins at The Highland Center for the Arts and loops to neighboring Wilson Herb Farm, offering various paths for all ages and abilities. From the majestic to the comical, delight in diverse works throughout the trail.
The Highland Center for the Arts is a 501(c)(3) nonprofit organization whose mission is to operate a welcoming venue for assembly, artistic expression, entertainment, education, and refreshment.
Wilson Herb Farm specializes in growing certified organic, high-quality culinary and medicinal herbs. They have a market on-site that offers an abundance of fresh, organic, and sustainably grown food.
Winter Activities
Cross country skiing, snowshoeing, and walking.
Trail Info
Park in the Highland Center for the Arts lot and head toward the patio to find a map and the start of the trail!
The trail is well marked with ski guides and artwork throughout.
Please remain in the designated areas.
The trail will be routinely groomed throughout the winter and open daily, weather permitting, from dawn to dusk.
Parking
There is ample parking at Highland Center for the Arts.
Amenities & Other Info
Please refrain from touching or climbing on the artwork, unless otherwise indicated.
Photographs are allowed, except for commercial purposes.
The Highland Center for the Arts will have restrooms available Fri - Sun, from 11:00am - 4:00pm.
Social distancing and masks are required both outdoors and inside the HCA building.
Vermont travel restrictions apply.
There is good cell service on the property.
In the summer there are outside exhibitions.
Food
The HCA cafe will be open Saturdays and Sundays from 11:00am – 2:30pm for light lunch fare, delicious treats, and warm drinks. Relax by the bonfire, take in the beautiful winter landscape, and enjoy refreshments in the open air. Be sure to visit the wonderful Wilson Farm Market this spring!