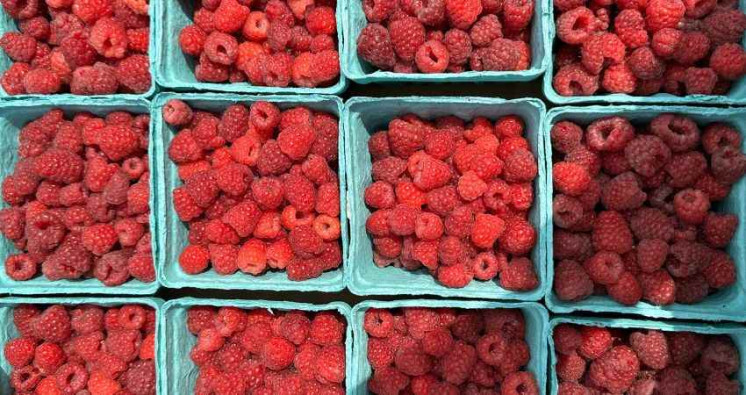 Using local ingredients is certainly not limited to crafting up savory bites. At the recent Vermont Fresh Network Chef-led Burlington Farmers Market Tour, Chef Laura Shantz of Hen of the Wood showed participants how to bake sweet treats with ingredients all from local vendors. Stay tuned for more tour dates coming soon!
In the meantime, read on for a delicious cheesecake recipe kindly offered Chef Shantz. This recipe is special because of its basil honey addition, a fresh and tasty twist to a traditional cheesecake topping.
Wondering which Burlington Farmers Market vendors source ingredients for this recipe? Check out Bee Happy Vermont, Adam's Berry Farm, and Silloway Maple for your honey, berry, and maple needs.
If you're looking for another farmers market to try, find a farmers market near you!
Cheesecake Mousse with Basil Honey
Courtesy of Chef Laura Shantz
Basil Honey
Ingredients :
1 cup honey (try honey from Bee Happy Vermont)
2-3 stems of basil leaves
Directions:
In pot, slightly warm the honey over very low heat. While warming the honey, chop basil leaves until very fine. Remove honey from the heat, add the basil and stir to combine. Set aside.
Macerated Berries
Ingredients:
4 cups berries (try berries from Adam's Berry Farm)
¼ cup sugar or maple syrup (try maple from Silloway Maple)
2 TBS apple cider cider vinegar (kombucha works well here)
Directions:
Toss berries, sugar and vinegar together gently and let sit at room temperature covered for up to three hours.
Toss again gently before serving.
Cheesecake Mousse
Ingredients:
16oz (two blocks) cream cheese at room temperature
7oz powdered sugar
1sp vanilla extract
1 lemon, zested
2C heavy cream
1 TBS corn syrup / honey / maple
Directions:
In the bowl of a kitchen aid mixer, with the paddle attachment, beat together the cream cheese, powdered sugar, vanilla, and lemon zest until light and fluffy.
Transfer the cream cheese mixture to a large bowl and set aside.
In the same bowl you used to whip the cream cheese, add the heavy cream and sweetener of choice.
Whip the cream mixture with the whisk attachment till stiff peaks form.
Using a soft spatula, fold the whipped cream into the cream cheese mixture one half at a time. The Mousse is finished when there are no streaks of whipped cream visible.
Portion the mousse into individual cups or bowls or do one large bowl for a party. The mousse can be served right away or you can let it set in the fridge covered for up to 3 days.
To serve, remove the mousse from the refrigerator up to a half hour before serving.
Spoon the macerated berries over the top, drizzle with the basil honey.
These chef-led market tours were funded through a Specialty Crop Block Grant awarded to the Vermont Fresh Network by Vermont's Agency of Agriculture, Food, and Markets.