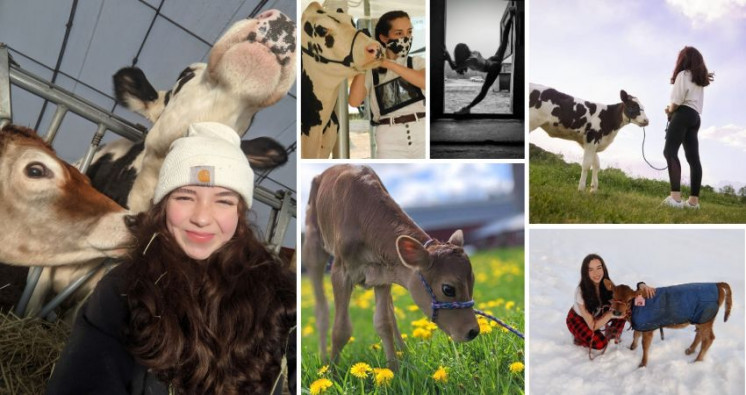 Cedar Mountain Farm is a working family farm in Hartland, Vermont. Located at Cobb Hill Cohousing, owners Stephen Leslie and Kerry Gawalt (with their daughter, Maeve) have been farming for decades. They operate a vegetable CSA program and dairy, are co-owners of the on-site cheese business (Cobb Hill Cheese), run a 4-H club, and so much more! Read more about Cedar Mountain Farm.
We caught up with Maeve Leslie-Gawalt to learn about her involvement in 4-H and showing cows. At the time of writing, Maeve is 13 years old and has grown up on the farm. She is a core part of the Hartland 4-H Cattle Club, a local group of students that generally meets after school on Wednesdays at the farm.
What is 4-H?
4-H began more than 100 years ago and is now the nation's largest youth development organization. It's grounded in hands-on learning and stems from a desire to connect public school education to country life. Today, 4-H serves youth in rural, urban, and suburban communities in every state across the nation. It provides kids with community, mentors, and learning opportunities to develop the skills they need to create positive change in their lives and communities. -- from the 4-H website; learn more here.
Tell us about 4-H in Hartland
The club was started 5 years ago, when Maeve was 8 years old. It's an official club, comprised of a handful of students (the numbers have fluctuated). The members do fundraisers and go to fairs. In a normal year, the club would attend 5 area fairs, staying in a camper for 4-5 days. This year (2020), the club has been meeting by Zoom once per month and doing quiz bowl. Maeve only attended one show, the New England Holstein Show, this year.

Maeve on the far left and showing through the years.
To prepare for fairs and shows, Maeve walks the cows she is working with 2-3 times a week; they practice show walking. She also washes them once a week to get them used to it, as the cows can find it stressful. Then, there's the grooming! Maeve explained how clipping works, that it enhances and accentuates various aspects of a cow's body: some fluff is left on the topline, fading is done on the stomach, and the legs, head, and ears are clipped neatly. Every component of the body is judged in showing. Maeve says it takes hours to do, 1.5 to 5 hours per cow...5 for "Whipped Cream."

Who is Whipped Cream?
The farm has 60 Jersey cows, and standing out in the crowd are two Holsteins. Maeve really liked the idea of owning a Holstein and working with a larger cow. So, in 2016 when she was in 3rd grade, having saved up her money, she bought the Holstein that she named Whipped Cream. Maeve says Whipped Cream has quite the personality and is a spicy gal!
How are the cows named on the farm?
The first letter of the mother's name is used. The strongest lines right now are C, B, and D names. Some letter lines have died out or been sold, but each family line is known for their own personality and beauty. D's have a loving, go-lucky vibe and B's have more attitude!
For instance, last year I took Chanel to the World Dairy Expo in Wisconsin. Her mom is Coco and she has a daughter, Champaign, that I hope to take next year.
Can you name the most recent cows you've worked with?
In 2019, Maeve's show cows were Whipped Cream, Wynter (Whipped Cream's daughter), Bluebell, Button, Chanel, Alice, and Clara.

Maeve reports making some of her closest friends through 4-H. She and Delia, another 4-H member, have been working on the farm, milking, up to 3 days a week since April. They have had more free time since last spring when school went remote, over the summer, and with half days of school this year. This is a good way to stay disciplined during the pandemic and earn money to participate in fairs and shows.
Do you have a favorite farm product you like to eat or drink?
Maeve usually drinks a glass of milk a day and also loves Cobb Hill Cheese - the baby gouda and dill havarti are her favorite.
What are you passionate about off the farm?
Dance! Maeve has been spending 15 hours per week for the last 8-9 years practicing dance and has been competing since age 6.
Farm Kids
A few years ago, when she was 10 years old, Maeve was also featured in this Vermont Farm Kids video.