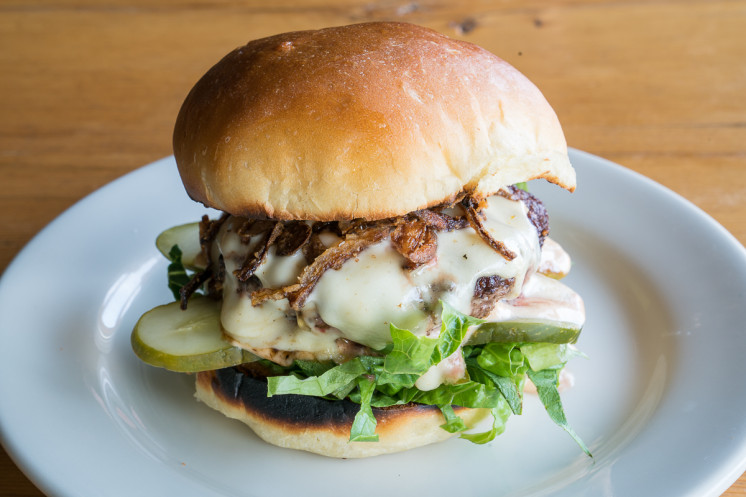 Richmond, Vermont may be small with a population hovering around 4,000, but sleepy is the last word you'd use to describe the place. Richmond is a vibrant community with a thriving downtown that seems to revolve around its cafes and restaurants like . In the evening, Hatchet has a warm welcoming glow that draws you in for a pint and a game of shuffleboard, or an exquisitely prepared meal. In the summer, or really as soon as the snow thaws, families gather at the picnic tables outside and line-up at the creemee window.
It's no fluke that Hatchet offers something for everyone. When Gabriel Firman decided to set down roots in Richmond and open a restaurant, he knew that he wanted to make it a gathering place where families could dine comfortably alongside an après ski group coming off the mountain for a beer. A community restaurant, to Gabe, also meant building a menu around neighboring farms.
Gabe quickly learned that a vision does not self-manifest and offering locally-sourced ingredients, prepared from scratch at pub prices with a tiny kitchen crew is an incredible challenge. Hatchet is two and a half years into it now and still finding their flow and refining their concept. How do they make it work? Pure ingenuity. The kitchen crew at Hatchet works collaboratively – team members might have a specialty, but they are ready to pick up at another station at a moment's notice. Gabe shared his view that "the quality of the people you work with is as important as the quality of the food – they go hand in hand." The kitchen is led by new (to Hatchet) Chef Kevin Sokal, but a recent injury he sustained re-affirmed that flexibility and trust is key with a small kitchen. They all have to support each other and work together to keep putting out the inventive dishes Hatchet is known for.
Hatchet works with a long list of local growers including Farmer Hil, a long-time server at the restaurant who now grows custom for the kitchen. "A seasonal menu may see two major or four slight menu changes," Gabe explained, "but we needed way more flexibility to work with our local farmers." Enter the blackboard featuring 8 - 12 specials ranging from hyper-seasonal vegetables from Jericho Settlers Farm, a creative burger special from Maple Wind Farm, or a seafood option delivered that day, fresh off the boat. The rotating specials work especially well for R&D – if customers love something or they're not so into it, they'll make it known. If a dish is a miss – it just takes a simple swipe of the eraser to make room for a hit. Their flexibility with sourcing has proven to be a bonus for their farm partners as well. They are the exclusive restaurant purveyors of Maple Wind Farm burgers and get their pick of the produce during pick-ups from Jericho Settlers. John Rinehart reflected on making one of those pick-ups recently, "just when you think you never want to see another root vegetable, you get to go to the farm for a pick-up and get reconnected and re-inspired by what they are doing."
Visit Hatchet Tap and Table in Richmond for a meal you won't soon forget. They also feature one of the best tap-lists in the state as well as the aforementioned epic shuffleboard table.
Photo Credit: Shem Roose