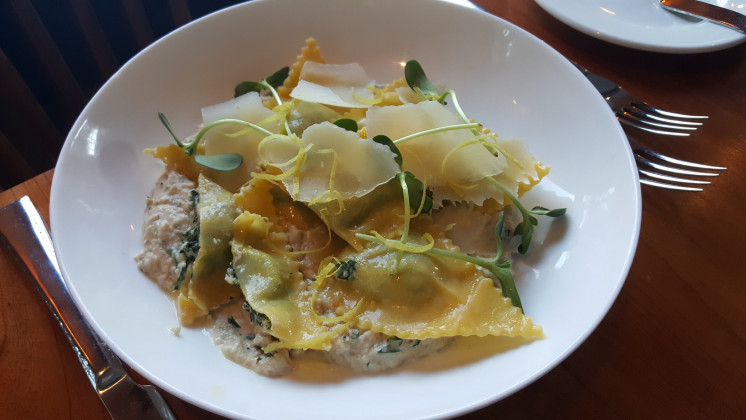 Chef de Cuisine Erin Bevan came from Boston and a career working in Beard Award-winning Italian restaurants to a tiny town in Southern Vermont and a kitchen where she's expected to collect her own eggs and herbs from the onsite micro-farm. How's the adjustment been for Erin? "It's a dream come true," she shared, "In Boston, you'd have relationships with a few farms, but here I have close relationships with about 30 – and I've only been here a year and a half!"
Four Columns Inn and Artisan Restaurant in Newfane is somewhat of a mecca for the local food movement – started in the 1960s by Rene and Pierrette Chardain, the inn was one of the first farm-to-table focused eateries in the country. The owners raised pheasant in the backyard and had a fully stocked trout pond where guests could literally choose their fish before sitting down to dine. The philosophy now at Four Columns Inn and Artisan Restaurant hasn't changed much - Chef Erin and staff tend to onsite gardens, geese, and laying hens. Even through the winter, a staff member helps grow microgreens for the restaurant as well as custom herbs like sorrel, shiso, cinnamon basil, and lovage.
Four Columns' dedication to their farm-to-table roots is strong, but Chef Erin's commitment was engrained from the start. Growing up on a small family farm in Massachusetts inspired both her love of food and her commitment to the economic viability of her farm neighbors. "Right now we are working with Rebop Farm in Brattleboro to raise veal calves for us," Erin spoke about a recent partnership. "They are exactly the kind of farm I love to work with. A small, first generation diversified family farm where our partnership can really make an impact."
Having close partnerships also makes sense for Erin's approach to her menu, which is rooted in her Italian training. "Most of my recipes use about five components. What makes them exceptional is how fresh, how flavorful those five ingredients are. I try to get out of the way of the ingredients as much as possible." Chef Erin showcases her neighboring farms simply through handmade pasta dishes (her specialty) as well as in menu staples like her semolina cake appetizer, which features local cheese in a fonduta sauce (right now she's using Parish Hill's Hermit), wild-harvested mushrooms in the summer and mustarda made from Dutton Farm pumpkins. To find those ingredients that shine, Erin often shops on her way to work – stopping by , Woodcock Farm Cheese Company, or Vermont Shepherd to pick up the inspiration of the day. Most recently, it's been Dutton Farm's kale raab (flowering kale buds) to add a little spring to the menu.
You, too, can shop like Erin in Southern Vermont - follow this trail to visit artisan producers in the area and end your journey with a feast (we mentioned the handmade pasta, right?) at Four Columns Inn and Artisan Restaurant.