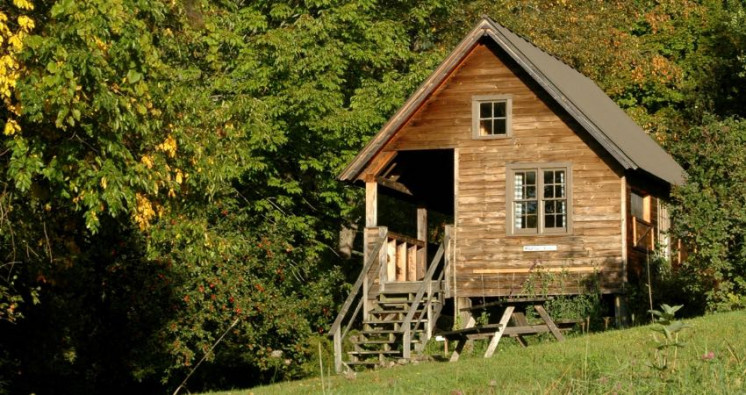 Farm stay experiences offer Vermonters and visitors alike an opportunity to discover life on the farm! From maple syrup and dairy to organic vegetables and pasture-raised meats, each farm that welcomes visitors hosts unique educational, relaxing, and fun activities. Guests can pet a farm animal, harvest their own food, learn about the farmers and hear their stories, take in the beautiful landscape, and enjoy nearby attractions including local eateries, outdoor recreation, farmers markets, and so much more.
Jinny Hardy Cleland recently shared her thoughts on welcoming guests to her farm, Four Springs Farm, Campground & Learning Center, located in Royalton.
Before 2001, when I found this property for my farm, I knew that I wanted to welcome guests onto the farm for these specific reasons – so consumers could understand what happens on small family farms, see how food is raised, and have a sense of the economic challenges of this career choice and lifestyle. It's important to me that I share my land with others. Otherwise, travelers would only enjoy the beauty of Vermont's views from the interstates as they pass through the state.
I opened up the campground in 2004 with one simple cabin, several tent sites, and a central wash house facility. The cabins have no electricity or running water and guests bring all of their own bedding and equipment. The wash houses have hot and cold water, including showers. The camping sites are all located in walk-in spots around the farm, which does not take away from the productive agricultural areas of the property. It is therefore a double use of the land, enhancing the profitability of the farm-based business. My long-term goal was to add more cabins and eventually offer or host others' events and programs. I now offer three cabins and six tent sites.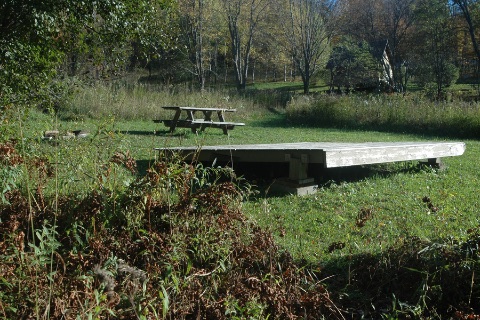 The farm has multiple springs and the headwaters of streams, which make for wonderful places to explore along and crossing the fencerows and brooks. There is also a woodlot for further exploration. Paths and bridges surround and cross the fields and gardens, as well. Guests have the passive educational experience of wandering the farm and seeing the plants and animals, picking wild berries, and interacting with the friendly farm cat. They are welcome to "tag-along-on-chores" in the morning with one of the farmers. The sunset from this west facing hillside provides a daily light show for visitors. Millions of stars are visible without any outdoor farm lights. Mosquitoes are non-existent and fireflies are abundant. I don't offer typical campground amenities, such as laundry facilities or a swing set. This is "nature's playground at her best." The beauty and privacy are much appreciated by the quests. Friendly farmers are appreciated as well.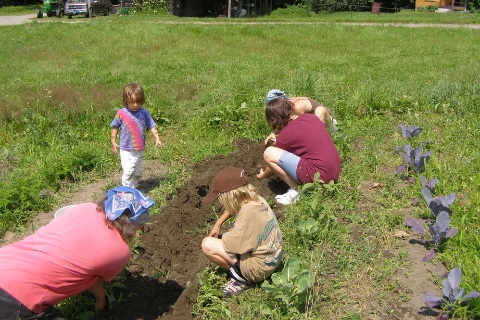 I enjoy the interaction with my guests. They are uniformly respectful – not disturbing other campers, taking care of their sites and the wash houses, following rules, and frequently interacting with one another. What's not to like about thoughtful guests sharing the land? I get to smell their campfires and go camping myself vicariously.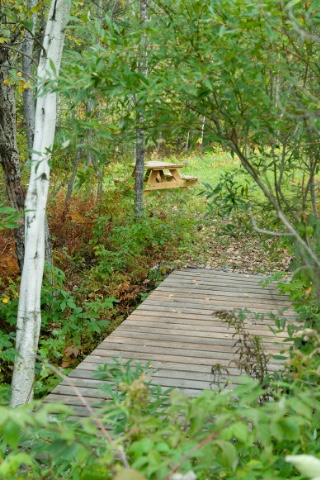 To learn more about Four Springs Farm, Campground & Learning Center and/or book a stay, check out their DigInVT Place page and visit their website: fourspringsfarm.com.
Funding for this article was made possible by the U.S. Department of Agriculture's (USDA) Agricultural Marketing Service through grant
AM190100XXXXG100 . Its contents are solely the responsibility of the authors and do not necessarily represent the official views of the USDA.