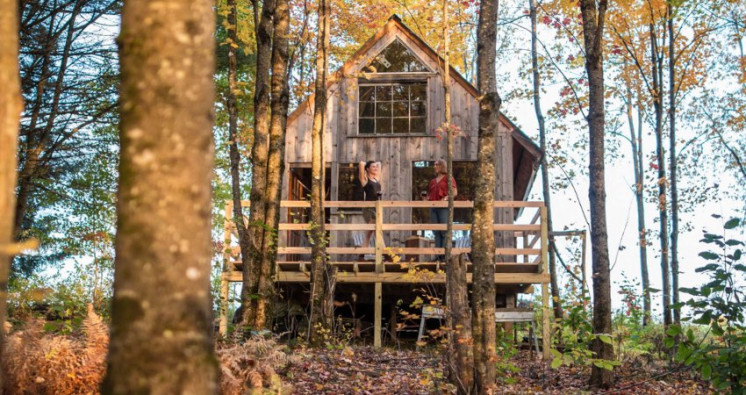 Farm stay experiences offer Vermonters and visitors alike an opportunity to discover life on the farm! From maple syrup and dairy to organic vegetables and pasture-raised meats, each farm that welcomes visitors hosts their own unique, educational, relaxing, and fun activities. Guests can pet a farm animal, harvest their own food, learn about the farmers and hear their stories, take in the beautiful landscape, and enjoy nearby attractions including local food and drink, outdoor recreation, farmers markets, and so much more.
DigInVT recently heard from Sara and Bob Schlosser of Sandiwood Farm in Wolcott about all the happenings on the farm, including their farm stay programming and what they have planned for 2021!
Please share a little bit about the history of your farm and where it's located.
Sandiwood Farm is in Wolcott, the gateway to the Northeast Kingdom of Vermont, located 1.7 miles up Town Hill Road, with amazing 360 degree mountain views including Mt. Mansfield, Smugglers' Notch, Whiteface, Mt. Elmore, and the Worcester Range. Bob and Sara Schlosser were married 33 years ago in what was then an unproductive 40-acre field - they had a dream to farm and be stewards of their piece of the Kingdom.
Since then, Sandiwood Farm has grown to 115 acres including a working sugarbush, an organic CSA program, a line of CBD and hemp products, as well as a place to host one-of-a-kind events and farm stay experiences. They even rent out their unique farm venue for others to use.
Sara and Bob are committed to being responsible stewards of the land and using regenerative organic growing practices. They are proud to supply their community, family, and friends with organic, nutritious produce, and understand the importance of sustainable food systems.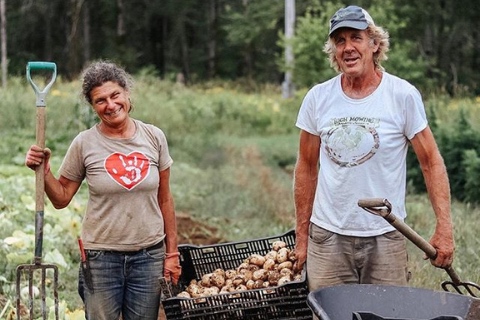 How did you get involved with farming and what's the most important thing you've learned along the way?
Sara went to Antioch college in Ohio and earned a degree in agriculture and arts. Many farming internships shaped her - she knew living off and stewarding the land was what she was meant to do. Sara met Bob in Wolcott in 1987 when she moved in next door to him. He was already homesteading, growing his own food, and raising animals. They knew fate had brought them together and they could tackle their dreams and passions.
Everyone has had to learn resilience, especially [during] this past year with COVID. Daily farming plans and priorities are always changing with weather and work load assistance. Last year, we had to make a quick pivot when restaurants and agritourism shut down. We started the CSA program in 2020 and are excited to continue this year!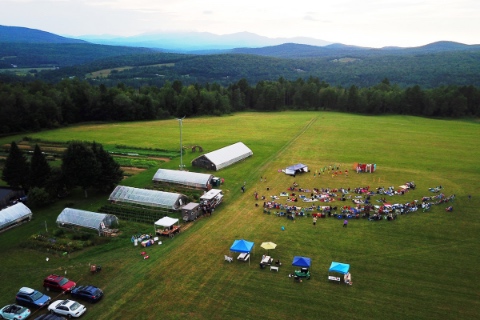 When did you begin welcoming guests to your farm? And what made you decide that you wanted to launch a farm stay program on your farm?
In 2011, when Sara and Bob's daughter graduated from The New England Culinary Institute (NECI), they decided to have their first farm dinner, welcoming neighbors to come for a complementary meal and test it out. Farm dinners quickly grew and expanded in many ways, to hosting fundraisers, music, arts, dance events, and more. They also rent their farm venue for others to use and are excited to continue to host socially distant meals on the farm.
When their son graduated from the University of Vermont (UVM) with a Parks, Recreation, and Tourism major in 2015, it became clear that they wanted to engage more of a recreational tourism aspect on the farm. Kyle started to create more trails, tent sites, and tiny houses for overnight farm stay experiences.
It's rewarding to have customers that we've known from the years of farmers markets finally come to the farm to see where and how the food is grown. Many of these farm dinner guests had seen our children grow up at the farmers markets. Their eyes were also finally open to the reality of what it takes to grow and market produce.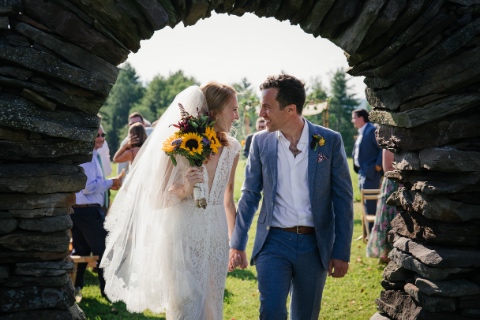 What are the accommodations like on your farm?
Sandiwood Farm has five rustic cabins and nice tent sites - groups are encouraged and they limit campers. The cabins are mostly one room that sleep two - one cabin has a sleeping loft, is insulated, and can sleep more. There are outhouses, fire pits, and trails through the woods. They also have their farm produce, eggs, and other goods available, and pre-made meals available for pre-order.
We call it "glamping at its finest."
What is one of the most rewarding aspects of being a farmer and hosting guests here in Vermont?
It's wonderful to connect with our guests, and have children harvest vegetables, collect eggs, and see sap come from the trees for the first time! We love to develop lasting relationships [with our guests] and create memorable visits. It's an honor to share and enjoy our slice of earth with others.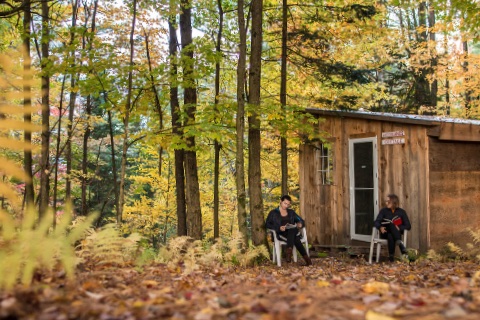 What is one of the most challenging things about being a farmer and running a farm stay in Vermont?
Having guests arrive late in the night, especially when they say they'll arrive earlier, is one of the most challenging parts.
Bob and Sara are working to mitigate these issues with better self-check-in options. They are also continuing to get better at managing their time with guests and daily work.
What is your favorite product you grow, raise, or make?
Every season has its own favorite - the first and sweetest harvest of the year is always Sandiwood Farm maple syrup. Bob and Sara take great pride in keeping old traditions alive without the use of reverse osmosis or vacuums - they have long sap boils with wood from their sugarbush which gives their small batch, artisanal syrup its own terroir and taste of place. In spring, their favorite crop is seedlings.
I also have to mention our signature salad greens - they were one of our first market vegetables that we now offer for 32 weeks of the year! Cut and dried flowers can't be neglected from this category either, as they are how we got started in market gardening. Our latest fun crop is the CBD hemp and the wellness products our chemists produce from our crop.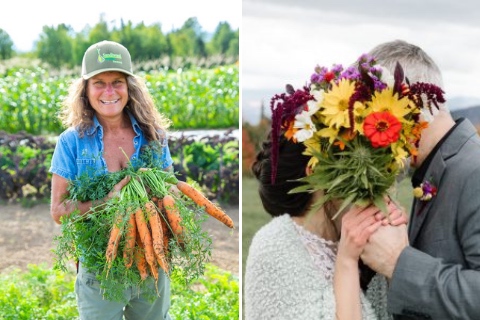 What kinds of activities can visitors to your farm expect to experience while staying there?
Visitors can tour the gardens, walk the trails through the old time sugarbush (where they might find artifacts from a century of sugaring), arrange an informative tour with Sara, collect eggs, sit back and relax, watch wildlife, see the sunset, and let the farm recharge them.
A lot of our visitors enjoy the numerous world renowned breweries, parks, lakes, rivers and great hikes nearby.
What is the most unique part of your farm stay? And what do you think your guests like most about visiting your farm?
Guests have shared that they feel peaceful when they pull down the farm drive - they are always grateful and ready to unplug. They also say that they like the friendliness of Sara, Bob, and the farm family and the proximity to all the local attractions. Being able to harvest food is another unique opportunity for those without gardens. It's a one-of-a-kind experience.
It's also a great reminder of the city life and how lucky we are to not have lights and noise at night. Guests often say they have never seen so many stars and so much wildlife.
Are any meals included as part of your farm stay? If so, what is your favorite dish to prepare for guests and why?
Nutritious farm meals can be pre-ordered. There is farm fresh produce including pre-made salads, Sandiwood Farm eggs, maple syrup, and CBD products, along with award-winning local cheeses in their self-serve farm stand fridge.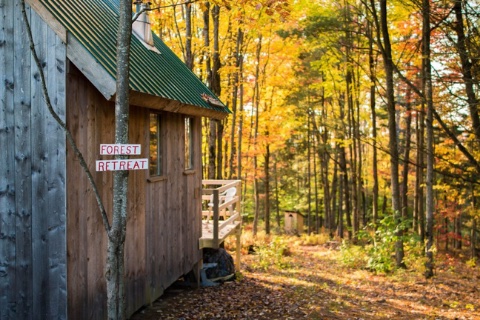 Which Vermont farmers or farm stay hosts are you the most inspired by and why?
There have been many inspiring farmers along our journey - to name a few: Jack and Ann Lazor from Butterworks Farm, Bruce Kaufman from Riverside Farm, and Tom from High Mowing Seeds. We've appreciated the shared wisdom, knowledge, and passion. We've been excited to be inspired by young farmers with new ways and ideas, as well.
Do you have any advice for the farmers out there that are interested in beginning to offer farm stays? Or those that are just starting out?
Have a farm safety plan in place, use signage everywhere, and be as clear as possible before guests arrive so they do not have any unexpected surprises. Solar and motion sensor lights are helpful in paths, parking areas, and outside unlit traveled areas.
Do you have anything new or special planned for this year that you'd like to share?
Sandiwood Farm recently purchased an adjoining 33 acres that has two ponds. They plan to expand trails and camping areas, and are hosting some events and farm dinners again this season, including the Farm to Ballet on July 11, 2021.
To learn more about Sandiwood Farm and/or book a stay, check out their DigInVT Place page and visit their website: sandiwoodfarm.com.
Funding for this article was made possible by the U.S. Department of Agriculture's (USDA) Agricultural Marketing Service through grant
AM190100XXXXG100 . Its contents are solely the responsibility of the authors and do not necessarily represent the official views of the USDA.