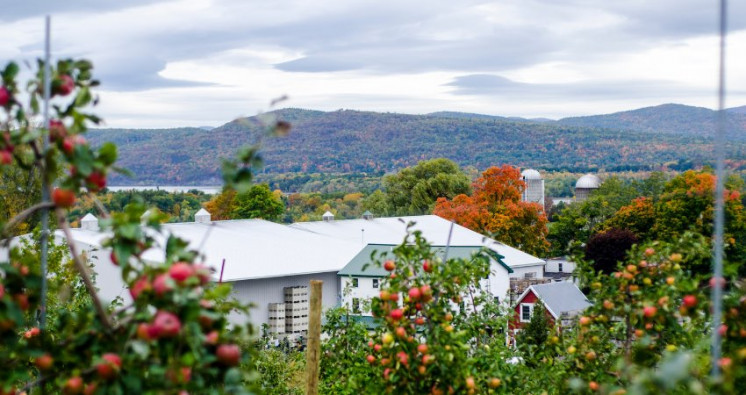 Throughout the summer and fall, Vermonters and visitors alike flock to our local orchards in pursuit of fresh fruit like cherries, plums, pears, and tasty apples, plus cider, donuts, and more! But who are the folks who grow these delicious fruits? And what goes on behind the scenes? Find out with DigInVT!
Please share a little bit about the history of your orchard and where it's located.
We are one of the oldest continually operating orchards in Vermont. We are located in Shoreham, one mile east of the Ticonderoga/Larrabee Point ferry.
How did you get involved with growing tree fruit and what's the most important thing you've learned along the way?
The Vermont Land Trust, Vermont Agency of Agriculture, and Vermont Housing and Conservation Board helped conserve this orchard in 1998 concurrent with the purchase. Neighbors such as Sandford Witherell and Scott and Bob Douglas were [also] growers who helped mentor as we had no prior fruit growing experience. Sandy said "take care of your garden and the customers will come to you." Another lesson is that Vermonters really appreciate knowing where their food comes from and supporting local foods has been really helpful as we have grown our orchards and coinciding products.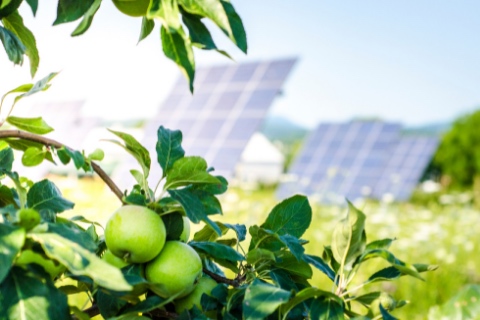 What is your favorite apple (or other fruit) you grow and why?
Keepsake is my favorite apple followed by Crimson Topaz. Both have some disease resistance and are non-mainstream, meaning they are not in the ever popular dessert/sweet apple category. We hope to be known regionally for our ecologically grown Keepsake someday. Topaz crosses over and is super fresh while also making a great single varietal hard cider.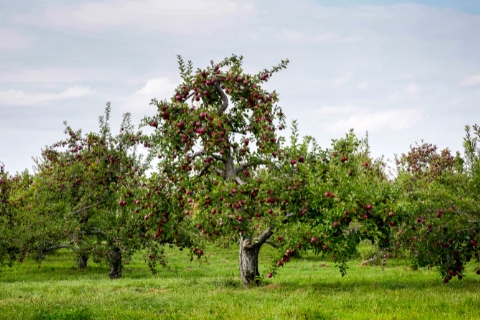 What do you grow and how can folks visit?
We are open to the public and operate both Douglas and the main farm – Champlain Orchards – with pick-your-own fruits and independent farm markets. We start off in June with strawberries, move to sweet and tart cherries, then move into organic raspberries, summer plums, currants, elderberries, peaches, nectarines, pears, and apples.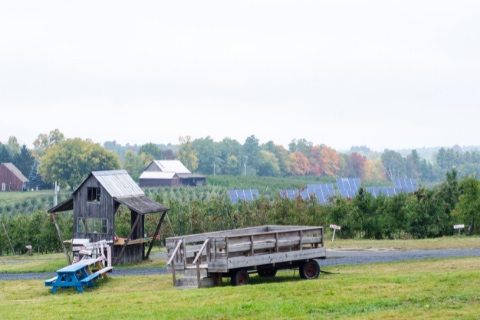 What is your favorite thing to make with your apples or other fruit?
Sweet cider pops in the summer! Cider maple syrup is a new product we are developing which incorporates our new organic maple syrup cut into our apple cider syrup.
Having an orchard is year round work. Do you have a favorite time of the year?
Absolutely, we employ 50 full time staff year round. Rupert, my ten year old, is in the office [with me] and he votes for fall harvest. I really enjoy nursery tree planting in the spring.
What is one of the most rewarding aspects of being a tree fruit grower in Vermont?
Vermont is a really special state with a really supportive local food movement. All the risk and hard work is worthwhile when customers thank you for the quality of the fruit and describe a "wow" moment when they sample a new variety of fruit we have grown. I also really enjoy evening tours to see the work we accomplished and prioritize a list of work for the following day.
What has surprised you the most?
With endless work and opportunities to improve, boredom is never experienced. When exhausted after a long day, I wake up the next morning eager to tackle new projects.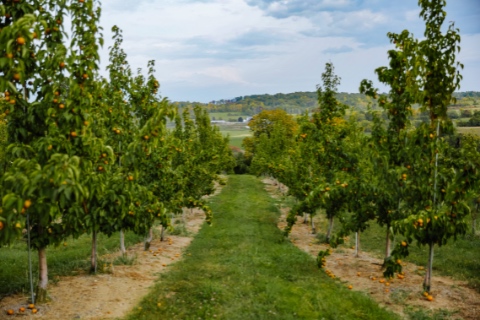 Tell us about your crew - who are the people behind the orchard who help make it all happen?
We have an awesome melting pot of folks with great variance in age, experience, ethnicity, etc. We have year round staff specializing in horticulture, sales, construction, trucking, processing/production, marketing, compliance, IT, maintenance, etc.
Do you have anything new or special planned for this year that you'd like to share?
We are excited to have expanded our tree nursery to include quince and medlars, and many new and old varieties of plums, apples, peaches, and pears. We are also excited to begin our first year sharing our organic maple syrup. Another upcoming endeavor will be creating wood products from trees we sustainably harvest from our working woodlands.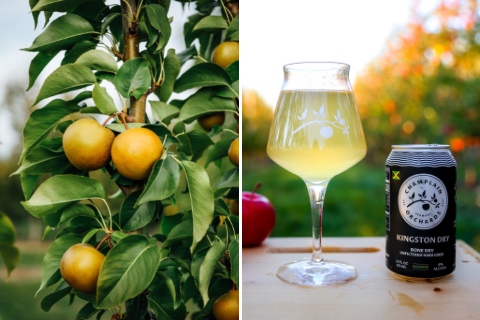 Is there anything else you'd like to add?
Thank you to all the folks who promote local agriculture. We love stewarding our land and we greatly appreciate customers who align with our values and help us rejuvenate and work for a better tomorrow.
Coming up: On Sunday, June 27th, head out to Douglas Orchard for a special Cherry Celebration! This sweet event will feature live music from The Plumb Bobs, kids activities, food from Frog Hollow Farms and the Champlain Orchards bakery, as well as hard cider pours and lots of cherries! 11:00am - 4:00pm. 1050 Route 74 West, Shoreham.