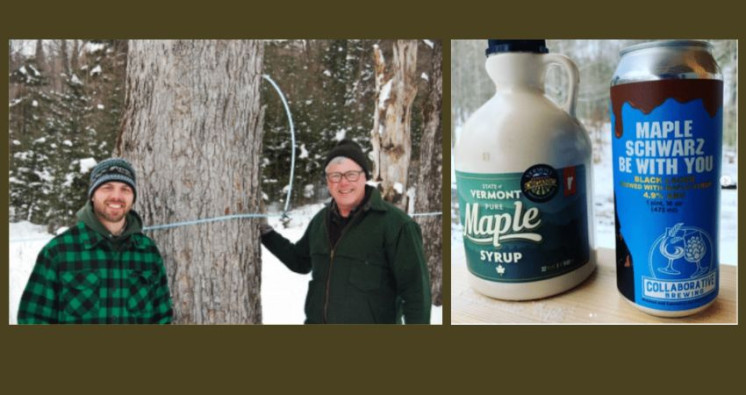 What comes to mind when you think of March and April in Vermont? Besides the soft spring skiing and longer days.....we think of maple syrup! With warmer days and cold nights, the sap starts to flow and one of the most special seasons in the Green Mountains begins....sugaring season!
With Maple Open House Weekend coming up this month (for two weekends this year!), be sure to make a list of sugarhouses to visit. Stop by, say hello, check out the sugarhouse, and have a taste or two of Vermont's liquid gold. This is your chance to learn about the tree to plate journey of our favorite sweet ingredient - pure maple syrup!
At DigInVT, we love to share the stories of Vermont's food and farm community. We reached out to one of our partner associations, the Vermont Maple Sugar Makers' Association to learn about a few very special sugar makers. The Vermont Maple Sugar Makers' Association, founded in 1893, is one of the oldest non-government agricultural organization in the United States. Below, you will find an interview with James and John Buck of Buck Family Maple Farm in Washington from November, 2020.
---
Buck Family Farm started over 25 years ago, how did you get to this place in your business?
JOHN: I wouldn't say it was a business back then. Our back-yard set up was originally to have some fun with James and his sister, Lauren. It was just a roasting pan and sap from two trees. We just wanted to be a part of the season. I had friends in school that had sugarhouses. I helped them over the years.
JAMES:As noted, we started with two taps in the backyard, then that grew to eight taps. Then we got permission to tap further in the woods on our neighbor's property. At the height of our backyard operation, we had approximately 120 taps. We built seasonally constructed arches that had to be taken down every year. For a while, we had a tarp over a swing set to protect us from the elements. Then my dad built our first sugarhouse by hand in 2006. There was no machinery used at all. For that sugarhouse, we bought a barrel arch from former Vermont Governor, Madeleine Kunin. We boiled off of that arch for a few years. Then our neighbor made us a 2x4 custom evaporator with tubular flews that were submerged and ran through the back pan. After that, there were two more configurations of it. With the last coming when I was a Junior in High School. In 2010, we put in a concrete floor, and that was a retro fit. After that, we had a change in think-ing. We starting looking into land to build a new operation.
We looked in the Waterbury area first, with the idea that we could truck sap back to the house. There were complications with some parcels and none of them worked out. In the end, we purchased property in Washington. We got up to 160 taps, with tubing and buckets. We would work after school. At that time, we didn't have any trails or snowmobiles forgetting around. We had a dumping station with mainline, and no lateral lines. Later that was added in. In 2012, we started clearing the land, milling wood and building the sugarhouse. It took time to build the sugarhouse with working full time. In 2017, we made and sold our first maple syrup. We traded the syrup in Waterbury, sold a little bit locally, mostly curb-side. And there was a lot of personal consumption. A lot of years, we'd only make 12 gallons. In the 20 years of boiling in Waterbury, we might have made 100 gallons total.
Can you talk about becoming a bird-friendly operation?
JOHN: I thought it was an easy, seamless way to go. We worked with them over the course of a year. When Steve Hagenbuch at Audubon Vermont started the program, we noticed that we were already doing a lot of those practices. I like the thought of being a good steward and highly support the program. It's good for the woods and it's good for sugar makers. I hope that other sugar makers become certified.
What are your favorite parts about the sugaring process?
JAMES: I can tell you quickly what I don't like, haha. Pulling taps is my least favorite.
JOHN: For me, it's walking through the woods. I like looking at trees, ones we've tapped and the ones we don't. Our sugarbush is currently 10 miles from an Emerald Ash Borerout break. We're expecting that should change our forest in the next 15 years. So, I'm already thinking of what everything will look like in the future.
JAMES: I'm reminded of this every season. We all know how to make syrup, and we don't think much of it until someone from outside of the industry learns about it. People are surprised that maple syrup comes from trees. I get a lot of enjoyment in people learning and seeing the process. You can tell that they see how hard it is, and they see the value of what you do as a sugar maker. For example, I communicate with people in Brazil for work. Those people are familiar with cane sugar. I've made several trips there for work and I've brought maple with me. They love maple syrup. They want to find ways to get it easier. Again, it's easy for them to imagine the process, but they don't know the equipment involved. People in Brazil don't know what a sugarhouse looks like, but they know what it tastes like.
VERMONT MAPLE SUGAR MAKERS' ASSOCIATION: James, you have a young son. You must be excited to raise him around the sugarhouse?
JAMES: I hope he takes an active role in the operation. Of course, that will be up to him to decide. Part of the tradition with sugaring is passing it on to the younger generation.
VERMONT MAPLE SUGAR MAKERS' ASSOCIATION: What does he think of the taste of maple?
JAMES: He didn't light up with his first taste, but he didn't spit it out either. Because he's still under a year, we mix it in a little bit with bland foods. He certainly likes it.
JOHN: To be fair, Henry doesn't turn any food down, haha.As James said, hopefully Henry takes to sugaring. Doing it with family is a lot of fun. The sugarhouse is a great gathering spot. Sometimes we'll just meet there and have a picnic.
Are there any plans for the future of the operation?
JAMES: We have a long list of short-term tasks, directly sugaring related. We have a pile of woods work. There's been a lot logging done on the land. There's a lot of hand work to thin the land that hasn't happened yet. Tubing maintenance is a big component of our seasonal work. We've talked about expansion. We're still new and trying to get back to neutral on our investments. There are a lot of fixed costs that are currently a barrier.
JOHN: Currently, we have a 25-foot travel trailer that's sometimes used for sleeping. It's a cramped space. A cabin would be nice, but certainly a big project. We have 20 acres of sugar maples that we could tap if we manage well. We'd have to start grooming now. Maybe when Henry is a young man, he could tap into them. That's certainly a futuristic idea. I'm not sure we're ready to take on other aspects for the business. The upside of COVID was there was no one in the sugarhouse. It allowed James and I to dial in efficiencies, which was very helpful. It was just the two of us. We learned how to make that work.
JAMES:That was a big take away this year (2020 season) but, we were forced into it. It would have been nice to have friends over. This year, pretty much all boils were just the two of us. It was a lot of work. It wasn't a major undertaking, but a bit of planning. We had no distractions with no friends around.
Would you like to add anything else?
JOHN: I'd like to put a plug in for the association. We've found good value with being a member. We feel that there's a great information exchange and great momentum for or against regulations. I would encourage anyone on the fence about being a member to look into it. I would welcome any call to talk to anyone thinking about it.
JOHN: One other thought. Sugar makers are competing for market share, but in the bigger picture we're are one big family, always willing to lend a hand to each other.
JAMES:I remember Glenn Goodrich once saying "our real challenge is fake sugar as an ingredient. Maple syrup has such asmall portion of the national field. We need to be brothers in arms." That's a very humble statement that shows good aware-ness of where maple sits on the national and world level.
JOHN: Regardless of taps. Everyone gets the same sensations out of it. Glenn is a very good ambassador. Everyone is an important part of the Vermont maple community. Also, with the season being only 8-10 weeks, you get a lot of forest time. We have to live by the trees. It's their call on sap production and forest health. Otherwise, it's human time. We think of time in 60 years or so. Trees think in 300 years, etc. We have to live within the boundaries of it.
JAMES: It's certainly hard to think in forest time. The actions you take in the woods can last a long time. A lot of cases you might not see the tangible/money reward. You might not see the reward of modifications in woods, but someone else might years down the line. That can be frustrating. For example, the 1 inch trees I take care of, I might not be able to tap them. Maybe Henry or his kids can take advantage. I might not see trees produce sap. I have to be okay with that. A lot of our woods were a pasture at one point. Most trees had never been tapped by us. We're lucky that previous owner let those trees grow.