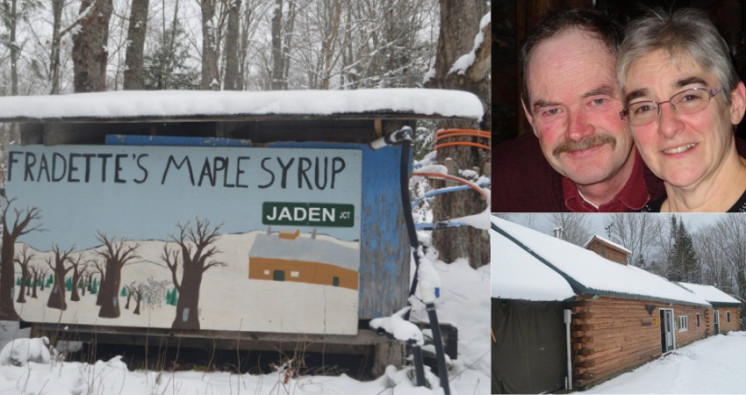 What comes to mind when you think of March and April in Vermont? Besides the soft spring skiing and longer days.....we think of maple syrup! With warmer days and cold nights, the sap starts to flow and one of the most special seasons in the Green Mountains begins....sugaring season!
With Maple Open House Weekend coming up this month (for two weekends this year!), be sure to make a list of sugarhouses to visit. Stop by, say hello, check out the sugarhouse, and have a taste or two of Vermont's liquid gold. This is your chance to learn about the tree to plate journey of our favorite sweet ingredient - pure maple syrup!
At DigInVT, we love to share the stories of Vermont's food and farm community. We reached out to one of our partner associations, the Vermont Maple Sugar Makers' Association to learn about a few very special sugar makers. The Vermont Maple Sugar Makers' Association, founded in 1893, is one of the oldest non-government agricultural organization in the United States. Below, you will find an interview with Mary Jane and Mario Fradette, owners of Fradette's Maple Syrup in East Hardwick from April 22, 2022.
---
How did you get into sugar making?
MARIO: In 1959 my Father moved our family to the United States from Quebec. When he bought the farm the sugar house was burnt down. In 1960 he built his first sugarhouse when I was six years old. When I was in high school, I used to skip school to gather sap and I loved it!
Can you elaborate on the unique items near the evaporator?
MARY JANE: The mural that's on the wall in front of the evaporator is something that our three girls did for Mario as a birthday gift. They came up and painted it with their recollection of how sugaring was when Mario was a little boy with horses and the gathering of buckets. The girls were 12, 11, and 8 when they painted it.
MARIO: They made me set up the stage for them, but they wouldn't tell me what they were doing. It is very precious.
VERMONT MAPLE SUGAR MAKERS' ASSOCIATION: You also have a red chair above the evaporator. What's the story behind that?
MARIO: My Dad was a farmer his whole life and he loved the color red. The rocking chair was something that he fixed up and painted red. It was his chair in the sugarhouse when he retired and he would sit and watch me boil. After he passed I retired the chair because I didn't want it to get broken.
MARY JANE: So we retired it to a place that no one could sit on it. It's up in the rafters and it's a part of our story, which we highlight in our brochures. So his Dad still watches us.
What are the family connections in your sugarbush?
MARY JANE: The old roads that they use to take the horses on are named after one of the Grandchildren. Like Lillian Lane, Nick's Notch, and Becca's Boulevard. Partially the reason for naming the roads was that Mario knew the roads backwards and forwards and he'd send me to go fix a saddle at the top of the hill, and he say "if you look right, there's this big tree with a big crook in it and there's a saddle right below and you have to fix it." I would get all discombobulated. I was a banker, so I didn't travel the woods as much as he did. Now after naming the roads I can do them with my eyes shut.
MARIO: I had my picture taken with the Grandchildren when they were babies when we put the signs up.
MARY JANE: Throughout the years we made them take photos with the signs as they've grown.
MARIO: Now they come up with their friends and show off their roads.
MARY JANE: And actually there's another painting at Jaden's Junction which our Granddaughter Grace made. She wanted to paint a mural for when the snow machines went by, she wanted them to know that the little building was part of the sugarhouse. She made that three years ago and now she wants to repaint it now that she's learned more in art class.
MARIO: VTrans actually called me last week because of the work on the rail trail and they were impressed with it. They think people will be looking for this as people learn about it.
Did one of your trees go down to Rockefeller Center?
MARIO: In 1977, a local Xmas tree buyer knocked on our door. We lived in Hardwick village then, he was interested in our 50 foot spruce tree. They offered us $250 for the tree, and I told them they had to replant the tree which they did. Then the tree went down to Rockefeller Center.
MARY JANE: They invited us to go to the lighting, but I had just had our Daughter Julie in the beginning of October so we opted not to go. Which is too bad, we should have gone in hindsight.
MARIO: Well, we didn't think anything of it. We did go years later to see another tree. That was the only time I've been to New York City and I never want to go back. It was awful, haha.
MARY JANE: We like the woods.
Do you have any future plans for your operation?
MARIO: I'm building an addition on the back of the sugarhouse for storage. My Daughter and Son- in-law purchased land that's adjacent to mine in Greensboro because we have two different sites. Now we'll have three. They're planning on adding 4,000 to 6,000 taps and eventually will take over the operation.
MARY JANE: When we put on the addition we're going to make a special room for me to do canning and to make maple sugar so that it is separate from the living quarters of the sugarhouse.
MARIO: I'm going to be 69, what am I supposed to slow down, haha. I want to keep doing it as long as I can and as long as I'm healthy. I love it.
MARY JANE: We want it to stay in the family, so Marie and Bob are the ones interested and have been leasing our sugar woods in Greensboro and bringing the sap to us. They lease the trees and we pay for the sap. It increases their income, it increases ours and eventually it will be all of theirs. And our dream is that hopefully their children will take it over from them.
MARIO: We have no plans to sell it to anyone outside of the family.
Is there anything else you would like to say?
MARIO: We're very comfortable here, our living space is 25 feet from the arch. Not too many sugarhouses are set up like that.
MARY JANE: It's our camp. Mario has spent many nights here.
MARIO: I've only been home once in the last three weeks and I'm a quarter of a mile away. I wash the RO at night. It's a great set up.
VERMONT MAPLE SUGAR MAKERS' ASSOCIATION: Yes, I can imagine so. It sounds like a perfect setup.
MARIO: Yes, and actually you see this a lot in Quebec. All my friends there have some sort of kitchen set up, etc. At first I thought they were all nuts.
MARY JANE: And now Mario is one of the nuts.
VERMONT MAPLE SUGAR MAKERS' ASSOCIATION: Thanks for the great interview!
MARY JANE AND MARIO: Of course, thank you!