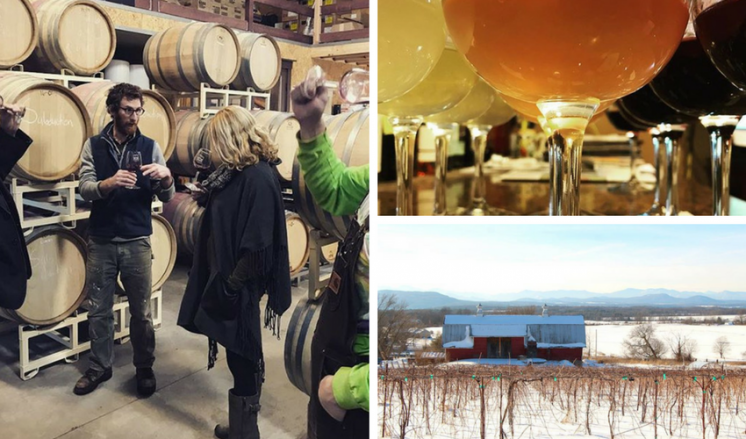 Ethan Joseph | Shelburne Vineyard
Head Winemaker
Shelburne Vineyard | Shelburne, Vermont
Onsite tasting room: Seven days a week (11:00am - 5:00pm November through April & 11:00am - 6:00pm May through October)
Shelburne Vineyard began as a passion project in 1998 by Ken Albert and now encompasses 17 acres. Their LEED-designed winery opened in Feb 2008. Shelburne winery produces reds, whites, rosés, and ice wines, many of which have earned "Best in Category" gold medals in International competitions, and is now venturing into sparkling, orange, and naturally fermented styles of wine with the Iapetus wine label. Ethan Joseph is the head winemaker, and the new Iapetus label is his creation.
How did you get started in winemaking?
By chance really. I was introduced to Shelburne Vineyards while attending UVM. Shortly after I graduated, they were looking for a full time employee in the vineyard and winery and my current job with UVM was coming to a close. I had a basic interest in agriculture and fermentation, but no real background.
What is your winemaking style?
I'd say right now my style is exploratory. We're working with pretty new varieties and still in the process of determining how best they express themselves and where they are grown. Wine is made in the vineyard, so we bring in the best fruit we can and do as little as possible in the winery.
What is one of your favorite varietals to work with and why?
I love L'Acadie Blanc. It's a white grape grown quite a bit in Nova Scotia, but relatively unheard of in the US and there's very little grown. It grows well in the vineyard, is well behaved and has good yields, and the wine is excellent.
Any tips for those who are wine beginners and want to learn more?
Winegrowing is tireless work, but incredibly rewarding. People need to be prepared for that and have a passion for all aspects of it. Read and talk to as many people as you can; this industry is all about shared knowledge and resources.
Do you have a favorite wine or vintage that you have made?
2016 was an exceptional growing season, the best I've experienced in my 10+ years. It was also the first vintage of a new sub-brand I created called Iapetus, which launched last November.
What is one of the hardest things about winemaking in Vermont?
What's that cliche about the weather and waiting 10min?
What is one of the most rewarding aspects of being a winemaker in Vermont?
Pioneering a region that's slowly proving to the industry and consumers that we are dedicated to producing high quality, place based wines using hybrid varieties.
---
The name "Iapetus" - Iapetus is the name of an ancient ocean that once covered what is now the Champlain Valley, and home to Shelburne Vineyard. Wines reflect the flavor of the land in which the grapes are grown, so it's fitting to find one inspired by - and named for - the geological phenomena that shape our soil. (Wine is not the first food to trace its lineage back to Iapetus Ocean, as The Atlantic reports there is an Iapetus line of artisanal salt from West Virginia and this Atlas Obscura article on the salt of West Virginia goes into more detail on how this ocean shaped our understanding of the Earth's age).
The Iapetus line of wine uses spontaneous fermentation with wild yeast. The Vermont Fresh Network explained this difference in the program for their annual summer dinner, which included wine samples from Shelburne Vineyard:
"A single grapevine teems with life. Besides the fruit, there are tens of millions of microscopic bits of yeast clinging to the ripe grape skins. It wasn't until the mid-1800's that scientists understood how yeast shapes the fermentation process and started developing methods for inoculating wines with cultivated yeast. Up until then - through many many centuries of wine production - vintners relied on the yeasts living naturally in this eclectic community of microflora to kick-start fermentation. The fermentation then occurred as yeast fed on sugars in the grapes, turning them into alcohol.
Commercially cultivated yeast creates a consistent, reliable product for winemakers to use, but in recent years, with better cleanliness and temperature control in the winery, winemakers have begun to re-explore relying on the wild yeasts in their vineyards."
So, if you want to try a wine designed to inspire thoughts of long lost oceans and the wild nature of the land that now covers the seabed, sample some Iapetus from winemaker Ethan Joseph. During Vermont Wine Week you can find it at Honey Road (including a chance to chat with Ethan during the dinner hour on March 26th), and Hen of the Wood in both Waterbury and Burlington.
Check out the other profiles: Chris Granstrom (Lincoln Peak), Patrick Barrelet (Snow Farm Vineyard)