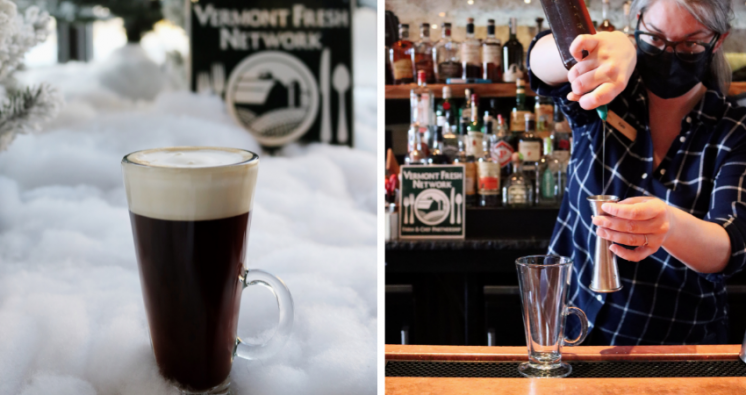 Hotel Vermont's bartender, Kate Wise is a seasoned pro who takes mocktails next level using local ingredients to amp your Dry January beverages. From behind the bar at Juniper Bar and Restaurant, Kate's recipes are pure poetry for both hot and cold alcohol-free mocktails to kick 2022 off without the hard stuff!
Happy Dry January everyone! Or, if you're begrudgingly participating because your best friend made you do it, hang in there buddy, you're almost there! Whatever your reason is for abstaining this month (or any month or all the months), here are a few recipes to keep your taste buds excited while giving your liver the night off. So, whatever you are toasting with this month, to loosely quote Brown Bird:
Let us raise our glasses to the forces above
To the Lords of Labor,
And the Goddess of Love!
Temperance Irish Coffee
Prep Brown Sugar Syrup: combine equal part brown sugar and hot water. Stir until dissolved.

Prep Maple Whip: add 8 oz heavy cream (I use Monument Farms) and 3/4 oz Vermont Maple Syrup to a 16 oz mason jar. Cover tightly and shake until the cream doubles in volume. This can take up to five minutes the first time but trust me, it's worth it.

In your favorite mug (bonus points if you have an Irish Coffee glass) combine 3/4 oz brown sugar syrup, 5 ounces of your favorite Brio coffee blend.
Top with hand-shaken maple whip. Pour over a spoon just above the surface of the coffee to keep the cream layered on top.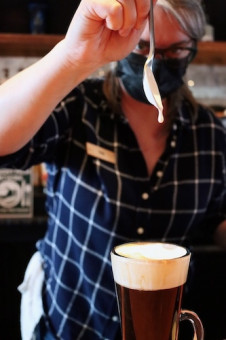 Adam's Raspberry Sour
Prep raspberry syrup: cover 1 quart of Adam's Berry Farm raspberries with 1 cup of white sugar and leave in the fridge for five days. After five days, strain out syrup and reserve the pulp (to be used later)
1 1/2 oz raspberry syrup
1 oz fresh squeezed lemon juice
1 1/2 oz water
1 egg white
Combine all ingredients in a cocktail shaker. Shake for 10-15 seconds without ice (dry shake) then shake for another 10 seconds with ice. Double strain into a tall rocks glass filled with ice. Top with Venetian Ginger Beer or Barr Hill's Tonic syrup and soda water. Garnish with a lemon twist.
Pro tip:
There is still so much goodness left in those leftover raspberries! Put the pulp into a 64 oz mason jar and fill with water. Cover and let sit for 2 days. It's the most delicious raspberry water ever. Not ready to wait five days for raspberry syrup? No problem! There are also some delicious ready to drink options available at local markets. My personal favorites are blood orange and chamomile Bitter Bubble and Corina's Switchy.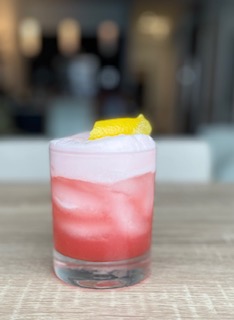 Caffeinated Cookie
Prep Mint Syrup: combine 10 oz white sugar and 10 oz water in a small saucepan and stir over medium heat until dissolved. Pour into a heat safe container containing one bunch of mint, stems and all. Cover and place in the fridge until cool. Remove mint.
2 oz Monument Farm Chocolate Milk
2 oz Brio Flash Chilled Espresso
3/4 oz mint syrup
Combine all ingredients in a shaking tin, add ice and shake for 8-10 seconds. Double strain into a coupe or martini glass and top with shaved chocolate.
Pro tip: Mint syrup will also be great in lemonades and limeades! Combine 1 oz fresh lemon or lime juices and 3/4 oz mint syrup in a Collins glass with ice and top with still or sparkling water.
Kate Wise is the bartender at Hotel Vermont and her credentials are as long as the beautiful copper bar at Juniper - she's worked at the Rusty Nail, Prohibition Pig, Doc Ponds, Beau and the Great Northern. She also runs Wise Consulting, offering beverage and bar consulting for businesses, liquor seminars and guided tasting, as well as private cocktail classes. Follow her on Instagram @katewisecocktails.