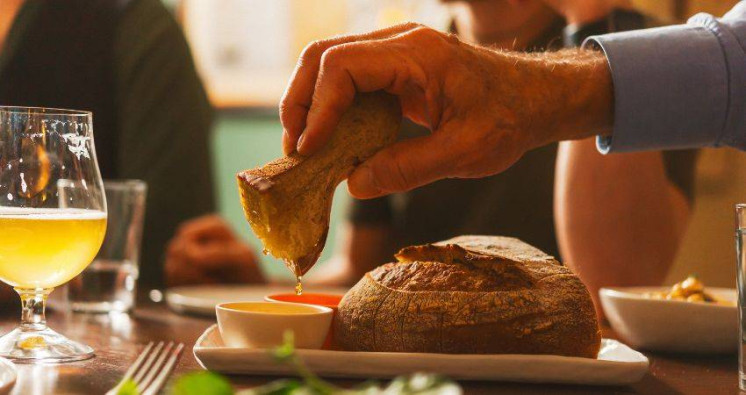 There seems to be no better way to experience the hidden corners of Addison County than through a meal at The Tillerman in Bristol. During the winter, snow fall and an adjacent ice rink make the grounds of the restaurant and inn seem almost surreal against the Vermont landscape. And, with summer around the corner, the promise of quality food and a patio surrounded by opulent greenery makes The Tillerman a must visit.
Whether you're looking for a fresh, creative cocktail or the satisfying bite of a tasty, locally sourced meal, The Tillerman offers a dining experience unique to Vermont. There's a reason why the The Tillerman is one of Vermont Fresh Network's valued Gold Barn members. Owners Jason and Kate took some time to reflect on their restaurant's relationship to local ingredients and how summer produce is bound to play a role in the quality food they promise to their customers...
How do you center your relationship with local farms in your business model?
The Tillerman: Our sourcing is everything. We are deeply invested in our community and our farmers are what make this all possible. Tearing open a clamshell of greens grown 3,000 miles away seems almost perverse in a state like Vermont. We derive deep pleasure from knowing who grows our food, that our support goes directly to them and their families and those families in turn support business like ours. Keeping as tight a loop as possible is how our state and community will survive and thrive and we're thrilled to be a part. Along with that are the shared values and mentality that food has the power to be a catalyst for positive change. How we treat the earth, what we put into our bodies, how our children see the world, what it means to be living on a warming planet, food touches all of it and so much more. Being part of building a strong food system will pay huge dividends down the road.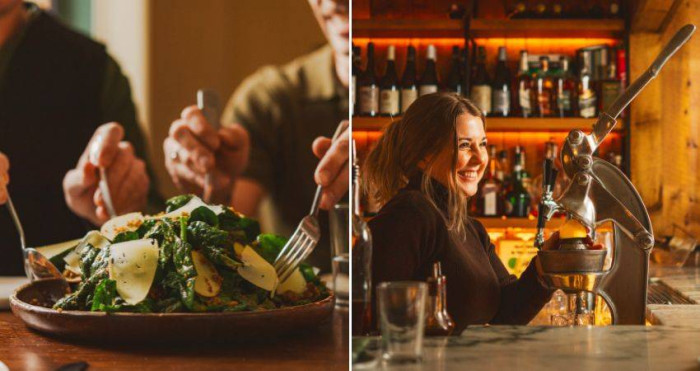 What is the experience like in your restaurant?
TT: Dining at the Tillerman has all the warmth, coziness, and familiarity of stepping into an old farmhouse that was renovated by Wes Anderson. We're big on the fun, nostalgic details that allow people to sink in and feel comfortable: a Danby marble bar, colorful wool rugs, hardwood floors, shelves full of curiosities, cozy fires, fresh flowers, tantalizing smells, the slam of a screen door closing. While you're taking in all those elements, Chef Justin is busy stoking the wood oven, tending to his natural leavened dough from flour grown and milled here in Vermont, and preparing a menu that gives center stage to all the hardworking local farmers, makers, and cultivators who we rely on in order to make the dining experience more than just a good meal. Our service-style is warm and friendly, without a lick of pretense, cool-kid, or apathy.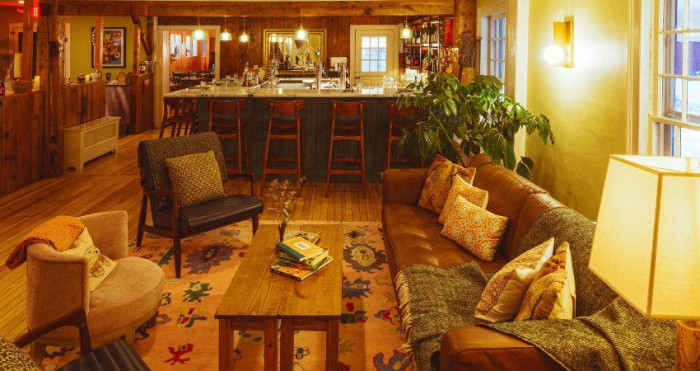 What is your favorite thing on the menu right now?
TT: Spring is here so asparagus, green garlic, wild leeks, spring-dug sweet potatoes, whatever the farms are sending us goes straight on the menu. Maybe it shows up on a pizza with broccoli raab, green garlic, spring onions and fresh ricotta or a simple salad of spring greens, hazelnuts & agrumato or roasted Tokyo turnips w/ Italian lentils & spring salsa verde or, one of my personal favorites, baby radishes and miso butter. Justin's culinary style shies away from superfluous, technique-driven food and with an eye towards coaxing the natural flavors from foods with a minute or two in the oven to soak up that wood essence, a pinch of Sicilian sea salt, a lick of grassy olive oil, a rasp of aged parmesan, a skosh of grape vinegar, less is more in his book.
What are you excited to bring to the menu as the summer comes around?
TT: Well, I'll try not to state the obvious, but we go through a tremendous amount of herbs during the summer months. Basil from our garden shows up in just about everything as does mint, cilantro, parsley, and chives. We got a garlic guy who smuggled in some bulbs from France many years ago and now grows a few varietals locally, really special stuff. Arugula is another favorite that rocks our world every time it shows up. Gorgeous green leaves with that unmistakable peppery bite, add that to one of our pies and you're sitting pretty. Then there's the corn, tomatoes, cucumbers, peppers, it's all just too much too fast. I sometimes wish we had more time to enjoy the bounty but alas, Fall needs its time to shine, too.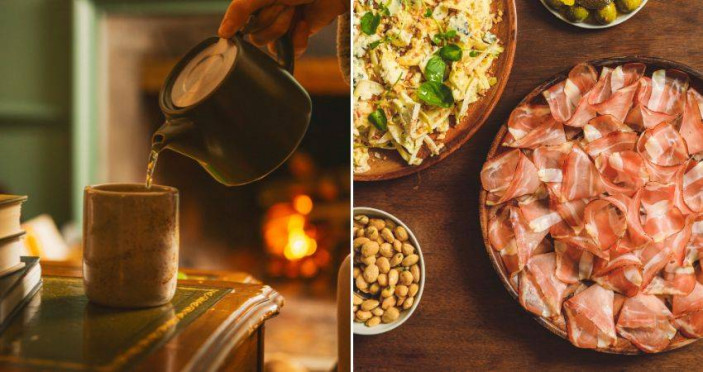 Do you have any upcoming events that you'd like to highlight?
TT: We do live music on Wednesday nights out in the barn. We setup the grill, throw on some local sausages, maybe a smash burger if we're feeling it, a few wonderful salads and sides. It's a fantastic time, you don't need a reservation and the music is free. It's as quintessential as Vermont gets on a warm summer night. Also, on Thursdays, if all goes as planned, we'll be setting up a large screen and showing movies out near the barn. We'll have a little concession stand setup with a popcorn machine, drinks, and some other goodies from our pastry chef, Kelsey. Most of the movies are family friendly but we'll have a list on our website for you to decide.
For this blog series, featured restaurants are introduced through a series of five photos taken by the talented Winter Caplanson of New England Food and Farm. Caplanson's photography does diligent work to capture the unique movement of the food world. This series, entitled "Pic Five," both uplifts the experience of local restaurants and celebrates the great role of culinary photography.