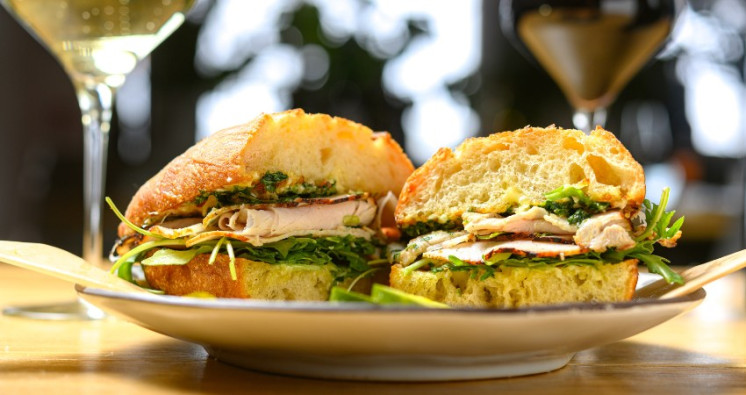 Farm to table dining is a quintessential Vermont experience. Over at Vermont Fresh Network, participating chef and restaurant members work hard to bring local food to the Green Mountain State's vibrant culinary community and dining public. And although all VFN members have demonstrated a commitment to local food, Gold Barn Members go above and beyond to uplift their relationships to growers and producers by centering local, seasonal products in their business models.
The Network currently has 56 Gold Barn Members, and collectively their local purchasing came close to $9 million on Vermont-grown and crafted food and beverage products in the past year. To receive the Gold Barn distinction, Members must spend at least 35% of their annual food purchasing budget on local food and products, and have relationships with at least 10 local producer partners.
Eat your way across Vermont for a Great Cause!
This May, 12 VFN member Gold Barn restaurants are working with local producers to develop special limited release menu items. These specials are a celebration of local and seasonal food. The efforts of participating restaurants are a testament to the creativity and dedication of their staff and the collective work of Vermont's richly interconnected food system.
$1 from the purchase of each item will be donated to Vermont Fresh Network in support of their work advancing relationships among farmers, chefs, specialty food and beverage producers, and consumers.
May 2023 Menu Specials
Producer partners: 100 Stone Farm, Grateful Greens
Warm english peas with oyster mushrooms, count neck clams, crispy crab chips, pea green sauce, and pea shoots.
Producer partners: Jericho Settlers Farm
Asparagus and beet salad featuring Jericho Settlers Farm beets and greens.
Producer partners: Blake Hill Preserves, Strafford Organic Creamery
House-made jelly-filled donuts with Blake Hill Preserves raspberry jam; house-made soft serve featuring Strafford Organic Creamery.
TBA
Producer partners: TBA
Producer partners: Vermont Creamery, Jasper Hill
Vermont Creamery chèvre with challah toast, local honey, toasted sunflower seed, basil olive oil, and cracked pepper.
Pesto crusted salmon with tagliatelle pasta, local mushrooms, spring peas, Jasper Hill Cellars Moses Sleeper, and white wine.
Producer partners: Health Hero Farm, Jericho Settlers Farm, Georgia Mt. Maple, 1000 Stone Farm, Red Hen Bakery
Health Hero Farm steak for two featuring Jericho Settler's farm carrots, Georgia Mt. Maple's birch syrup, 1000 Stone Farm mushrooms, and Red Hen Bakery bread.
Producer partners: Maplebrook Farm, Maple Meadow, King Arthur Flour, Monument Farms
Maplebrook Farm ricotta gnocchi.
Producer partners: Cavendish Farms, local vegetables sourced via Black River Produce
Country fried quail with vegetable slaw and truffle honey gastrique.
Producer partners: Robie Farms, King Arthur Flour, Fiddler Greens, All Souls Tortilleria
Robie Farms Lengua on homemade bread made in-house with King Arthur flour, wild ramp aioli, velvet gravy, Fiddler Greens micro cilantro served with All Souls organic white corn tortilla chips.
Producer partners: Jericho Settlers Farm, Maplebrook Farm
Green Goddess Salad featuring Jericho Settler's mesclun for the base and parsley for the dressing, topped with Maplebrook feta.
TBA
Producer partners: TBA
Producer partners: Sweet Bird Farm, Cabot Creamery, King Arthur Flour
Breakfast sandwich on house-made English muffins using King Arthur flour, with local eggs from Sweet Bird Farm, Cabot Cheddar, and locally foraged ramp pesto.
Vermont Fresh Network Gold Barn Members
J.J. Hapgood General Store and Eatery

Red Barn Kitchen

Stoweflake Mountain Resort and Spa

The Quechee Club

The Tillerman

UVM Dining/Sodexo

Wake Robin

Westview Meadows

Westview Meadows at Montpelier
Photo by Winter Caplanson of New England Food and Farm, featuring VFN Gold Barn Member Salt & Bubbles.