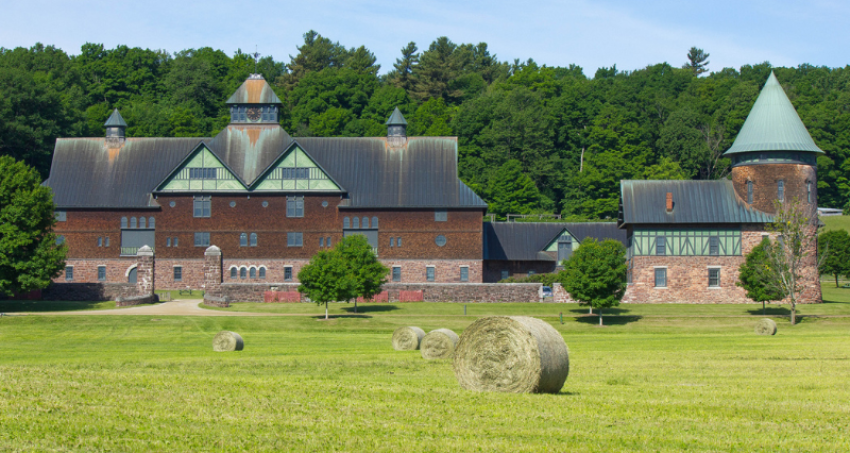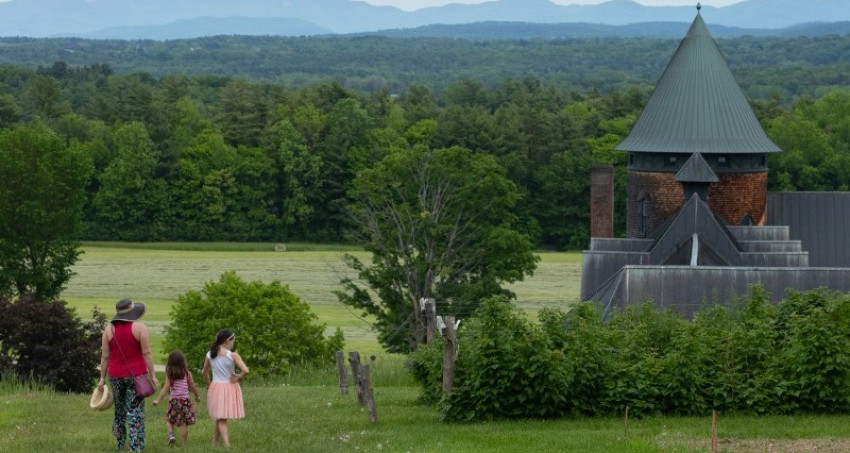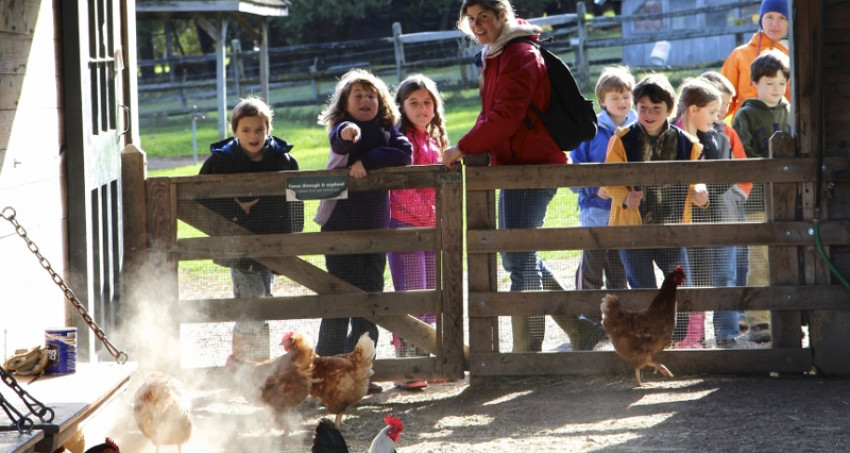 Shelburne Farms is a nonprofit education organization inspiring learning for a sustainable future. It is located on a 1,400-acre working farm, forest, and National Historic Landmark along the shores of Lake Champlain, on what is ancestral Abenaki land. During the COVID-19 pandemic, visitors are welcome to enjoy miles of walking trails free of charge (donations encouraged). The historic buildings and Children's Farmyard are closed to the public, and all onsite programming is suspended until 2021 (some have been rescheduled to 2021 or moved online).
At the Farm Store, visitors can order (or pre-order) products for curbside pick up. Offerings include prepared meals from the Inn chef, organic fruit and vegetables from the Market Garden, O Bread Bakery's European breads from their hearth oven, as well as Shelburne Farms maple syrup and award-winning cheddar cheese, which is made right on the farm from the milk of their Brown Swiss cows. There's a lot to do! Check out the website to plan ahead. There are currently NO PUBLIC RESTROOMS.
Enjoy a Walk on the Farm
The trails wind through meadows, pastures, forests, and lakeside with beautiful views east to Camel's Hump and the Green Mountains (from Sheep's Knoll spur off of the Farm Trail), and stunning views to the Inn, Lake Champlain, and Adirondack Mountains from the top of Lone Tree Hill (a moderate climb, totally worth the effort.) From the Lake Trail, you can also walk a short spur to the Inn's formal gardens, which are open to the public. You'll often see cows and sheep grazing. There is no interpretive signage, but several benches along the trails allow you to sit and take in the beauty of this historic agricultural landscape. Please note: the Shelburne Farms trails are not maintained for winter use but people may use them at their own risk as weather conditions permit.
Maps
From the parking lot, all trails start between the Farm Store and the ticket booth.
Wheelchair Accessible
The Farm Trail to the Farm Barn and the Lake Trail to the lake are both packed gravel, with some moderate slopes.
Off Limit Areas
All buildings and barns are off limits at this time. Please avoid walking on Farm roads whenever possible, respect all "Private" or "Do Not Enter" signs, and stay away from electric fencing. There are stinging nettles, wild parsnip, and poison ivy in some areas.
Pets
Please leave your dogs at home.
Extra Info for Walkers
There are no restrooms currently available, and no facilities within walking distance of the trailhead.
Parking at the Welcome Center & Farm Store only. If signage at the parking lot indicates lot is full, please return at another time.
There is some cell service depending on your carrier.
Summer 2020: Shelburne Farms has online and curbside ordering of many of their farm products, including cheddar, maple syrup, jams, beef, organic fruits and vegetables, and pre-packaged meals prepared by the Inn chef. You can see what's available online or right in front of the Farm Store. Order when you get there before you walk, and pick up your order at the Farm Store on your way back!
Please note: the Shelburne Farms trails are not maintained for winter use but people may use them at their own risk as weather conditions permit.
Events Happening Here (120)
Find Us At These Events (117)
From The Blog