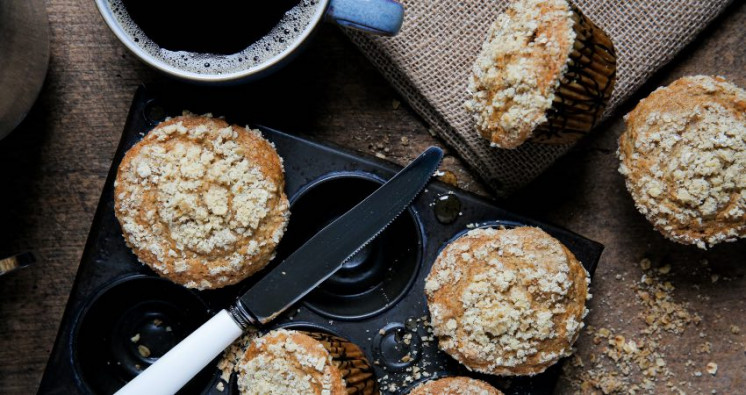 Sugaring season is upon us! Our state's hardworking maple producers have been out in the woods, readying the sugarbush by running lines, tapping trees, and making sure all of their sugarhouse equipment is in working order. All of this is just the beginning of their busiest time of year - maple season!
As for the rest of us, we can't wait to enjoy all the delicious maple syrup our hearts desire, whether straight up (we've all done it) or as part of a delicious meal, dessert, or cocktail. Though we tend to use maple all year long in Vermont, this season reminds us what makes this sweetener so special to the Green Mountain State.
DigInVT staff put the call out to some of our local sugarmakers, the Vermont Maple Sugar Makers Association, restaurants, farms, and food & beverage producers for their favorite maple recipes and, as usual, they did not disappoint. Check out the options below and try a new dish! We bet you can source most of the ingredients from Vermont farmers, sugarmakers, and your local food markets. Let us know what you make by tagging @diginvt on Instagram!
Click the quick links below to find the recipe you're after, or scroll to discover them all.
Enjoy these maple roasted cauliflower bites as an appetizer served with sour cream and refreshing squeeze of lemon, or mixed into a salad tossed with an herby dressing. They're crunchy, but tender and a sweet spice blooms after each bite thanks to the flavorful maple sugar seasoning! Enjoy it for lunch, dinner, and even in a breakfast sandwich.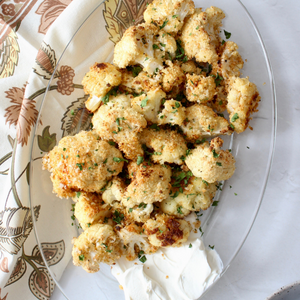 Maple Roasted Cauliflower Bites
Ingredients:
1 large head of cauliflower, cut into florets, about 1 1/2 pounds
2 tablespoons extra virgin olive oil, divided
1/2 tablespoon maple syrup
1/2 cup freshly grated parmesan
1/2 cup Italian seasoned panko
1/2 teaspoon salt
1 tablespoon Butternut Mountain Farm maple sugar seasoning
1/4 teaspoon maple pepper
Instructions:
Pre-heat oven to 425 F.
In a large mixing bowl, toss the cauliflower florets in 1 tablespoon of the olive oil and the maple syrup. Add the parmesan, panko crumbs, salt, maple sugar seasoning and maple pepper. Toss until the cauliflower is coated.
Line a rimmed sheet pan with foil. Spread the cauliflower over the sheet pan. There will be a pile of panko crumbs at the bottom of the bowl. Drizzle the cauliflower with the remaining olive oil and sprinkle what's left in the bowl over the cauliflower and toss one more time to coat.
Bake the cauliflower for 20 minutes. Carefully remove the sheet pan from the oven, and toss the cauliflower with a spatula or wooden spoon. Bake for 8-10 minutes more until the cauliflower is golden.
Allow the cauliflower to cool for a few minutes before serving with fresh parsley and sour cream or maple yogurt (optional!).
Maple in a bagel? Yes, please!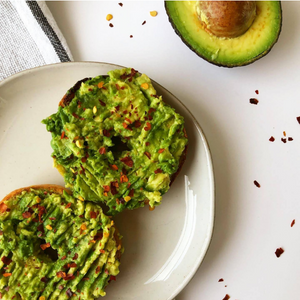 photo credit: @well.ness.ali
Maple Sugar Bagels
Ingredients:
1 packet instant or active dry yeast
1 1/3 cups lukewarm water
1tbsp maple sugar
4 cups flour
1 tsp salt
2 tbsp oil
Pure Maple Syrup
Instructions: ​
Combine sugar, 1/3 cup of the lukewarm water and yeast mix and let sit 5-10 mins - utnil it foams

​

Mix flour and salt in another bowl and form well in the middle. Pour in the yeast mix and oil into the well then cover with flour

​

Add 1 cup water and mix until combined then knead until dough is smooth - around 10 mins

​

Place dough in oil bowl and cover with towel - let rise in warm place until doubled in size. (45-60 mins)
Split dough into 8 pieces and roll into balls. Set on a baking tray and cover for 15 mins. While waiting bring a pot of water to a boil (PRO Tip - Add a small amount of maple syrup to the pot - this helps give it the golden color)
Using end of spoon poke a hole in the middle of each ball and stretch the hole to 1.5in-2in. wide
Put bagel into boiling water and cook each side for 1 min then drain excess water by placing bagel on wire rack
Place bagels on baking tray with parchment paper and bake at 425F for 25-30 mins until lightly golden
Top bagel with all the goodies and eat 3 of them in one sitting!
[This popcorn has] become a guest and staff favorite, and was made every day for our recent celebration of Maple Week here at Billings Farm & Museum!
Maple Popcorn
Ingredients:
1/2 cup un-popped popcorn kernels
3-5 tablespoons canola oil (for popping the popcorn)
1 cup pure maple syrup
1/2 cup unsalted butter
1/4 teaspoon salt
1/2 teaspoon baking soda
Instructions:
Preheat oven to 200°F.
Heat the canola oil in a large pot with a lid over a medium high flame. Once hot, pour in your un-popped kernels replacing the lid on the pot. Occasionally shake the pot back and forth over the burner holding down the lid while popcorn pops. Once popping slows down (five second intervals between pops) shut the burner off and shake until all popping has subsided.
Pour the popped popcorn into a large bowl or hotel pan and leave to cool.

Combine the remaining ingredients in a heavy bottomed saucepan and bring to a boil, continue to boil stirring occasionally until the mixture has reached 230°F.

Immediately pour mixture over popped popcorn and stir to coat.
Spread popcorn evenly between two half sheet trays lined with a silpat or parchment paper.
Bake in the oven for one hour, stirring every 15 minutes.
Cool, and enjoy!
We love using Vermont maple in all kinds of ways at The Drake! One recipe we use every day is [for] our Maple Balsamic Salad Dressing.
Maple Balsamic Salad Dressing
Ingredients:
1 cup extra virgin olive oil
1/2 cup balsamic vinegar
1/3 cup maple syrup
2 teaspoon dijon mustard
1 teaspoon salt
fresh ground pepper to taste
Instructions:
Whisk well & enjoy!
Recipe by lead bartender Charles Mehrtens.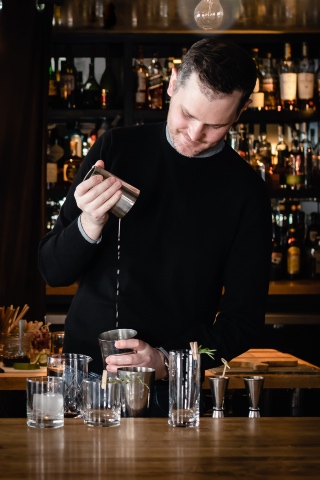 Maple Run Margarita
Ingredients:
2 ounces Espolon Blanco
1 ounce fresh lime juice
3/4 ounce grade A maple syrup
Shake and strain over fresh rocks in a sumac salt-rimmed rocks glass. Cheers!
This maple custard is one of my comfort foods. I don't bother with the peaches or the honey glaze. [It's] super easy and from the original Moosewood Cookbook by Mollie Katzen.
Baked Maple Egg Custard
Ingredients:
4 eggs
1/3 cup pure maple syrup
dash of nutmeg
dash of cinnamon
1/2 teaspoon salt
1 teaspoon vanilla
2 1/2 cups milk
1 1/2 cups fresh peach slices (optional)
1/2 cup honey (for glazed custard)
Instructions:
Preheat your oven to 350°.

Beat eggs, slowly adding other ingredients (except peaches and honey). You can use either a wire whisk, an electric mixer, or a blender.
Pour mixture into six oven-proof custard cups. Place the cups in a deep baking pan. Fill the pan with hot water, almost to the level of the custard.
Bake for 40-50 minutes (add the peach slices after 20 minutes, if using).
When you remove the pan from the oven, remove the cups fro the pan, otherwise the custard will continue to cook.
Cool to room temperature, then chill thoroughly.
Maple Oatmeal Cookies
From The Official Vermont Maple Cookbook, second edition...this recipe makes a big batch. They freeze very well. I add chopped pecans or walnuts.
Ingredients:
1 1/2 cups butter or margarine
1 3/4 cups pure Vermont maple syrup
1 cup granulated sugar
2 eggs
2 teaspoons vanilla
6 cups oats, uncooked
2 cups all-purpose flour
1 teaspoon salt
2 teaspoons baking soda
For variety, add 1 cup of any or all of the following: chopped nuts, raisins, chocolate chips, and/or coconut.
Instructions:
Preheat oven to 350°.

Beat together butter, syrup, sugar, eggs, and vanilla.
Add oats. Mix together.
Drop by rounded teaspoon-full onto greased cookie sheet.
Bake for 12-15 minutes. Makes five dozen.
Maple Seared Sea Scallops
This appetizer is always a customer favorite. [It's] served as a special a couple of times per year at the restaurant. Stay up to date on menu specials on their website.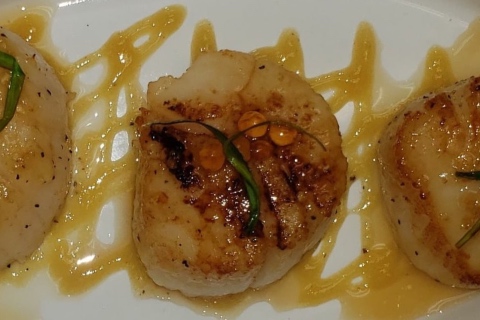 Ingredients:
Fresh sea scallops
Imported Italian extra virgin olive oil
Pure local maple syrup (Tucker Maple Farm – Westford)
Pure local maple sugar (also from Tucker Maple Farm)
Dijon mustard (chef-made)
Imported maple pearls
Leeks
Instructions:
We start by heating our extra virgin olive oil in a pan then add some maple syrup. Once hot, we pan sear our scallops and season with some salt and pepper. Once cooked to a light golden brown, we plate the scallops on a dish with our housemade maple Dijon demi glaze and top them with a special touch of maple pearls. We [also] add fresh local leeks.
It's our most popular cocktail...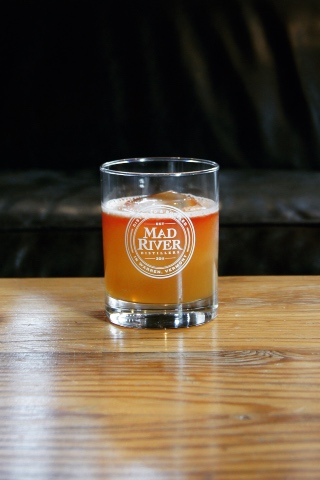 Maple Bourbon Sour
Ingredients:
2 ounces bourbon whiskey
1 ounce Vermont maple syrup
1 ounce lemon juice
4 dashes Angostura bitters
Instructions:
Combine the first three ingredients in a shaker over ice, shake briefly.
Strain into a double Old Fashioned glass and garnish with Angostura bitters.
Watch Taylor of Mad River Distillers demonstrate how to make the Maple Bourbon Sour on YouTube!
Recipe created by Executive Chef John Patterson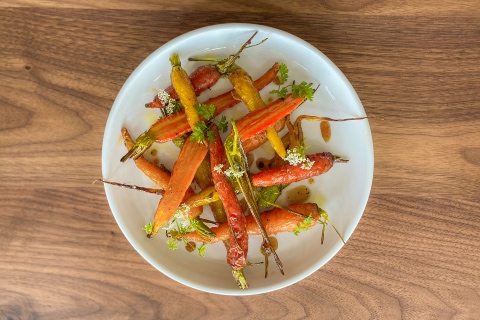 Maple Glazed Carrots
Ingredients:
1 lb mixed baby carrots, tops removed (larger carrots may also be used, but cut to bite sized pieces)
¼ cup maple syrup
1 Tbsp sherry vinegar
Zest and juice from 1 lime
¼ cup extra virgin olive oil
Salt to taste
Instructions:
Carefully wash the carrots, making sure to get any grit that may have accumulated at the top of the carrot, just at the base of the greens.
Toss the carrots with the olive oil to coat evenly. Season with salt and transfer onto a roasting rack on a sheet tray.
Roast the carrots in an oven at 450°F for 12–15 minutes; you want the carrots to take on a little roasting color, but still have a little bit of a bite.
Remove carrots and allow to cool.
In a small saucepan, combine the maple syrup and sherry vinegar. Bring the mixture to a boil and reduce the volume by half.
Remove the pan from the heat, add lime zest and juice.
Carefully spoon the mixture onto the carrots while they are still on the rack. If you have a pastry brush, use it for this step.
Place the carrots back into the oven for 2 more minutes. This step allows the maple glaze to better adhere to the carrots, and for the excess syrup to run off so that the carrots aren't too sweet.
Finish with any additional salt to your taste. Serves four.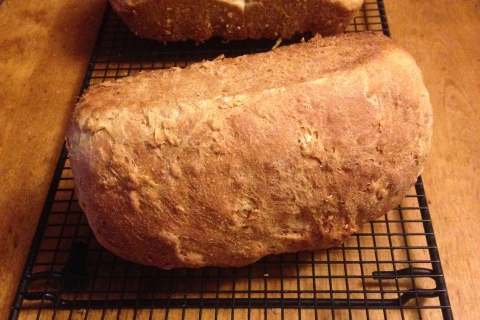 Maple Anadama Bread
Ingredients:
2 cups whole milk
1/2 cup yellow cornmeal
2 teaspoon salt
1/2 cup dark maple syrup
3 tablespoons butter
1/3 cup water
3 tablespoons yeast
5 cups flour
Instructions:
Combine milk, cornmeal, and salt in saucepan; heat to boiling, stirring constantly. Reduce heat; cook for 5 minutes.
Add maple syrup and butter. Cool to lukewarm.
Sprinkle yeast over warm water.
Add softened yeast to cooled cornmeal mixture.
Add two cups of the flour; beat thoroughly. Add enough remaining flour to make a stiff dough.
Knead 'til smooth and elastic.
Place in a well-greased bowl, turn once and cover. Let rise until doubled.
Divide in half. Shape into two loaves, and place into greased bread pans. May also be formed into rolls.
Cover and let rise until doubled, about 40 minutes.
Bake at 375° for about 50 minutes.
Turn out and serve with butter, and for a real treat, maple cream!
Vermont Maple Sugar Makers Association
Ingredients:
1 cup maple sugar
1/2 cup butter
1/2 cup pure Vermont maple syrup
1 egg
1/2 teaspoon vanilla extract
1 1/2 cups all-purpose flour
1/2 teaspoon salt
2 teaspoons baking powder
1 cup flaked coconut (for a less sweet cookie, use unsweetened coconut; use sweetened coconut for a sweeter cookie)
Preheat oven to 375°F.
Cream sugar and butter together. Add maple syrup, egg, and vanilla. Beat well.
In a separate bowl, combine flour, salt, and baking powder.
Add flour mixture to the maple and butter mixture and stir until well combined.
Stir in coconut and drop by teaspoon to greased baking sheet.
Bake for 11-12 minutes until light brown. Makes four dozen.
Ingredients:
2 cups all-purpose flour
1/2 cup brown sugar, packed
2 teaspoon baking powder
1/2 teaspoon salt
3/4 cup milk
1/2 cup butter, melted
1/2 cup maple syrup
1/4 cup sour cream
1 large egg
1/2 teaspoon vanilla extract
Topping Ingredients:
3 tablespoons all-purpose flour
3 tablespoons maple sugar
1/2 teaspoon cinnamon
2 tablespoons butter, cold
Preheat oven to 400° degrees.
In a large bowl, combine flour, brown sugar, baking powder and salt.
In a medium bowl, combine milk, melted butter, maple syrup, sour cream, egg and vanilla.
Stir wet ingredients into dry ingredients until moistened; don't over mix.
Fill greased muffin tins about 2/3 full.
Mix topping: combine flour, maple sugar and cinnamon. Cut in butter until crumbly. Sprinkle topping over unbaked muffins.
Bake 16 - 20 minutes, until done. Cool 5 minutes and then remove from pans to a cooling rack. Makes 12 muffins.
Ingredients:
1 sprig of rosemary
1 3" piece of orange peel
2 teaspoons maple syrup
2 ounces gin (shaken)
Muddle rosemary with orange peel and maple syrup in a shaker.
Then add gin and ice, shake for 20 seconds, and strain into a highball glass filled with ice.
Top the glass up with chilled tonic water, add a sprig of fresh rosemary, and enjoy!
Ingredients:
2 ounces gin
4 dashes of orange bitters
1 orange peel
1 teaspoon maple sugar
Muddle orange peel with the maple sugar and orange bitters.
Fill the glass with ice cubes.
Add the gin. Enjoy!
Ingredients:
1 tablespoon vegetable oil
1 onion, chopped
1 carrot, peeled and chopped
1 pound ground pork
3/4 cup chicken broth
1/4 cup maple syrup
1 tablespoon tomato paste
1 teaspoon fresh rosemary chopped
1 cup frozen peas
2 pounds sweet potatoes and parsnips pealed and cut into chunks (we use 2 medium-sized potatoes and 2 parsnips)
2 tablespoons unsalted butter
2 ounces goat cheese
1/4 cup heavy cream
2 tablespoons maple syrup
Salt to taste
Instructions:
Preheat oven to 375°F.
In a large pan heat oil and sauté onions and carrots until onions are translucent and carrots soften.
Add pork and cook until browned, approximately 10 minutes.
Drain excess fat and add the chicken broth, maple syrup, tomato paste and rosemary. Simmer for 10 minutes, then add frozen peas.
If prepared in cast iron skillet, set aside to work on topping, or you can pour into a 1 1/2 quart dish.
For topping, boil water and add sweet potatoes and parsnips. Cook until tender (about 20 minutes), drain, then mash with butter, goat cheese, heavy cream and salt.
Spread topping on meat and vegetable mixture and bake until topping is browned, about 30-35 minutes. Serves six.
2 cups all-purpose flour
3/4 cup maple sugar, or to taste
1/2 teaspoon salt
3 teaspoons baking powder
2 teaspoons fresh grated ginger
1 egg
1 cup milk, plus more if needed
3/4 cup of fresh cranberries, roughly chopped
Instructions:
Preheat oven to 400°F.
Grease muffin tin or line with muffin liners.
Mix together all dry ingredients.
Make a well in center of bowl and add wet ingredients.
Stir together with spatula to combine wet and dry ingredients until moistened. Batter should be lumpy and thick.
Gently fold in cranberries.
Scoop batter into tins using an ice cream scoop about two-thirds full.
Bake 20 minutes or until toothpick inserted in center of muffin comes out clean.
Let rest for 5 minutes out of the oven and serve warm.
And did you know you can also use maple as a substitution for sugar in any of your favorite recipes? Learn how here. And for even more maple recipes, check out vermontmaple.org.