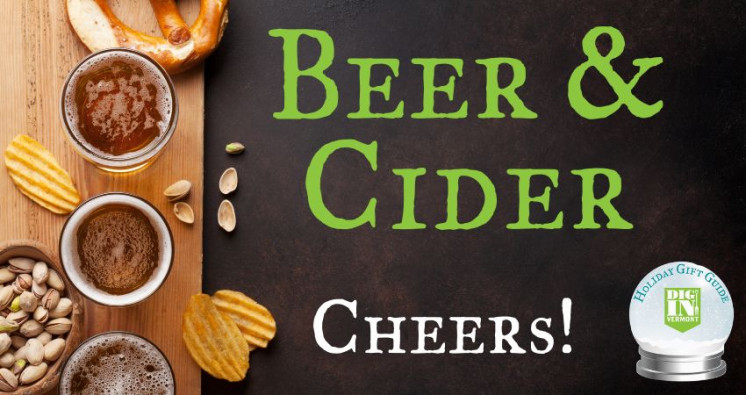 Vermont is known as a craft beer and cider destination! On DigInVT.com alone, we have over 65 breweries and cideries! It makes sense - our talented farmers who grow hops, malt, apples, and other ingredients collaborate so well with our creative brewmasters who make these special beverages. Naturally, local beer and cider are great gifts. Share these delicious Vermont drinks with everyone on your list (21+ of course). With so many different styles represented on the DigInVT Holiday Gift Guide, as well as swag, virtual tastings, and more, you can get creative and gift them something they'll really love this holiday season!
Beer & Cider
This one is pretty self explanatory! Does your loved one have a favorite brewery or cidery or like trying new ones? Pick them up a bottle or a four pack, and pair it with one of the other great gift options listed below. Or better yet, get them a few choices so they can do their own tasting and find more to love! Order directly from a brewery, and for cider, use the handy "Find Cider" tool on the Vermont Cider Association's webpage. If you're in Vermont, feel free to visit - many tasting rooms are still open for retail sales. Or hit up your local food market - most of them stock a great selection of made in Vermont beverages, but be sure to call ahead if you're looking for something specific. You might even cross some other gifts off your list while you're there.
Gift Certificates
Give the beer or cider lover in your life something to look forward to after the holidays! Tasting rooms will open up again, so a gift certificate to use when they do is a great present. Order gift certificates or cards directly from a brewery, and for cider, use the handy "Find Cider" tool on the Vermont Cider Association's webpage for links to their online shops. The recipient can then decide how to use it - take a tour, have a tasting, snag some swag, and/or get some drinks to take home!
Virtual Cider Tastings
There likely won't be as many opportunities to gather with far away family and friends this holiday season, but that doesn't mean you can't still do something special together. Treat a group of family and friends to a virtual tasting with Eden Ciders. They have the process totally dialed in and make it super simple. Order a tasting kit and register for a corresponding live tasting experience led by an Eden Cider expert. There are several existing dates throughout the month. Or, better yet, set up a personalized private tasting by contacting [email protected].
Pairings
You know what pairs really well with beer and cider? Vermont cheese! Gift these together for a proven winning combination.
Here are some cider pairing suggestions from the DigInVT.com archives:
And a couple for the beer lovers:
And don't forget the beer cheeses from Farmstead Cheese Company: Cheddy Topper (The Alchemist) and Sip of Sunshine Alehouse Cheddar (Lawson's Finest Liquids)!
Beer & Cider Condiments
We love all the creative combinations featuring beer and cider from our local makers! Butterfly Bakery of Vermont's Heady Topper Mustard (featuring The Alchemist), Vienna Lager Mustard Hot Sauce (featuring von Trapp Brewery), and Citizen Cider Smoked Onion Mustard are unique and delicious. Get them online by ordering from the Mad River Taste Place! Switchback Brewing Co. also sells Brewmaster's BBQ Sauce, featuring their tasty ale (also - it's not a condiment, but snag some of their custom beer soap while you're visiting their online shop).
Brewery & Cidery Day Trip
Plan a special day trip as a gift for your significant other or a group of 21+ pals featuring breweries and cideries in the new year. If your group is more into beer, Take the Vermont Brewery Challenge with the corresponding DigInVT Trail or try one of the several great Beer Trails on the Vermont Brewers Association website! For a cider exploration, make a day out of our Vermont Cider Trail or make your own using the DigInVT Trail feature. Be sure to stop by a farmstand, pick-your-own of whatever's in season in the warmer months, and grab a delicious lunch or dinner while you're out and about. Another great day experience is a self-guided bike tour with Vermont Bike & Brew! Their routes visit craft breweries, farm stands, cafes, and sugarhouses. Explore Vermont's backroads and immerse yourself in the sights, scents, and sounds of our beautiful state (hint - they offer gift certificates!).
Weekend Getaway
Plan a fun getaway with your partner or a friend as a special holiday gift. Book a couple nights at the Trapp Family Lodge and visit the on-site von Trapp Brewery Bierhall to enjoy "a little of Austria, a lot of Vermont" - sample their delicious lagers and grab a bite. Follow the Explore Stowe Trail and visit Stowe Cider and The Alchemist, too. Or head to Middlebury and reserve a room at the Middlebury Inn. Have a meal at Morgan's Tavern and stop by Otter Creek Brewing Co., Drop In Brewing, and Woodchuck Cider! For a fun farm stay experience, camp out at Thornhill Farm and stop by the highly acclaimed Hill Farmstead Brewery. You really can't go wrong, exploring Vermont and discovering some delicious beverages along the way.
Merch & Swag
Vermont breweries and cideries have awesome swag! Get everyone on your list a branded item so they can share their love for their favorite beer or cider with the world, or just Vermont beer in general. From t-shirts and hats to home decor and glassware, they've got you covered. Visit each brewery or cidery's webpage to see what their retail offerings are. Here are a just a few of the many, many options to check out:
For more information about Vermont breweries and beer any time of the year, please visit the Vermont Brewers Association webpage. And for more information about Vermont cideries and cider, please visit the Vermont Cider Association webpage.
This DigInVT Holiday Gift Guide was made possible by support from the new UVM Office of Engagement. The office is the University's "front door" for private, public, and non-profit entities looking to partner with UVM to address community needs.