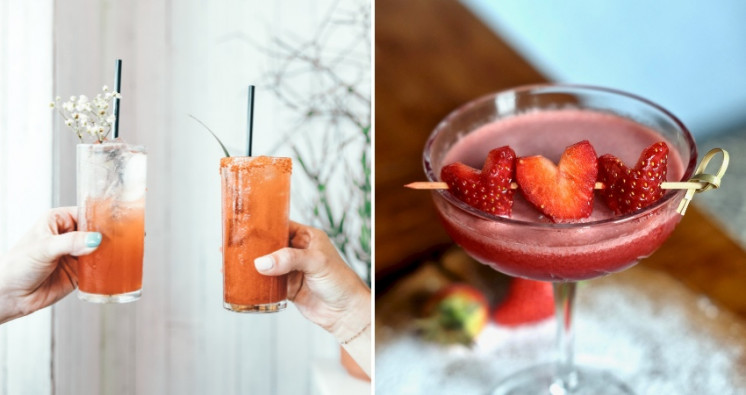 It's spring and things are looking up! Our Vermont eateries and tasting rooms are opening and putting out their patio furniture, the weather is getting warmer, and many of us are looking forward to spending more time with family and friends. And what better way to catch up than over a delicious, spring beverage? Our distillers and restaurants have some refreshing cocktails made with local ingredients on their menus, giving you the perfect excuse to get out and about! And if you're not quite ready yet, no worries - many can be ordered to-go or made at home. Which one(s) will you try?
Appalachian Gap Distillery - Middlebury
A Basil Transition
A Basil Transition is a bright, refreshing, and strikingly green cocktail that beautifully combines the summery flavor of fresh basil, lemon tartness, and floral botanicals from our Mythic gin, all rounded out with delicious elderflower sweetness. If you have mint coming up in your garden, it's a delicious substitute for basil!
1.5 oz Appalachian Gap Mythic Gin (made with majority Champlain Valley grains)
.75 oz lemon juice
.5 oz St Germain Elderflower Liqueur
.5 oz simple syrup
2 basil leaves
Directions: Muddle basil leaves in bottom of a shaker. Add all other ingredients and shake until very cold. Strain straight up into a chilled glass, garnish with a snapped basil leaf.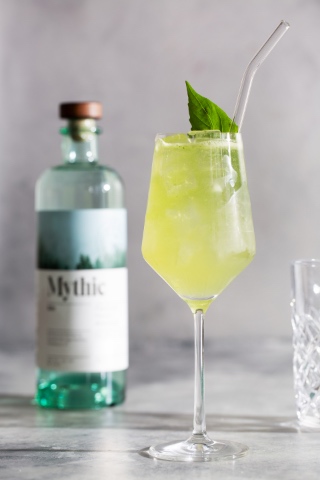 Papilio Paloma
Papilio celebrates the quintessential flavors of Mexico's tequila and Vermont's maple syrup (and the Monarch butterfly that migrates between both places) and this cocktail is an homage to Mexico's national cocktail - the fruity, tart, and oh-so-drinkable Paloma!
2 oz Appalachian Gap Distillery Papilio Agave Spirit (made with organic agave nectar from Jalisco, Mexico and maple syrup from Bristol)
.5 oz fresh lime juice
4 oz grapefruit soda
Directions: Add all ingredients to a glass with ice. Stir, garnish with a citrus twist.
The Appalachian Gap Distillery Tasting Room, located off Exchange Street in Middlebury, is open by appointment only at the moment, but they plan to open to the public after July 4th. As you may have heard, Appalachian Gap Distillery recently became the country's first Climate Neutral Certified Distillery! Stay tuned for their new branding, rolling out soon as part of their new climate neutral status.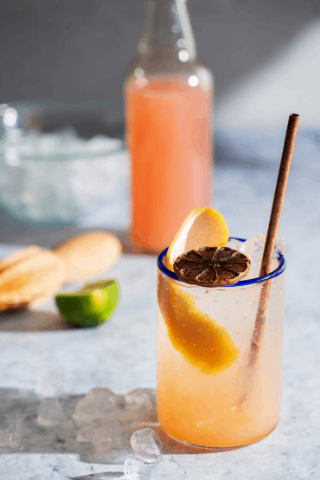 The Barrows House - Dorset
The Vermont Manhattan
This drink is meant to be enjoyed year-round! In the spring, it's perfect to sip outside at one of The Barrows House's many fire-pits as the sun goes down.
.5 oz Antica Formula Vermouth
3 dashes orange bitters
1 dash Dorset Maple Reserve Bourbon Barrel Aged Syrup
2.5 oz Smugglers Notch Maple Infused Bourbon
Directions: Pour all ingredients into ice-filled shaker. Stir. Pour into Manhattan glass. Drop in a Luxardo Cherry and garnish with an orange peel.
Featuring Vermont products is always a priority for the Barrows House, which is open Wednesday - Saturday, starting at 4:00pm. Hours will extend as summer arrives.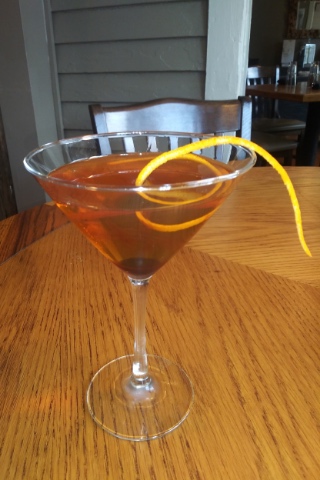 Bee's Knees
The phrase "bee's knees" was prohibition-era slang for "the best." This classic cocktail born from the prohibition era combines gin, lemon, and honey. It's a perfectly balanced cocktail that speaks to Caledonia Spirits' strong ties to beekeeping. Raw honey naturally celebrates the season as the bees collect nectar and pollen from what's in bloom. Simple yet elegant, add a local herb to the honey simple syrup or as a garnish to celebrate the garden. The Bee's Knees is Caledonia Spirits' signature Barr Hill Gin cocktail, so it's always on the menu.
2 oz Barr Hill Gin (distilled by Caledonia Spirits in Montpelier)
.75 oz fresh lemon juice
.75 oz raw honey syrup (2:1) (we recommend our raw honey, it's the same honey we use to flavor our Barr Hill Gin)
Lemon twist garnish
Directions: Combine ingredients in a mixing tin, add ice, shake, then double strain into a chilled cocktail glass. Add garnish.
The Caledonia Spirits Bar & Distillery is open for sales and curbside service - folks can order cocktails to enjoy at home by visiting the distillery in person or ordering online. They are not currently open for on-site consumption. They plan to open for outdoor service at the end of May; hours of operation for outdoor seating and service are to be determined.
Caledonia Spirits also celebrates the Bee's Knees cocktail as a way to raise awareness for honeybees and the importance of all pollinators to the food system and landscape. When purchasing a Bee's Knees at the distillery bar, Caledonia Spirits donates $1 of each cocktail sale to Bee the Change, a non profit that plants pollinator habitat. In addition, at the end of September, they take the Bee's Knees campaign on the road by energizing people across the country to drink a Bee's Knees to raise awareness and funds for nonprofits committed to helping honey bees and pollinators. Click here to learn more.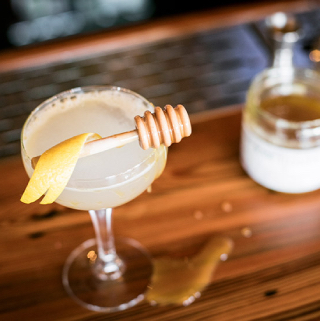 Maple City
Let springtime "sparkle" with this post-maple season cocktail.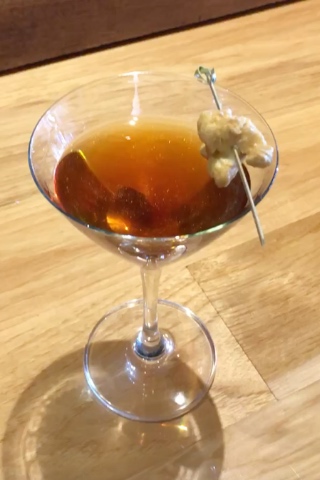 St. Albans 75
This "taste of spring" always sells out fast and locals ask for it frequently.
Gin
Prosecco
Lemon
Housemade foraged lilac syrup
The St. Albans 75 will be available once lilacs are blooming locally!
The Drake Bar & Kitchen is open Tuesday - Thursday, 4:30pm - 8:00pm, and Friday and Saturday, 11:30am - 8:00pm.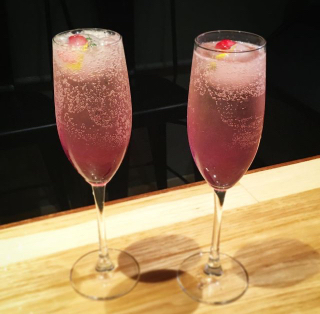 Hapgood's Lavender Lemonade
Sip this special, refreshing summer cocktail on the J.J. Hapgood patio.
SILO Distillery Lavender Vodka
Fresh lemonade
Simple syrup made with Vermont maple syrup
Garnished with sugar-in-the-raw and lavender
J.J. Hapgood General Store & Eatery is typically open Wednesday - Sunday, 8:00am - 5:00pm, however, hours can vary. Calling ahead to confirm hours is recommended. The ingredients for Hapgood's Lavender Lemonade, including retail bottles of SILO Lavender Vodka, are available to purchase on-site so folks can make them at home; pre-mixed cocktails are also available for takeout.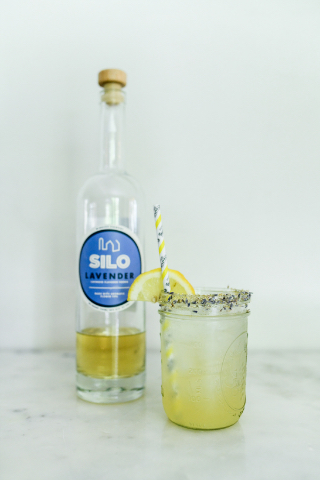 Photo Credit: Luv Lens
The Maple Leaf
The Maple Leaf is a simple Vermont-based drink. The sourness of the lemon mixture cuts through the sweetness of the fresh, local maple syrup which truly complements the taste – it's just a great refreshing and uplifting serve.
Smugglers Notch Distillery Bourbon
Vermont maple syrup from Tucker Maple Farms
Freshly squeezed lemon juice
Cinnamon stick
Jules on the Green is open Monday & Tuesday, 4:00pm - 8:00pm, Wednesday - Friday, 11:30am - 8:00pm, and Saturday and Sunday, 10:00am - 8:00pm. The Maple Leaf pairs wonderfully with Jules' steak tips, which are house cut and aged in their special housemade marinade.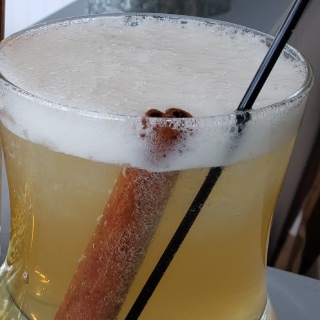 Gold Rush
The Gold Rush is a classic sour with Vermont honey - a perfect pre-dinner cocktail!
Mad River Distillers Bourbon
Lemon juice
Northwoods Apiaries honey
Mad River Distillers is open Thursday- Sunday by reservation only. Please click here to book.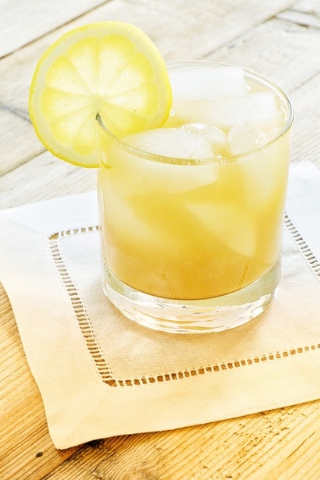 Rhubarb Spritz
Michael's on the Hill's local take on the classic Aperol Spritz takes its inspiration from local rhubarb, grown in their very own garden when in season. The rhubarb is pureed with a bit of raw Stowe honey to make a delicious, bright syrup - the perfect addition to a springtime beverage.
Rhubarb
Honey made in Stowe
Green Mountain Organic Vodka
Aperol
Michael's on the Hill is serving dinner from 5:00pm - 9:00pm daily, except for Tuesdays. Both dine-in and takeout are available. The Rhubarb Spritz pairs best with their butter lettuce salad, featuring Mansfield Creamery alpine cheese, Marcona almonds, and rhubarb sherry vinaigrette.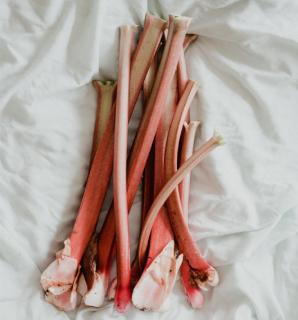 The Teacher's Pet
A floral adult lemonade perfect for a springtime patio drink or garden party menu, The Teacher's Pet celebrates spring with the inclusion of rose to highlight newly blooming flowers.
SILO Gin (corn from Grembowicz Farm in North Clarendon, apples from Moore's Orchard in North Pomfret, juniper)
Blake Hill Wild Rose Infused Strawberry Jam
Lemonade
SILO is currently open Friday, 2:00pm - 5:00pm, Saturday, 1:00pm - 6:00pm, and Sunday, 1:00pm - 5:00pm. They will open up seven days a week starting on May 7th. The Teacher's Pet will be available to drink in person on the SILO Distillery patio, as well as in larger bottles pre-mixed to go for $21.99.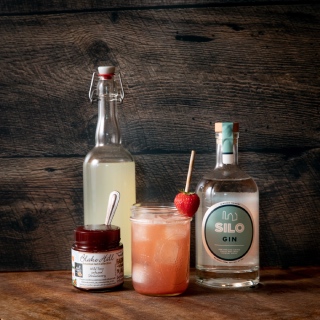 Photo Credit: Jessica Notargiacomo Photography
The Goldenrod
A light spring sipper, the Goldenrod features hints of citrus.
Smugglers Notch Distillery Gin
Lemon
Basil syrup
Zero Gravity Green State Lager
This cocktail was put together by David DuBrul, Bar Manager for Skinny Pancake on the Burlington Waterfront. Find it at the Lake Street location Monday - Thursday, 8:00am - 7:00pm, Friday - Saturday, 8:00am - 8:00pm, and Sunday, 8:00am - 2:00pm.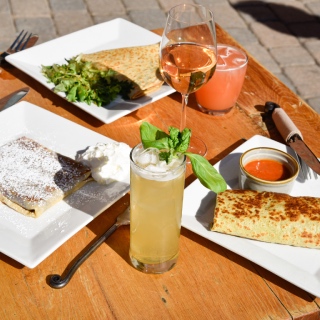 Barr Thyme Cocktail
The light Barr Thyme Cocktail will get you in the mood for some summer time fun. It's as refreshing as it is tasty!
Solstice, located in the main lodge, is open daily from 8:00am - 8:00pm.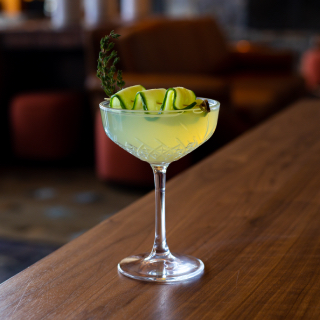 Photo Credit: ACJ Photography
The Carthusian
This special cocktail celebrates springtime vegetal and herbal growth.
2 oz Barr Hill Gin made by Caledonia Spirits in Montpelier
1 oz Chartreuse
Barspoon Blake Hill Marmalade made in Windsor
1 oz lemon juice
Directions: Add ingredients to shaker with ice, shake vigorously, double strain into chilled coupe glass, and garnish with orange zest.
Three Penny Taproom is open Monday - Thursday, 11:00am - 8:00pm, Friday and Saturday, 11:00am - 9:00pm, and for brunch on Sunday from 9:00am - 2:00pm.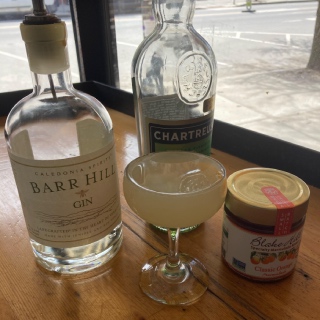 The Sap Bucket
Celebrate the close of the Vermont sugaring season with The Sap Bucket.
SILO Distillery Gin
St. Johnsbury Distillery Dunc's Maple Rum
Local maple syrup from the Ambros' in Hartland
Fresh lemon
Windsor Station has both indoor and outdoor dining Wednesday - Sunday starting at 4:00pm. Outdoor dining ends at 8:00pm, while indoor ends at 9:00pm.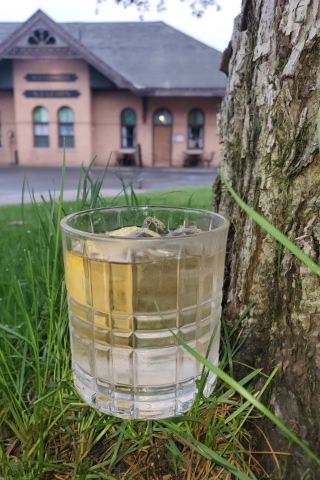 Your Father Smelt of Elderberries
This drink is a house favorite! You can also make it with elderberry syrup and elderberries, if you can find them.
1 teaspoon luxardo cherry juice (or maraschino cherry juice, but luxardo is the "original" maraschino)
2 oz Barr Hill Gin
1.5 oz elderflower liqueur
1.5 oz Fever Tree elderflower tonic
Squeeze of lime juice
Luxardo (or maraschino) cherry
Slice of lime
Directions: Fill a highball glass with ice, add cherry juice, gin, elderflower liqueur, and elderflower tonic. Top with a squeeze of lime, garnish with a cherry and a slice of lime, and enjoy!
The Woods Lodge is planning to open this summer with outdoor dining, drink specials, and live music on the lodge lawn. Stay tuned on their Facebook, Instagram, and webpage for updates. But for now, try this delicious beverage at home!