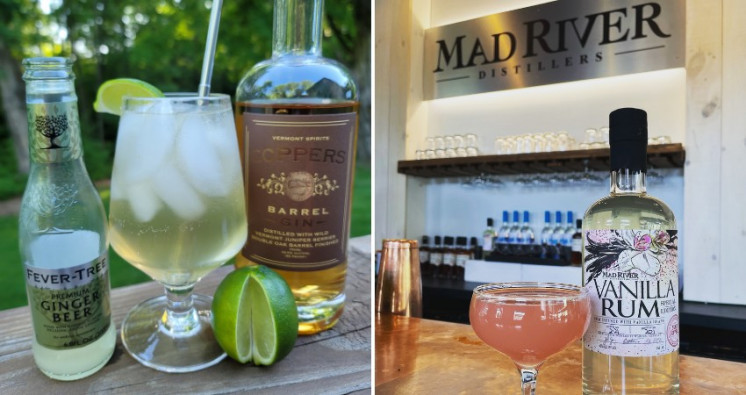 Here at DigInVT, we enjoy cocktails all year long! But there's something extra special about summertime sips - cold, refreshing, and delicious. Two of Vermont's great distilleries recently reached out to us to share their current favorite cocktails! So head to Vermont Spirits for a tasting and pick up a bottle of gin so you can mix up The Quechee Falls Mist at home, or visit Mad River Distillers in Burlington to have an expertly-prepared Rhubarb Daiquiri (and don't forget to take a bottle home for later). May we suggest using our Trail feature to make a day of it!
As much as the mist at the Quechee Bridge is a year round thing, each season gives its own signature. The glaze ice it creates in the winter is both beautiful and bracing. During the heat of the summer, we truly appreciate the refreshingly cool mist. Just like this simple drink, both are uplifting and truly invigorating!
All products made at Vermont Spirits include local ingredients! Our Coppers Barrel Gin is made with local, hand-picked juniper berries and coriander.
The Quechee Falls Mist (our version of a Dark & Stormy)
Fill a glass with ice
Add 2 oz Coppers Barrel Aged Gin
Fill glass with Fever Tree ginger beer
Garnish with a lime
No visit to the beautiful Quechee Gorge is complete without a stop at Vermont Spirits. Their Meeting House is open for tastings and sales daily from 10:00am - 6:00pm, and features exclusive handmade spirits not available anywhere else.
Stop in for a taste and a conversation. Don't forget to purchase a bottle to enjoy later at home!
Quechee Gorge Village, 5573 Woodstock Road, Quechee
What says early June more than rhubarb?
The rhubarb is harvested from a neighbor's garden. One plant has been providing us with more than enough...
Rhubarb Daiquiri
Mad River Distillers Vanilla Rum
Rhubarb syrup
Lime juice
Celebrate the season with Mad River Distillers in Burlington and try a Rhubarb Daiquiri! Stop by for samples and cocktails, and check out the cocktail accessories and spirits available for purchase. Make a reservation to guarantee a seat! They're currently open Wednesday & Sunday, 12:00pm - 6:00pm, Thursday & Friday, 12:00pm - 8:00pm, and Saturday, 12:00pm - 9:00pm.
137 St. Paul Street, Burlington