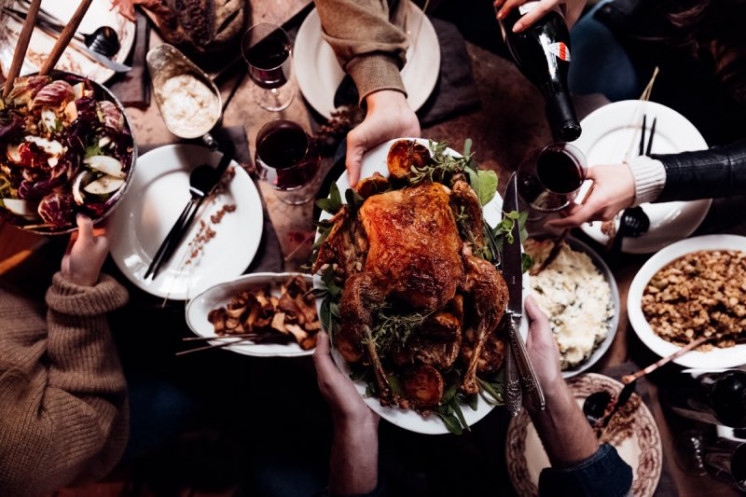 This Thanksgiving, why not let someone else do the cooking? Even better, let that someone be a Vermont Fresh Network (VFN) chef! There are many local inns and restaurants serving up delicious holiday meals prepared with Vermont ingredients this year - whether for dine in or takeout. Check out the list below to see what the offerings are in your area.
And if you just need a little help with all the cooking (side dishes), or are looking for that perfect Vermont ingredient, check out our Local Holiday Meal Guide.
---
Barre
Alimentari Roscini (AR Market) - Get your Vermont Salumi charcuterie and specialty cheeses for the perfect pre-holiday meal snack board. The Market also has hand cut steaks, fresh produce, prepared side dishes, wine, and pantry goods. Stop by Wednesday - Friday from 2:00pm - 7:00pm and Saturday from 10:00am - 3:00pm.
Morse Block Deli - Get your Thanksgiving meal catered by Morse Block. The menu boasts local turkey, sage and sausage stuffing, brown butter roasted roots, and so much more. Don't forget the pies for dessert! Place your orders online and pick them up on November 24 or 25.
Brattleboro
Cai's Dim Sum Catering - Celebrate the holidays by ordering a dim sum feast from Cai's! Order from the picture menu online and check out the other possible dishes at dimsumvt.com/party-menus (call 802-257-7898 to confirm availability before using the online ordering system for these dishes). Be sure to order by November 23, and always call to confirm your online order. Takeout only.
Bristol
Inn at Baldwin Creek and Mary's Restaurant - Head to Bristol to pick up a full Thanksgiving feast to enjoy at home. Offerings include all your holiday favorites with some exciting additions such as salmon and curried pumpkin soup! You can even order a "day-after lunch kit" with all the fixings for turkey sandwiches. View the full menu here. Call 802-453-2432 to order.
Lucky Star Catering - Get a Thanksgiving feast from Lucky Star to enjoy at home. The menu will include Misty Knoll turkey, french onion mashed potatoes, orchard salad with cider vinaigrette, and more! $25/person, leftovers likely. Pre-order online by November 22 for pickup on November 25 between 3:00pm and 7:00pm.
Brownsville
Brownsville Butcher & Pantry - Let the chef do all the cooking and get a full, prepared Thanksgiving meal. Pumpkin, apple, and chocolate walnut maple pies are also available, in addition to fresh local turkeys! Call 802-546-2900, email [email protected], or stop by before November 15 to order. Check their Instagram and/or Facebook pages for the most up to date holiday offerings and details. Pick up will occur on November 24 and 25. Note: SOLD OUT!
Burlington
Butch + Babe's - They're offering "everything but the bird!" Get prepared side dishes, pies, and sherbet punch kits (how fun!) for your Thanksgiving meal. Order by November 20 for pickup on November 25. Stay tuned on the Butch + Babe's website. Call 802-495-0716 to order.
City Market - Prepared side dishes are available for pre-order. The menu includes sweet potato and apple stuffing, roasted brussels sprouts, gravy, Vermont cranberry chutney, and apple crisp! You can also order fresh turkeys to prepare at home. Visit www.citymarket.coop/thanksgiving-turkeys-co-op and click "order here" for both turkeys and side dishes. Pick up starts on November 23.
Juniper at Hotel Vermont - Skip the cleanup and order Juniper's takeout Thanksgiving dinner to enjoy in the comfort of your own home. Nordic Farms turkey and all the traditional fixins' are included. Check out the full menu here. $65/person. Call 802-777-6089 between 8:00am and 5:00pm to order by November 20. Note: SOLD OUT!
New Moon Cafe - Order a pumpkin, maple pecan, and apple pie (or all three!). Order by Monday, November 23 for pickup on Wednesday, November 25 between 10:30am and 4:00pm. Visit newmoonvt.com/homestyle-dinners to order.
Chittenden
Mountain Top Inn & Resort - Start off with local apple and squash bisque or oysters before enjoying traditional roasted turkey, prime rib, and more. It all goes perfectly with the beautiful mountain views from the dining room. Or book one of their houses and let them bring the feast to you. This year's meal will be served à la carte. View the full menu here. Call 802-483-2311 for reservations. Seating is limited, so book soon!
Dorset
The Dorset Inn - The Inn's à la carte Thanksgiving menu boasts smoked duck pâté, Vermont Creamery goat cheese and mushroom tart, and Misty Knoll turkey dinner. Other entree options include prime rib, salmon, and house made pumpkin ravioli. The nearby Dorset Bakery will be preparing apple and pumpkin pie for dessert, along with the Inn's chocolate torte. Call 802-867-5500 for reservations (required).
Essex
Jules on the Green - Jules on the Green is offering individual and family style turkey dinners, full catering with half or full turkey, as well as side dishes and desserts. You can enjoy the meal in their comfortable dining room or take it home. Pre-orders must be in by November 23, and reservations are required for dine in. Get all the details at julesvt.com/menu. Call (802) 857-5994.
The Essex, Vermont's Culinary Resort and Spa - Enjoy a Thanksgiving feast prepared by The Essex. They're skipping the buffet this year and offering a delicious takeout menu instead. $280 gets you the full meal, feeding up to ten people. Be sure to order by November 16. Call 802-764-1413 for reservations.
Grafton
MKT: Grafton - Enjoy a menu of delicious appetizers (baked brie with berry preserves!), sides, desserts, and even maple brined roast turkey breast available for pre-order. Click here to view the full menu. Call 802-843-2255. Turkey quantities are limited.
The Grafton Inn - Give thanks with The Grafton Inn. They'll be serving up Thanksgiving turkey with all the trimmings, in addition to some unique offerings for those who prefer a less traditional meal. Think sea bass, cajun fried turkey, and filet mignon. For dessert, make the tough choice between apple, pecan, pumpkin, or chocolate pie. $60/adult, $30/child. Call 802-843-2248 for reservations, seating is limited. Takeout options are also available. Click here to view the menu and fill out the order form by November 19.
Ludlow
Echo Lake Inn - Celebrate Thanksgiving at the Echo Lake Inn! They'll be serving up a three course holiday meal. Start off with Vermont sausage and kale soup and salad, and then enjoy a selection of main dishes, including salmon, filet mignon, ravioli, and, of course, Vermont turkey! Finish the meal with a selection of seasonal desserts. $45/adult, $20/child. Call 802-228-8602 for reservations.
Manchester
Reluctant Panther Inn and Restaurant - At Reluctant Panther, choose between several appetizer and entree options including local green salad, lobster and brie fondue, organic Vermont turkey, Switchback Ale braised beef short ribs, and more! The dessert menu boasts five delectable offerings. $65/person. Call 800-822-2331 for reservations. They're also offering a full takeout menu with options for two, four, or six people. Order by November 18.
Middlebury
Morgan's Tavern at Middlebury Inn - Feast on a traditional holiday meal at Morgan's Tavern. The family style menu includes roasted pumpkin bisque and sweet potato casserole to roasted local turkey and freshly baked pie. $35/adult, $18/child. Call 802-388-4961 for reservations. If you'd like to spend less time cooking and more time celebrating at home, order from the holiday takeout menu by November 20.
The Arcadian - Introducing Turkey Bags, a to-go bag full of all the elements of a traditional feast for four people. Designed for oven reheating. Reserve on their website while supplies last. Menu includes rosemary rubbed Misty Knoll turkey, twice roasted potatoes, broccoli salad, brussels sprouts, cranberry-clove conserva, and more. Rolls and pies, like bourbon pecan and molasses & spice pumpkin, can be purchased from Haymaker Buns. Pick up on November 25 during business hours. Note: Sorry, CANCELLED!
Middlesex
Red Hen Bakery and Cafe - Red Hen will be offering holiday specials to complete your feast including their new cranberry pepita bread, cranberry apple streusel pie, and maple pecan pie. Their Thanksgiving sides, all made with ingredients from local farms, and standard Thanksgiving fare (apple and pumpkin pies, rustic rolls, and stuffing mix) will be available, in addition to their regular offerings. Ask about their wine pairing options. You can order by calling 802-223-5200 x16, emailing [email protected], visiting the website, or stopping by. Be sure to place your orders by November 20.
Morrisville
Susanna's Catering - Susanna's is offering prepared meals, soups, salads, and appetizers with a month long Thanksgiving dinner menu! Visit susannastogo.com for menus, pricing, and ordering details. Stay tuned on their Instagram page for updates! Order by November 22 for pickup or delivery.
Newfane
Four Columns Inn and Artisan Restaurant - Join Four Columns for their popular three course family style menu featuring traditional dishes like roasted Vermont turkey, or New York strip, pan-roasted salmon, and cauliflower 'steak'. The fixin's will be classic herb stuffing, green bean and mushroom casserole, mashed potatoes, and delicata squash and cranberry wiggle. $60/adult, $25/child. 1:00pm - 6:00pm. Call 802-365-7713 for reservations. You may also order a takeout turkey plate for $35/person.
Peru
J.J. Hapgood General Store & Eatery - J.J. Hapgood will be offering fresh Vermont turkeys, as well as lots of delicious side dishes and desserts. Call 802-824-4800 or stop by to order! Online ordering will be available soon.
Pittsfield
The Backroom and Vermont Farms Catering - The Backroom is offering a full Thanksgiving menu to-go. Enjoy Misty Knoll turkey with ginger cranberry sauce, maple vanilla sweet potato puree, roasted brussels sprouts, caramelized leek and aged cheddar potatoes, and much more for $45/person. Place your order at thebackroomvt.com/thanksgivingtogo-1 by November 19 for pickup on November 26 at the Original General Store.
Stowe
Edelweiss Mountain Deli - The Deli is offering local Marble Hill Farm turkeys, fresh or prepared, and a full menu of delicious side dishes (pumpkin ravioli!), breads, pies, cookies, and more! Stop by, fill out this order form (ahead of time or when you stop by), or call 802-253-4034. Place your orders by November 21 for pickup by November 25.
Edson Hill - Stay cozy by the fireplace in Edson Hill's dining room. The chef is preparing a delicious three-course meal. Start off with a grilled radicchio salad or creamy mushroom soup. Next, choose between beef wellington, roasted turkey breast, or poached halibut, and complete the meal with pumpkin pie or apple cake. $75/person. Call 802-253-7371 for reservations.
South Hero
Let's Pretend Catering - Have the talented team at Let's Pretend prepare your Thanksgiving side dishes, desserts, and more! You can order online with convenient pick up locations in South Hero, Shelburne, or South Burlington or call 802-372-3722. Pre-orders are required by November 20. Don't hesitate to call or email [email protected] with questions!
Waitsfield
Inn at Round Barn Farm - Head to Waitsfield to pick up your holiday meal (or have it delivered). They're offering Thanksgiving takeaway - traditional turkey dinners for four or six people plus extras you won't want to miss. Ordering opens November 11 and closes November 20. Get all the details and order here: theroundbarnstore.square.site.
Woodstock
Woodstock Farmers' Market - This unique fresh food market has you covered for local turkey (options include Stonewood Farm and Misty Knoll Farm), as well as a full spread of starters, entrees (stuffed acorn squash for the vegetarians!), side dishes, and pies. Stop by or call 802-457-3658 to order. Online ordering will be available soon!
---
Or, if you plan on cooking, source ingredients for your homemade meal from local farms and markets with the Vermont Fresh Network's 2020 Local Holiday Meal Guide.