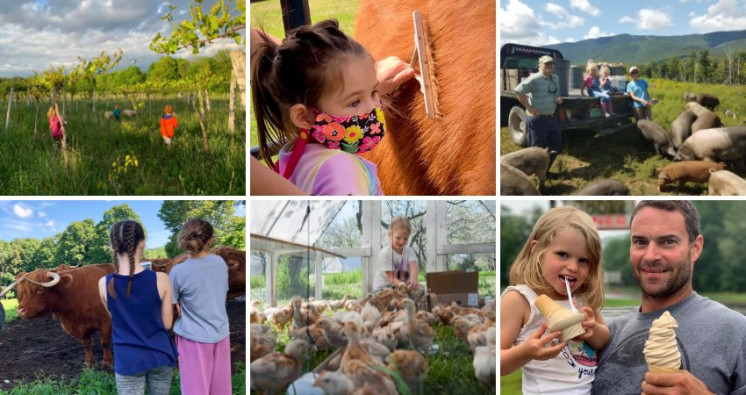 Vermont Open Farm Week always means fun for the whole family! Check out all the events for kids happening throughout the week.
Find a farm near you or make a day trip out of it to meet some animals, take a nature walk, enjoy a picnic, do some arts & crafts, or feed pigs. Try a scavenger hunt, take a hay wagon ride, enjoy some pizza or a maple creemee, comb a Highland calf, or learn how to make flower crowns. See all the details below!
Featured in this blog post are just some of the 95+ events that await you during this fun and delicious week - there's so much to discover! For a full list of Open Farm Week happenings, visit diginvt.com/vtopenfarm.
Be sure to visit the full event listings (linked below) for all the details, including registration requirements & fees.
Arts & Crafts
Brattleboro
Wednesday, August 11th, 10:00am - 12:00pm
Put your imagination and creativity to work as you transform rocks into our smallest woodland creatures during Vermont Open Farm Week!
Charlotte
Thursday, August 12th, 10:30am - 12:30pm
Celebrate Vermont Open Farm Week with flower crown making for kids at Sweet Roots Farm, in partnership with Unity Farm!
Montpelier
Friday, August 13th, 10:00am - 12:00pm
Enjoy the magic of Anderbell Acres in bloom. All fairies at heart are invited to color their wings (provided), make a fairy wand, or flower crown. Wear what makes you happy! Unlimited smiles and unicorn rides.
Brattleboro
Saturday, August 14th, 10:00am - 12:00pm
Transform yourself into royalty by using petals, herbs, and leafy greens to create your very own nature crown using elements found at the Farm!
Animal Fun
Waitsfield
Monday, August 9th, 12:00pm - 2:00pm
This is a great event for all ages! Come meet and interact with von Trapp Farmstead's herd of 50 pasture raised pigs. Participants will be able to enter the enclosure and get up close and personal with the pigs! You'll get to feed them their daily ration of bread, whey, veggies, apples, and grain. All participants who wish to enter the enclosure must wear long pants and hard shoes. Come learn about pasture health, rotational grazing with pigs, and meet the herd.
Plainfield
Tuesday, August 10th, 11:00am - 2:00pm
Bring a blanket and a lunch and enjoy a picnic adjacent to the pasture of the oldest registered fold of Highland Cattle in the United States. Gaze out at the Worcester Range and beyond to the Adirondacks, enjoying one of the most picturesque views in Vermont. Comb a Highland cow or calf and discover how peaceful communing with this heritage breed can be. Greenfield Highland's 100% grass-fed and finished beef can be purchased at the Plainfield farm.
Northfield
Wednesday, August 11th, 4:00pm - 4:45pm
Vermont farms are perfectly positioned to be a solution to the climate crisis, help bees and other pollinators thrive, hold rain in our hills to reduce floods, and use sunshine to produce food and jobs. Green Mountain Girls Farm is designed to help make people and our planet healthier.
The tour group will romp with curiosity around the farm's pond, gardens, orchard, and pasture! You'll meet pigs, chickens, and turkeys, along with barn cats, farm dogs and farmers - young and old - along the way. Learn how we can all eat and farm well and enjoy popsicles made from ingredients all grown right in the neighborhood.
Brattleboro
Thursday, August 12th - Sunday, August 15th, 10:00am
Get up close and personal with Retreat Farm's beloved animals! This special guided tour of the Piggery gives you the chance to feed Carlos the Ox a sweet treat, visit animals on pasture, and experience a special meet and greet with the kid goats! This tour is sure to delight first-time visitors and those who visit the Farm regularly.
Brattleboro
Thursday, August 12th - Sunday, August 15th, 2:00pm
Join Retreat Farm for a guided tour and walk through their new orchard and the historic Cow Tunnel to South Meadows as you find tasty treats to feed to the chickens and goats.
Putney
Saturday, August 14th, 4:00pm - 5:00pm
Have you ever experienced sugar on snow?! Don't miss this Vermont tradition! Taste Morse Brook Farm's delicious syrup and enjoy a cool treat on a hot day in honor of Vermont Open Farm Week!
Putney
Saturday, August 14th
Take a hay wagon ride to the top of the hill at Morse Brook Farm and take in the amazing view. Bring your binoculars! There may even be a co-pilot goat to entertain you on the way up the hill.
Tours, Activities & More
Tunbridge
Sunday, August 8th, 12:00pm - 4:00pm
Celebrate community and learn about Flying Dog Farm and the new White River Land Collaborative at this special Open Farm Week event! This celebration for all ages will include live music, local food and beer for sale, guided farm tours, demonstrations and information tables, historic information including from a local Abenaki presenter, and kids' activities.
You can also head up the hill for a short meadow hike and views of the valley.
Cornwall
Sunday, August 8th & Sunday, August 15th, 10:00am - 4:00pm
Bread Loaf View Farm will swing the sugarhouse doors open once again to welcome guests. Visit during Vermont Open Farm Week for Ice Cream Sundays (August 8th & 15th) and get the complete sugarhouse experience!
Bread Loaf View has a new self-guided "Sugarwoods Trail" where you'll discover what makes maple unique in nature, and view the assorted ecosystem features of their forest. And a visit to the farm is not complete without browsing through the ever-changing Maple Museum, curated and presented by Chuck Hermann. Find out how Vermont's time honored maple harvesting practices came about and how little some have actually changed.
Start or finish your stay with a classic Vermont ice cream sundae. The farm will be serving up vanilla ice cream drizzled with maple syrup or some good old-fashioned homemade maple caramel to create sweet memories of Vermont Open Farm Week!
Cambridge
Wednesday, August 11th, 10:00am - 1:00pm
Swarm together starting at 10:00am for an insect scavenger hunt at The Farm Between, followed by bug-themed arts and crafts activities at 11:00am! Limited supplies of insect nets, magnifying glasses, and art supplies will be available for use, but feel free to bring your own, as well.
For a healthy and delicious snack, try some farm-made jams, crafted with berries grown right at The Farm Between! Homemade bread (including a gluten-free option) will be available to accompany the spreads, along with freshly-made beverages. The event will run from 10:00am - 1:00pm and is open to all ages and experience levels. The Farm Between's nursery, where you can find pollinator-friendly native and fruit plants, will be open from 9:00am - 3:00pm.
Northfield Falls
Thursday, August 12th, 10:00am - 12:00pm & 1:00pm - 3:00pm & Sunday, August 15th, 10:00am - 12:00pm
Visit Lightfoot Farm for a FREE tour of the fruit, berry, and nut orchard, herby drying greenhouse, flower drying barn, and herb and flower beds. There will also be time for those who are interested to check out the maple barn and two-acre maple operation. Farmer Carol will demonstrate how the herbs are harvested and dried, and kids will have the opportunity to touch and smell plant samples (recommended for kids over the age of 5). Be sure to dress appropriately for the weather.
Lightfoot Farm's delicious Taste of Summer iced tea and other refreshments will be available.
Hubbardton
Thursday, August 12th - Saturday, August 14th, 11:00am - 7:00pm
Come take in the beauty of the Taconic Mountains, and this historic 210 year old farm built around 1810. Built by one of the Hubbard family members, it is one of the original homesteads in what is now known as Hubbardton. The walk will take you through Frog Hollow Farm's 45 acres of fields and pastures on the farm, sharing some of the history and what's being done to restore the buildings and the land. See the sheep and cows in the pasture, the chickens and goats roaming the farm, and walk through the fields growing heirloom produce.
The hike will take you to one of the farmers' favorite spots on the farm: the 100 year old orchard. Here you can take in the incredible views of the mountains and nearby Lake Bomoseen while you enjoy an optional picnic that can be purchased and picked up prior to your hike. Picnic lunches will include everything you need for a lawn picnic, prepared by Frog Hollow Farms owner & executive chef - just bring your own blanket.
The hike is great for children and families. Wagons recommended for children that may have trouble walking the entire trail – strollers are not recommended.
Charlotte
Thursday, August 12th, 11:00am, Friday, August 13th & Friday, August 14th, 11:00am & 1:00pm
Visit Philo Ridge Farm for a tour of the barns and gardens! Walk along the vegetable and perennial gardens while learning about the history of the farm and how they practice regenerative agriculture.
Philo Ridge will also have a self guided, family friendly activity available throughout the week.
Sutton
Thursday, August 12th & Friday, August 13th, 12:00pm - 6:00pm & Saturday, August 14th & Sunday, August 15th, 10:00am - 6:00pm
Take a multi-farm dairy tour and enjoy Kingdom Corn Maze during Vermont Open Farm Week! First, check in at Kingdom Corn Maze and then you'll be off to meet your farm tour guide at Don-Sim Farm to start your tour. Visit the barn and check out the grounds, cows, calves, chickens, pigs, sugarhouse, and apple orchard! Next, you'll follow your farm tour guide up to Simpson Farm to see cows milking in a rotary parlor, a tour of the milk cow barns, and calf barn. Both farms are located within a half mile from the Kingdom Corn Maze. Special for Vermont Open Farm Week: get free ice cream with every tour at Kingdom Corn Maze.
Randolph Center
Friday, August 13th, 2:00pm - 7:00pm
Visit Silloway Maple on Friday during Vermont Open Farm Week and explore Vermont maple! Enjoy a sugarhouse tour, taste free samples of the four maple syrup grades, take a self-guided hike through the sugarwoods, and have a maple creemee! They'll be offering hayrides at the top of each hour, too!
Hardwick
Friday, August 13th, 3:00pm - 6:00pm
Head to Atkins Field from 3:00pm - 6:00pm on Friday, August 13th for an afternoon of summer fun to celebrate Open Farm Week and our agricultural community.
Enjoy great food, live music, and activities for kids and adults. See baby goats, live oxen and artisan craft demonstrations, and learn how black ash baskets are made. Shop the Hardwick Farmers Market and taste test heritage tomato varieties to vote for your favorite.
In addition to offerings by the weekly market vendors, signature cocktails by Barr Hill in commemorative ceramic mugs and grilled cheese sandwiches from Jasper Hill Farm will be available for purchase. A raffle of local farm and food products will round out the event and it all supports the Center for an Agricultural Economy and their dedication to a thriving local agricultural community.
To see a full list of Vermont Open Farm Week events, visit diginvt.com/vtopenfarm.
Photos (clockwise from top left): Ellison Estate Vineyard, Greenfield Highland Beef, von Trapp Farmstead, Silloway Maple, Golden Apple Family Farm, and Greenfield Highland Beef.
Funding for Open Farm Week was made possible by the U.S. Department of Agriculture's (USDA) Agricultural Marketing Service through grant
AM190100XXXXG100 . Its contents are solely the responsibility of the authors and do not necessarily represent the official views of the USDA.