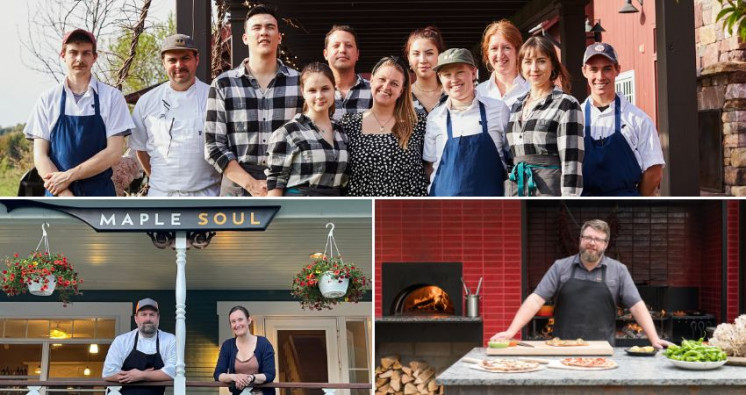 Vermont Fresh Network culinary members have all made a commitment to know Vermont farmers and serve locally grown and raised ingredients. However, each year there are some that take this commitment to the next level and those chefs are awarded the Gold Barn Honor.
Gold Barn chefs source ingredients from at least 15 individual local farm partners, ten of whom are Vermont Fresh Network farmer members, and many far exceed these numbers. In addition, they also spend 35% or more of their annual food budgets on ingredients sourced from local farmers and food producers or purchase $350,000 of locally grown or raised food products throughout the year. And all of this makes for very delicious food.
These chefs and restaurants are inspiring by the way they "walk their talk" when it comes to serving dishes made with so many products grown and raised by Vermont farmers.
Cheers to Vermont Fresh Network's 2022 Gold Barn Chefs!
The Lodge at Spruce Peak's signature restaurant, offers Vermont artisan-inspired cuisine in an elegant and relaxed setting.
Owner Danielle Boyce and Chef Samantha Langevin focus on featuring local, regional, and organic ingredients raised and harvested by farmers they know. Middlebury Hearth's weekly specials showcase each season's harvest and highlight the specialities of local farmers, cheesemakers, and other food producers from their 32 local partners.
This newcomer to Gold Barn status has a "culture of craft: exceptional craft celebrated at every turn." That's true with the culinary team led by Executive Christian Kruse whose James Beard nominated menu focuses on locally sourced food from their 22 farm and food producer partners.
Bleu has a strong commitment to freshness and to small producers. They partner with local purveyors and New England fishermen for daily seafood deliveries arriving straight from the docks. With 36 VFN partners, Chef Doug Paine sources locally at every turn.
City Market is dedicated to supporting the local economy and strengthening the local food system. They work with thousands of Vermont vendors to feature a wide selection of local and Vermont-made products.
Proving that good things come in small packages, owner Lise Anderson purchase a majority of her food from local markets, farmers and producers because she knows visitors to Vermont are looking for authentic local food.
Eat. Drink. Flip the Record. That's the mantra of this Stowe classic with a menu chock-a-block with locally sourced pub fare and a swoon-worthy beer and brew menu.
Echo Lake Inn chefs combine local ingredients with well-loved classics to provide a unique set of menu selections, ensuring everyone will find something they love.
Edelweiss is committed to stocking Vermont beer and specialty foods and uses local ingredients in their prepared foods. This local landmark owned by Jeff Clarke and Kris Ryan-Clarke partner with more than 22 VFN farms and producers to stock their deli, prepared foods, bakery and market shelves.
Chef Jerome Picca and the Edson Hill culinary team take a modern approach to classic New England fare. Guests can enjoy sensational meals, intimate ambience, and views of the picturesque grounds in Edson Hill's elegant dining room.
Chef Frank Pace and Marnie Long (also of Zero Gravity Beer Hall and August First), lead the way with local sourcing for their catering operation with over 30 VFN farm and food partners.
This mightly little bed and breakfast prioritizes local purchasing for their farm-fresh breakfast fare.
At Hen of the Wood, the food is simple, uncomplicated, and down-to-earth. Chefs create daily changing menus based on the wealth of premium ingredients found only miles from the restaurant in the lush Green Mountains and Champlain Valley.
James Beard nominated restaurant Honey Road serves up Eastern Mediterranean mezze in the heart of downtown Burlington.
The Inn welcomes people to come stay at Shelburne Farms, a 1,400 acre working farm with educational programs and National Historic Landmark on Lake Champlain. Their farm-to-table restaurant features locally produced food.
Home to 245 acres of pristine farm land, four acres of certified organic gardens, a restored round barn, and a farmhouse, Inn at the Round Barn Farm is a world class inn and bed and breakfast highlighting the Mad River Valley's dynamic food culture. Chef Kim Donahue purchases nearly 58% of her food locally!
At this authentic recreation of a 1924 roadhouse, they are committed to local sourcing for the elevated comfort food menu.
Open daily for breakfast, lunch, and dinner, guests are invited to enjoy a menu that celebrates American rustic cuisine using classic techniques and premium local ingredients in a variety of exciting dishes.
Juniper is a local ingredient-driven bar and restaurant serving up dishes bursting with flavor. Juniper uses lots of fresh ingredients from their farming, foraging, and fishing friends.
Look no further for locally sourced cheese, charcuterie and specialty products. In the market or for a catered event, you'll find all things Vermont!
Maple Soul is a small farm-to-table restaurant with a focus on fresh, local ingredients. Their relationships with nearby farmers allow them to source their ingredients farm direct. It's Vermont comfort food with a southern twist.
Enjoy Vermont's culinary bounty with seasonal, farm-to-table cuisine prepared by award-winning Chef/Owner Michael Kloeti at Michael's on the Hill.
The Co-op is a democratic, member-owned cooperative committed to providing healthy, competitively priced foods that encourages ecologically sound and healthful patterns of production and consumption. What's not to love about this locally minded in-house deli and take away gem in the heart of Middlebury?
Open for take out, this small restaurant is "open like a food truck" with a menu of Mex-Orleans and street cuisine made from scratch with locally sourced, organic food.
Morse Block Deli offers sandwiches, a full service deli, taproom, and catering focused on house-made and locally sourced meats, cheeses, breads, produce, beverages, and more.
Hosts Linda and Ted Fondula prioritize true farm to table experiences including their catered events and culinary classes.
Not only is Philo Ridge a diversified farm in its own right, they also partner with over 20 Vermont farms and food producers for their market and dinner fare.
Matt and Kate Jennings have turned their micro farm and barn kitchen into a charming local place for special events, pop-up dinners, takeaway, and offsite catered events. "Our food is unfussy, fresh from the dirt and packed with flavor" they say and with 20 local partners, we believe it!
This newcomer to the Gold Barn list opened their doors with a commitment to local sourcing. Head to their dining room or patio for fresh food from Vermont farms and food producers, and that includes all the best local wine and cheese and charcuterie.
If you're looking for gratitude for local farmers and food producers, Chef Susanna Keefer delivers! She prioritizes local purchasing and has another big goal to "enhance the diets and brighten the lives of her customers through the power of real food made with love."
The Farmhouse Tap and Grill is a farm-to-table gastropub serving local burgers, charcuterie, cheeses, and innovative specials. The tap room offers highly prized beers from Vermont's backyard and beyond.
Under the direction of Executive Chef Sigal Rocklin, the menu at this boutique hotel features innovative, farm-fresh classics that change with the seasons.
This homey local Taproom features locally sourced pub food.
UVM Dining is a committed partner in the development of a strong Vermont food system and has worked hard to increase the number of local vendors who provide food items to the campus and integrate Vermont products into their core menu mix. (Not open to the public.)
UVM Medical Center understands that nutrition and food systems are inextricably linked to the health of their patients and community. This is reflected in their commitment to serving fresh, locally produced, minimally processed foods, and to partnering with farmers throughout the region to supply healthier foods to patients while boosting the local economy.
Vermont Farms Catering works with local farmers and purveyors to offer you the best Vermont ingredients. These products, in the hands of a creative, talented, and experienced team, turn weddings and events into unique and memorable realities.
The Inn offers romantic guest rooms, fantastic views, extensive gardens, and fabulous dining. Chef Scott uses the freshest local and organic ingredients in preparing delicious New England fare for guests to enjoy.
Look for the Vermont Fresh Network Gold Barn logo when you dine!