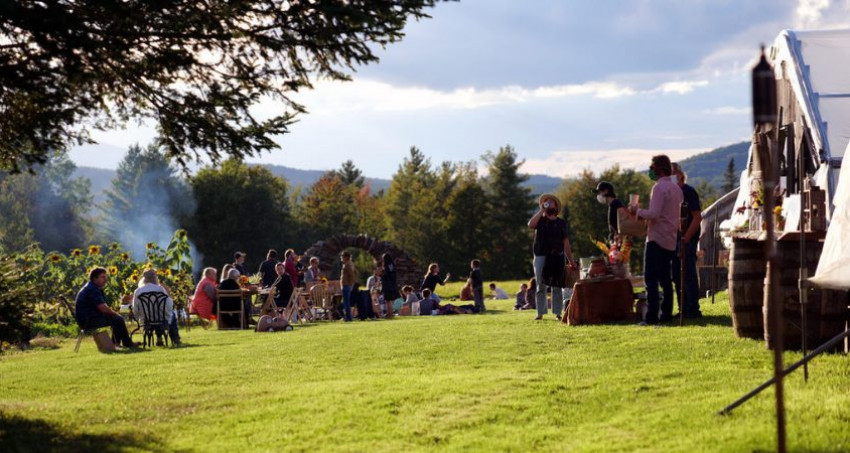 Sat, Aug. 12, 2023 5:30 PM – 8:30 PM
We invite you to Sandiwood Farm on Saturday Aug 12 for an Open Farm Week live music event from 5:30 -8:30 PM featuring Maple Run Band, along with special guests The Lost Faculty.
Net proceeds to benefit The United Way of Lamoille County's Flooding Relief Fund. Suggested ticket price is $25, but pay what you want pricing allows you to pay $15 or more to support Lamoille County residents severely impacted by recent flooding.
Come meet the growers Bob and Sara Schlosser, see some of the crops, experience an amazing sunset while enjoying live music.
A variety of foods that will be available to purchase from Hinterland Market caterers. Wildbranch Cider will be serving their wild-foraged hard apple ciders.
Bring a blanket, tables will also be set up outside and in our agritourism greenhouse. Rain or shine event.
The farms Maple Syrup, produce, eggs and CBD products will also be available.
Tickets available at: https://www.maplerunband.com/online-store/Maple-Run-Band-@-Sandiwood-Farm-Saturday-August-12-p566305560
Note: Sandiwood Farm is located 1.7 miles up Town Hill off of Route 15 in Wolcott. Box 1665 will be on the right, while the driveway to the farm will be on the left.
Sandiwood Farm is a source of high-quality, low impact farm products and services offering naturally raised produce and farm shares (CSA), artisan maple syrup, as well as hemp and CBD prooducts and a beautiful venue for one-of-a-kind events and farm stay experiences. Farmers Bob & Sara help people connect with fresh produce and have authentic recreational, dining, and farm stay experiences that keep the community fed and farmland in production.
Related Places (1)