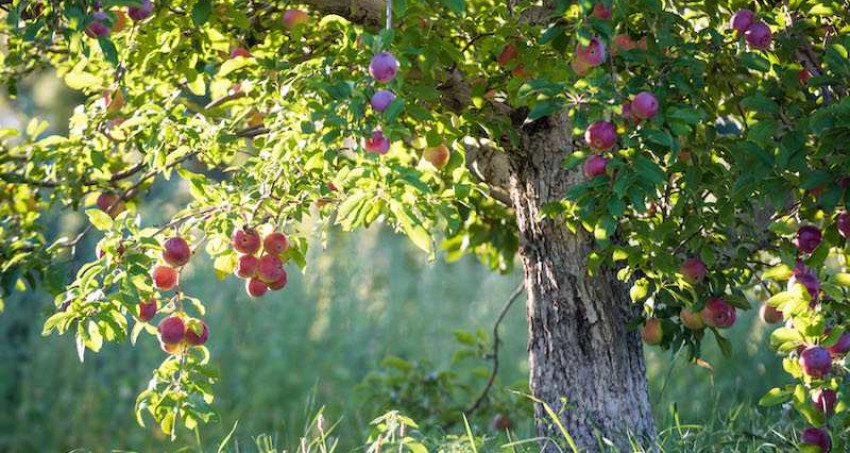 Sun, Aug. 13, 2023 All Day
Scott Farm's world-class apple orchard is keeping alive the heritage and flavor of 130+ varieties of ecologically grown heirloom apples, as well as many other fruits. You may have shopped in the Farm Market or enjoyed fresh apples right from the tree in our Pick-Your-Own areas, but today we'll bring you into the larger heirloom orchard.
As part of Vermont Open Farm Week, join Farm Manager Simon Renault and Orchardist Erin Robinson for a stroll in our orchard and learn a bit about the history of these of unique and historic fruits. We'll discuss orchard ecology, what it takes to manage the farm, and why preserving these heritage varieties is so important.
No tickets necessary, just show up ready to walk and enjoy. And be sure to stick around for our Next Stage Bandwagon Series concert at the farm at 6pm! The Farm Market and Pippin's Café will be open.
Scott Farm is an orchard business owned by The Landmark Trust USA, anon-profit whose mission is historic preservation, since 1995. The Farm specializes in growing heirloom fruit and is renowned nationwide for its spectacular collection of heirloom apple varieties. Scott Farm grows over 130 varieties of apples as well as plums, blueberries, peaches, pears, quince, nectarines, cherries, grapes, medlars and apricots, paw paws & persimmon and is EcoCertified™ by the IPM Institute of North America. The Farm Market&Café is open from August to Thanksgiving. The retail market sells the various apple varieties and fruits as well as freshly pressed apple cider, cider donuts, apple pies and more. You can also pick your own apples in season. At the café, you can taste Scott Farm's own hard cider. Each year, peak harvest time is celebrated with Heirloom Apple Day on Columbus Day weekend. The Apple Barn is also a venue of choice for weddings, workshops and other celebrations. Scott Farm itself is an heirloom: all the old barns and outbuildings are in the National Register of Historic Places. The Landmark Trust USA manages four historic vacation rental properties around the farm. All four, including Naulakha, home of writer Rudyard Kipling, are available for overnight stays year round. Scott Farm is also home to the Stone Trust and their Stone Park where you can walk among an impressive collection of various hand crafted dry stone walls and sculptures.
Related Places (1)