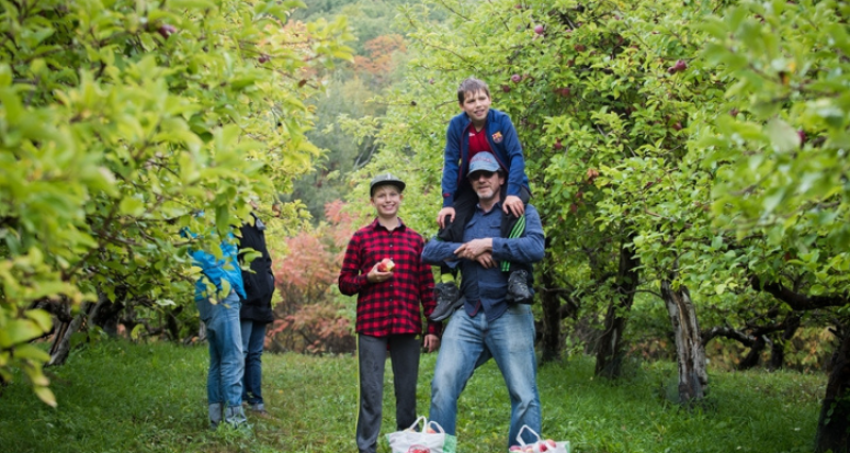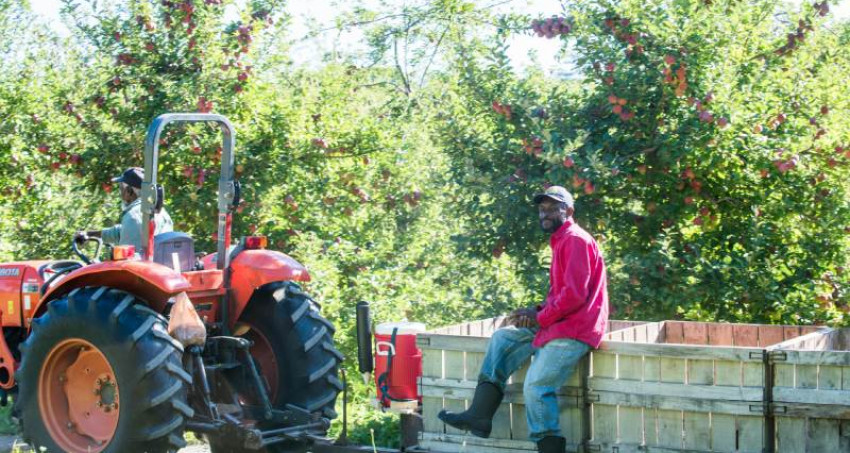 Scott Farm is an apple orchard and more. The 571-acre property, owned by Landmark Trust USA, is home to 23 historic structures and 40 acres of hillside orchards heavy with fruit in season.
Scott Farm Orchard produces 120 varieties of certified ecologically grown apples, heirlooms with names such as Roxbury Russet, Belle de Boskoop, and Cox's Orange Pippin. Other fruits include quince, gooseberries, medlars, Asian pears, plums, elderberries, table grapes, pears, blueberries, nectarines, and peaches, all available at their Farm Market and at local coops, farm stands, and grocery stores.
Scott Farm also offers a Fruit CSA, heirloom cider, vegetables, and Vermont products, pick-your-own apples, as well as heirloom apple boxes available through mail order. An annual fruit tree sale and educational workshops on grafting and pruning, baking, preserving, and hard cider making are offered throughout the season, along with annual October events to include Heirloom Apple Day on Columbus Day Weekend, the Kingston Black Hard Cider Festival and an Apple Harvest Dinner— held in the Apple Barn, a popular wedding and event venue. Four historic vacation rental properties, also owned by The Landmark Trust USA, surround the farm and are available year round.
Enjoy a Walk on the Farm
The trail at Scott Farm loops around a wetland that hosts a rich diversity of fauna and flora. Scott Farm is on the National Register of Historic Places. Beyond its historic significance and remarkable beauty, Scott Farm is a little piece of paradise where one can enjoy and discover a bounty of different heirloom apple varieties and fruits. Maintaining a hiking trail is another way for us to share our farm with visitors.
Maps
Once at the farm market, walk down to the old small covered bridge across the dammed pond and walk around the Stone Trust demonstration walls. The trail starts in front of the fenced in PYO area.
Wheelchair Accessible
Off Limit Areas
For food safety reasons, hikers are not allowed in the orchard part of the farm during the growing and harvesting season (April though November).
Pets
Dogs are welcome. Dogs must be leashed and under your control at all times.
Extra Info for Walkers
Restrooms are available next to the Farm Market. Due to Covid-19, some restrictions may apply.
You can park by the Farm Market or in the large grass parking lot on Kipling Road.
Some cell service depending on your carrier.
Events Happening Here (1)
From The Blog