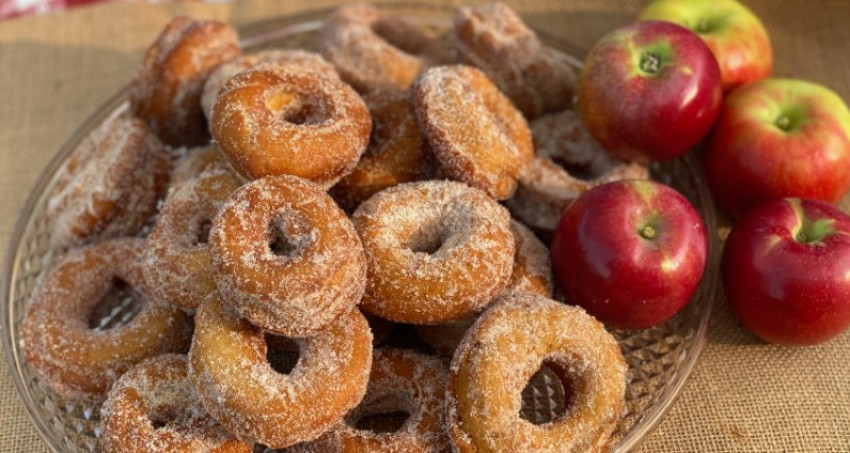 Explore the Vermont Apple Cider Donut Trail!
Do you travel for donuts? We do! We love apple season for many reasons, because we know it is actually apple cider donut season!
Apple cider donuts are the treat you get after doing the hard work to pick the best apples and if you enjoy them as much as we do, we've got the trail for you!
Cider donuts are the best when eaten hot and fresh from the fryer. The best ones are crispy on the outside and are soft, light, and filled with the sweet flavor and spices that taste like Fall in Vermont.
Known for their signature "Dreamee", a fresh from the fryer hot cider donut is topped with a maple creemee from Kingdom Creamery. We recommend sharing it with your favorite person.
With 80 acres of apple trees on the shores of Lake Champlain in Shelburne, Vermont….This is a picturesque place to enjoy world-famous cider donuts. During your visit, the kids can enjoy a cup of apple cider, while the parents can sample the orchard's Dead Bird apple brandy.
Made fresh daily in their bakery. Try a combination bag of plain and sugar/cinnamon tossed and enjoy a leisurely drive through the islands.
Surrounded by the Cabot hillside farms and the Green Mountains, Burtt's Apple Orchard is the perfect place to enjoy your donuts on a walk, and then a sit down for a breather when you've eaten too many.
Only 20 minutes from Burlington, Chapin's donuts are ready for you to enjoy.. After you have picked your apples and eaten your donuts, you can watch them make cider (usually on Thursdays) with their renovated antique press for an additional treat.
Made fresh everyday, Happy Valley has delicious cider donuts. You can also enjoy apple cider pressed at the orchard, and a variety of produce from local growers.
As a 3rd generation hillside farm, Green Mountain Orchards has it down when it comes to cider donuts.


Do you have a favorite cider donut spot? Let us know, tag us @diginvt.
Best Season to Visit
Fall
Related News