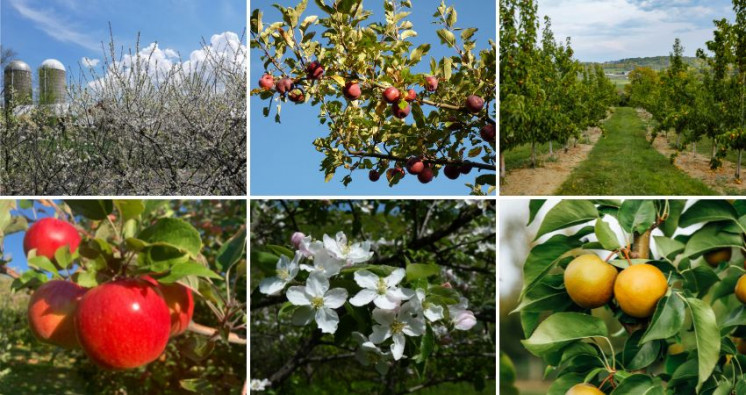 Throughout the summer and fall, Vermonters and visitors alike flock to our local orchards in pursuit of fresh fruit like cherries, plums, pears, and tasty apples, plus cider, donuts, and more! But who are the folks who grow these delicious fruits? And what goes on behind the scenes? Find out with DigInVT!
We recently heard from several tree fruit growers who are happy to share their experiences with you! From orchard history and how they got into farming to what makes their job both rewarding and challenging, let's hear from the folks who bring these delicious fruits to our table!
Cabot
We opened for picking in 2009 with a few acres of young trees and sold all our apples in just two weeks. That meant it was time to plant more. Now, apple picking at our orchard has become a tradition for many families in our area.
Shoreham
Vermont is a really special state with a really supportive local food movement.
Jericho
It was so overgrown that I didn't really notice there was an apple orchard when I first saw the property. I knew nothing about apples but knew we had to bring it back to life… but this time as an organic orchard.
Cambridge
Sterling College uses education as a force to advance ecological thinking and action, and the instructional site at The Farm Between serves as a teaching laboratory for students interested in perennial systems, agrobiodiversity, beneficial insect habitat, marketing, and value-added food production.
Cornwall
Spring is my personal favorite time of year. We are feeling hopeful, full of ideas, and rejuvenated from the off season. There is always more pruning to do, but the blossoming trees remind us that we aren't in charge and nature will keep moving forward from flowers to fruit.
Vergennes
The blossom period in May (usually), is an exciting time for us, especially when nice weather sets and the air is literally buzzing with all the hard-working bees. Under the right conditions it's a stimulating mix of sights, sounds, and aromas.
Monkton
We feel incredibly grateful to live in this place, have the opportunity to take care of these old trees and grow what we do.