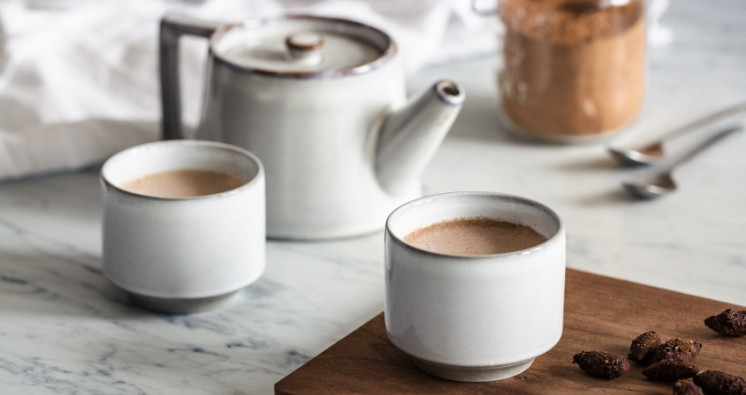 One of the best things about hot chocolate is that there are so many ways to enjoy it. Though this special drink usually includes the delicious flavors of chocolate and creamy Vermont dairy, you can add a fun twist with caramel sauce, spices, homemade marshmallows, spirits, and more! But why try to come up with your own concoction when some of the Green Mountain State's finest food and beverage producers and chefs have shared their recipes with you?! Pick up the Vermont ingredients from a creamery near you, or your local food market, and get mixing. Click the links below to jump straight to the corresponding recipe.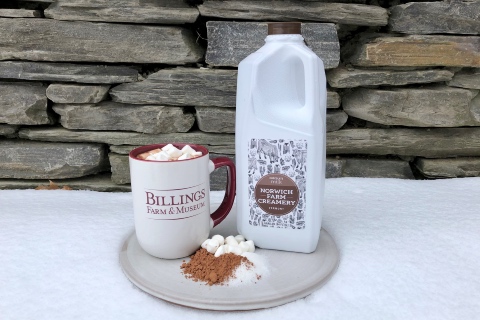 "Moo"velous Brown Cow Cocoa
Ingredients:
1 half gallon Norwich Farm Creamery chocolate milk
1/2 cup cocoa powder
1/2 cup granulated sugar
1/2 teaspoon cinnamon
Pinch of salt
Instructions:
In a medium sized heavy bottomed pot slowly heat the chocolate milk at a low temperature.
While the milk is warming, whisk together the remaining ingredients and set aside.
When the milk is warm whisk in the cocoa mixture.
Continue to cook the cocoa stirring often until the sugar is dissolved and cocoa begins to steam.
Pour hot chocolate into your favorite mug and enjoy!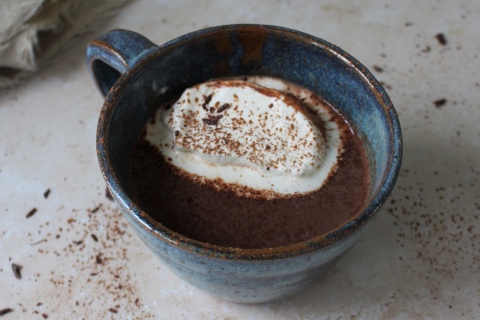 Ingredients:
3/4 cup whole milk
3 tablespoons dark cocoa powder
3 tablespoons pure maple syrup
1/4 teaspoon cinnamon
Whipped cream, cinnamon, and granulated maple sugar for garnish
Instructions:
Heat the milk until warm
Add cocoa, maple syrup, cinnamon and stir until smooth and combined
Top with whipped cream and sprinkle of maple sugar and cinnamon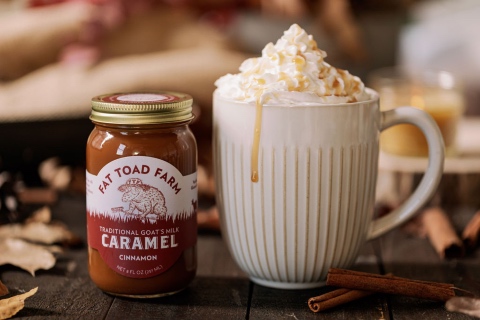 Caramel Hot Cocoa
Ingredients:
2 cups of milk
1/4 cup Dutch cocoa powder
1/4 cup powdered sugar
1/4 cup Fat Toad Farm's cinnamon caramel sauce (or any of their delicious caramel sauces), plus a little extra for garnish
Whipped cream for garnish
Instructions:
In a medium saucepain, heat the milk until hot but not boiling (you'll start to see steam).
Whisk in the cocoa powder, sugar, and caramel sauce until smooth, then turn off the heat.
Pour into two mugs, top with whipped cream, and a drizzle of caramel sauce, and enjoy!
Ingredients:
3 packages (21 grams total) unflavored gelatin
1 cup (227 grams) cool water, divided
1 1/2 cups (298 grams) granulated sugar
1 cup (312 grams) light corn syrup
1/8 teaspoon salt
1 tablespoon (14 grams) vanilla extract
confectioners' sugar, to sprinkle on top
Instructions:
Combine the gelatin and 1/2 cup cool water in the bowl of an electric mixer fitted with the whisk attachment. Mix briefly to combine; set aside.
Combine the sugar, corn syrup, salt, and 1/2 cup cool water in a small, deep saucepan. Cook the mixture over medium heat, stirring, until the sugar dissolves.
Raise the heat to high and cook, without stirring, until the syrup reaches 240°F on a candy thermometer. Remove from the heat.
With the mixer set on low speed, slowly pour the sugar syrup into the softened gelatin. Increase the speed to high, and whip until the mixture is very thick and fluffy, and has cooled to lukewarm, 3 to 10 minutes (depending on the mixer and attachment you use; a stand mixer using the whisk attachment will work more quickly than a hand mixer equipped with beaters). The mixture should be cool enough that you can spread it into the pan without burning your fingers, about 95°F. Add vanilla towards the end of the mixing time.
Spread the marshmallow mixture into a greased 9" x 13" pan (glass or ceramic is best). Use your wet hands to smooth and flatten the marshmallows.
Sprinkle confectioners' sugar over the top, and let sit for several hours (or overnight) before cutting. Use a greased knife or cookie cutters to make squares or other shapes. Dipping the knife or cutters in cold water before cutting helps reduce any stickiness.
For gift-giving, wrap marshmallows individually in twists of waxed paper, and store at cool room temperature. For storage, place in a closed container, the layers separated by waxed paper or parchment paper.
Ingredients:
1 heaping tablespoon of Lake Champlain Chocolates traditional hot chocolate mix
8 ounces of whole milk (or your preferred choice of milk, such as almond)
1 orange
Orange liquor (optional)
Orange zest, nutmeg, and vanilla marshmallows for garnish
Instructions:
Using a wide vegetable peeler or a very sharp paring knife, peel 1⁄2 inch strips off the orange (2-3 strips per 8 ounces of milk).
Put orange strips into 8 ounces of milk [if you want an extra orange punch, mash the strips a bit with a muddler or spoon and let the milk sit with orange in it for up to 6 hours in the refrigerator].
Bring orange-milk to a simmer.
Remove orange strips.
Pour milk over 1 heaping tablespoon of our traditional or organic hot chocolate and stir.
Add Grand Marnier or Cointreau (or your favorite orange liquor) to taste [optional].
Ingredients:
1.5 ounces of your favorite dark chocolate* (½ a bar)
1 teaspoon unsweetened cocoa
8 ounces milk
2 vanilla marshmallows
*When it comes to drinking chocolate ingredients, quality matters. Using a great-tasting, high-quality dark chocolate will result in a superior tasting beverage. We recommend using [Lake Champlain Chocolates] 57% organic dark chocolate for a drink with a rich, chocolate flavor. If you want something a little less sweet, [their] 72% extra-dark chocolate packs an intense, deep dark chocolate flavor with hints of baked brownie, with [just around] half the amount of sugar.
Instructions:
Start by finely chopping your chocolate. Try to make your chocolate shavings uniform in size. This will ensure that your chocolate melts quicker while creating a smoother, more uniform consistency. (After all, no one wants a chunky chocolate drink.)
In a small saucepan combine the dark chocolate, cocoa powder, and milk. While traditional European-style drinking chocolate does not typically contain cocoa powder, it gives the beverage an extra chocolatey boost.
Heat over low heat, stirring constantly to prevent the chocolate from settling and the milk from scalding.
Once all of the chocolate is well blended, slightly raise the heat to medium-low. Continue to stir until your beverage reaches the optimal drinking temperature. (We like our drinking chocolate to be nice and warm, about 120⁰F.)
Remove from heat and stir one last time to make sure all of the chocolate is well dispersed. Pour into your favorite mug and top with marshmallows. Cheers!
Ingredients:
8 ounces whole milk
5 to 8 green cardamom pods, crushed
1 heaping tablespoon Lake Champlain Chocolates hot chocolate
1 ounces rye whiskey
1 barspoon highest quality coffee liqueur
Whipped cream and a pinch of ground cardamom as garnish (optional)
Instructions:
In a small sauce pan over low heat, add the milk and crushed cardamom pods. Heat, whisking constantly, until just under boiling. Remove the mixture from the heat.
Add the hot chocolate mix slowly, whisking as you go until fully incorporated.
Grab a mug, and strain the hot chocolate while you pour it in so to remove all the cardamom pod bits.
Add the whiskey and coffee liqueur, and give it a stir.
Add a dollop of whipped cream, and sprinkle on a garnish of ground cardamom if you'd like.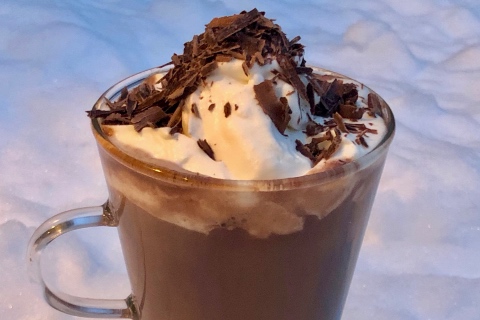 Serious Hot Chocolate (serves 8)
Ingredients:
1 batch of dark chocolate ganache (ingredient list and recipe below)
6 cups local milk, preferably whole
2 tablespoons sugar or maple syrup (optional)
Whipped cream and shaved chocolate for garnish
Instructions:
In a heavy bottomed pot, scald milk.
Whisk in the ganache until incorporated, then heat again until hot.
Add sugar or maple syrup, if desired.
Serve with a big dollop of whipped cream and lots of shaved chocolate, and enjoy!
For the dark chocolate ganache:
Ingredients:
15 ounces dark chocolate
3/4 cup heavy cream
3/4 cup milk
1 1/2 tablespoons pure vanilla extract
Instructions:
Melt chocolate slowly in a double boiler. Don't let water touch the bottom of the bowl or the chocolate will melt too fast.
In a separate bowl, scald cream and milk and add to the melted chocolate.
Add vanilla and whisk until blended.
*If you just want to make a little hot chocolate use about 4 ounces of ganache to 1 cup of milk.
Keep extra ganache in your refrigerator, and use it for everything from chocolate fondue and quick chocolate truffles to sundae topping. For fondue and sundae topping, microwave in 10 second increments, stirring each time. Be careful that it doesn't get too hot. If it starts to separate, whisk vigorously.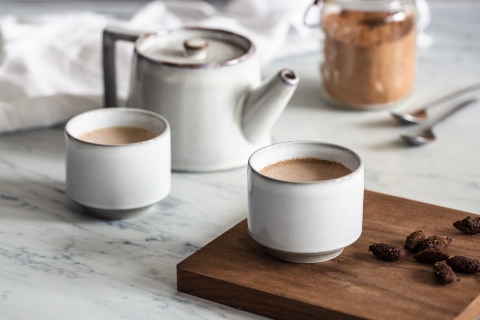 Baked MOCO Dusted Almonds
Ingredients:
2 1/2 cups of whole, unsalted almonds
1/4 cup of sugar
1 egg white
1/2 teaspoon real vanilla
3 tablespoons of MOCO mix
1/4 cup cacao powder (organic if available)
Instructions:
In a bowl, whisk together the sugar, MOCO mix, and cacao powder.
In a separate bowl, beat egg white until frothy. Stir in vanilla and toss in almonds to coat.
Transfer almonds to MOCO mixture and stir until completely covered.
Bake for 25 minutes, remove from oven, and let cool completely.
Store in an airtight container in the refrigerator. Enjoy with a cup of MOCO!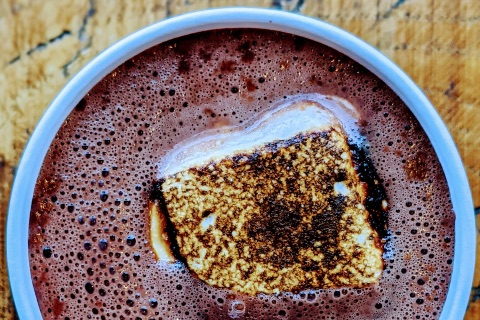 Vermont Maple Hot Chocolate Mix
Ingredients:
32 ounces dark chocolate, chips or chopped (75-80% cacao)
32 ounces white chocolate, chips or chopped (30-35% cocoa butter)
15 ounces maple sugar
4 ounces cocoa powder
2.5 ounces cornstarch
1⁄2 teaspoon salt
4 teaspoons instant espresso powder
2 teaspoons cayenne
4 teaspoons cinnamon
4 tablespoons milk powder
Makes 16 portions.
Instructions:
Freeze dark and white chocolate for at least one hour.
Add all ingredients in a food processor, including frozen chocolate.
Pulse until the texture of breadcrumbs.
Portion.
To use, mix one portion with a couple splashes of milk (we prefer Rogers Farmstead "Cream-Top") in a small saucepan.
Mix well and bring to a simmer.
Add 8 ounces milk and bring to a simmer, whisking frequently.
Add a maple marshmallow, preferably toasted (recipe below). Enjoy!
Vermont Maple Marshmallow
Ingredients:
2 cups cornstarch
2 cups powdered sugar
1 cup water
1 ounce powdered gelatin
330 grams sugar
1 cup golden syrup
1/4 cup dark maple syrup
Pinch salt
2 teaspoons vanilla
Instructions:
Grease 9x9" pan with canola spray or oil.
Dust pan with dusting mixture thoroughly.
Mix 1⁄2 cup water and gelatin in a mixing bowl and let sit for 5-6 minutes.
In a medium pot add sugar, 1⁄2 cup water, golden syrup, and maple syrup.
Mix while cold, then put on high heat and bring to a boil of exactly 240 degrees. Do not stir.
Add gelatin bloom to mixing bowl and stream in sugar syrup on low speed down the side of bowl very carefully while increasing the speed until extremely thick ribbons form (for about 5 mins).
Beat in Vanilla for the last 15 seconds
Moving quickly, dump marshmallow fluff into the prepared 9x9"pan and with damp fingers, even it out.
Let rest 12 hours uncovered.
Dust top of marshmallows as well as work surface, then grease and dust a knife.
Loosen the edges of marshmallows with spatula and carefully lift marshmallows out of the pan. Cut into desired portions, Dust heavily and store in an airtight container with remaining dusting mixture for weeks.
Hot Chocolate Cookies
Ingredients:
10 ounces unsalted butter
8 ounces dark brown sugar
7 ounces granulated sugar
3 eggs, at room temperature
2 tablespoons vanilla extract
2 teaspoons kosher salt
1⁄2 teaspoon baking soda
3 1⁄2 cups all purpose flour
2 tablespoons milk powder
2 cups diced, already baked brownies (store-bought, or homemade)
Kraft Jet-Puffed Bits mini marshmallows
Instructions:
Preheat oven to 370 degrees.
Cream sugars and butter together until well blended.
Add eggs, one at a time, and then vanilla extract and milk powder.
Add the remaining dry ingredients, except the brownies, and mix on low speed until well combined.
Carefully fold in the diced brownies.
Scoop with a cookie scoop, press into a plate of mini marshmallow bits, and place on a silpat or parchment lined baking sheet.
Bake for 13 minutes, or until the marshmallows are toasty on top, and the middles of the cookies don't look wet.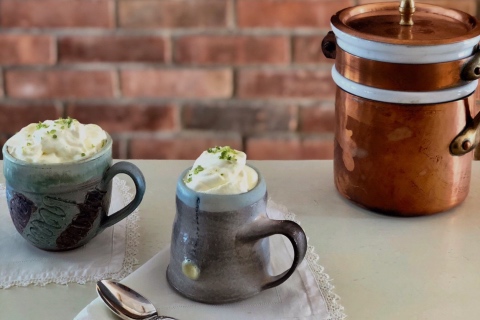 Spiced Mint Hot Chocolate
Ingredients:
1/3 cup heavy cream
2 cups milk
2 tablespoons cocoa powder (unsweetened)
2 tablespoons sugar
1-2 shakes cayenne pepper (depending on desired spice level)
1/4 cup dark chocolate pieces, chip-sized
1/8 teaspoon almond extract
1 tablespoon crème de menthe
Zest of half lime
Instructions:
Whip cream for topping and set aside.
In a pot, combine milk, cocoa powder, sugar, and cayenne.
Add chocolate chips and whisk until dissolved. Take off heat and add almond extract and crème de menthe.
Pour into pre-warmed cups, top with whipped cream and sprinkle lime zest on top.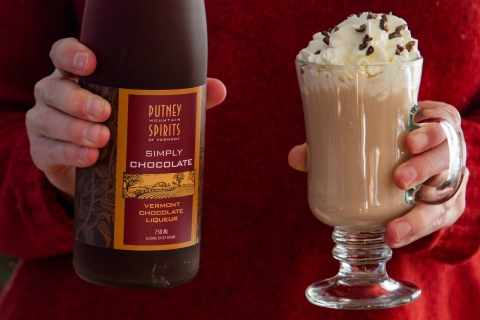 Adult Hot Chocolate
Ingredients:
3 ounces Putney Mountain Winery & Spirits Simply Chocolate Liqueur
5 ounces Whole Milk
Whipped cream and cocoa powder for garnish
Instructions:
Add liqueur and milk to a small saucepan and gently warm, but don't boil.
Serve in a mug and garnish with whipped cream and a dusting of cocoa powder.
Hot Chocolate Delight
Ingredients:
1 ounce Putney Mountain Winery & Spirits Simply Chocolate Liqueur
1 ounce Bailey's Irish Cream Liqueur
0.5 ounce vodka
1 ounce heavy cream
Marshmallows and chocolate syrup for garnish
Instructions:
Gently warm both liqueurs, vodka, and heavy cream in a saucepan.
Drizzle the chocolate syrup around the rim of a glass and down the sides (on the inside).
Pour the drink into the prepared glass and top with marshmallows.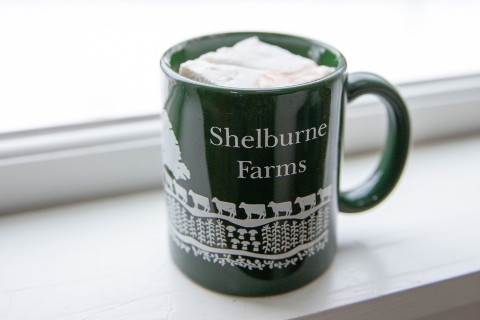 Maple Hot Chocolate
Did you know that you can make your own evaporated milk? "It's essentially milk that is gently heated and reduced by half, creating a much creamier liquid," explains Shelburne Farms Chef Veronica Bartolacci. By making your own, you can support your local food system and enjoy a rich cup of hot chocolate!
Ingredients:
1/4 cup cocoa powder
1/2 cup maple sugar (if you want to make your own, start with 2 cup maple syrup instead) *instructions below
3/4 cup dark chocolate
5 cups evaporated milk (made from 10 cups local whole milk) *instructions below
2 pinches sea salt
Instructions:
Make the evaporated milk: Heat milk on stove on low heat in a heavy bottomed pot until reduced by half.
Make the maple sugar: Heat maple syrup on stove until 245–255°F (use a candy thermometer to take an accurate temperature reading). Once heated, use a mixer with a whip attachment or hand whisk the syrup until it has turned into a sand-like consistency, approximately 15 minutes. Pour evenly onto a baking sheet and allow to fully cool and dry (a minimum of 1-2 hours). Once dry, blend in a food processor to break up any clumps, and sift for best consistency.
Add the cocoa powder, maple sugar, dark chocolate and salt to the milk in a saucepan.
Whisk continuously on medium-low heat until all the chocolate is melted.
Strain and enjoy! Serves 5.
Maple Marshmallows
Top your hot chocolate off by making your own marshmallows! The ingredient that gives marshmallows their distinctive "bounce" is gelatin. Gelatin is made from animal collagen, a protein that makes up an animal's connective tissues, such as skin, tendons, ligaments, and bones. It's a great ingredient that demonstrates the "nose-to-tail" use of an animal: it is made using parts of the cow that may have otherwise been wasted.
Ingredients:
1/2 cup water
3 tablespoons grass-fed gelatin
1 cup maple syrup
1 teaspoon organic vanilla extract (optional)
1/4 teaspoon sea salt
1/4 cup arrowroot powder
Instructions:
Grease a 9x12 cake pan and wither dust with arrowroot powder or line with unbleached parchment paper in both directions. Leave some length to use as handles when removing your finished marshmallows. Sprinkle the bottom of the pan with 2 tablespoons arrowroot powder.
In your mixer bowl, add the gelatin with 1/2 cup of water
While the gelatin is softening, combine the maple syrup, vanilla and the salt in a saucepan. Turn the burner to a medium-high heat, bringing the mixture to a boil. Place a candy thermometer in the sauce pan and continue to boil the mixture until it reaches 235°F (the soft ball stage). Immediately remove the saucepan from the heat.
Turn your standing mixer to low/medium. Slowly pour the maple mixture into the bowl combining it with the softened gelatin. Turn the mixer to high and continue beating the mixtures until it becomes thick like marshmallow creme (about 6-8 minutes).
Turn off the mixer and transfer the marshmallow creme to the prepared pan. Smooth the top and sprinkle on the remaining 2 tablespoons of arrowroot powder. Pat to smooth again.
If you would prefer not to use the arrowroot, lightly grease your hands with oil and pat smooth. This will keep it from sticking to your fingers. Alternatively you can press it down with parchment paper, leaving it there till the marshmallows are completely set.
When set, remove the marshmallows by lifting from the parchment paper flaps.
Cut to desired size and freeze for long-term storage.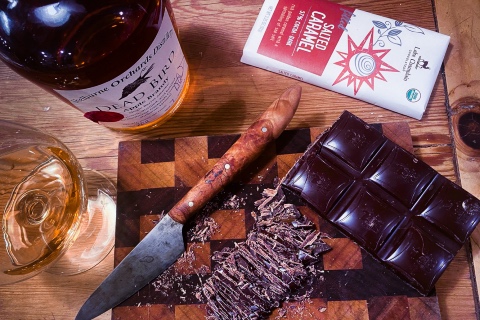 Salted Caramel & Brandy Hot Chocolate
Ingredients:
1/4 cup milk (preferably whole)
1/4 cup heavy cream
1 tablespoon Lake Champlain Chocolates mocha hot chocolate mix*
4 squares (1/2 bar) Lake Champlain Chocolates salted caramel dark chocolate bar, sliced finely into slivers and placed in a cup
1 ounce Shelburne Orchards Dead Bird Brandy
*[Shelburne Orchards] uses the mocha mix, but thinks the traditional, Aztec (if you're feeling spicy), or the marshmallow mixes would all be delicious, as well.
Instructions:
Heat the milk and cream in a saucepan on medium heat until small bubbles start to appear at the edges, but do not let the milk mixture boil. Remove saucepan from heat.
Pour half of the milk mixture into the cup with the chocolate slivers, and let it melt a little before whisking gently.
Add the whisked chocolate mixture and the powdered hot chocolate mix back into the saucepan (with the remainder of the plain milk mixture) and heat gently for a minute or two until small bubbles appear again.
Pour the shot of Dead Bird Brandy into a mug, and add the hot chocolate from the saucepan. Stir gently and enjoy!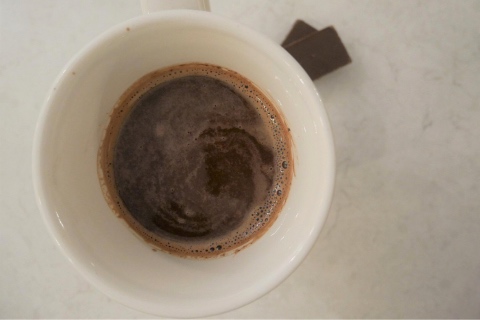 Red Wine Hot Chocolate
Ingredients:
1/3 cup semisweet chocolate chips
2/3 cup Snow Farm Vineyard's Baco Noir
3/4 cup milk
1 tablespoon sugar (optional)
1/4 teaspoon vanilla
Pinch of salt
Instructions:
Combine the chocolate chips, wine, milk, and sugar (if using), in a small saucepan over medium-low heat.
Heat, stirring constantly, until chocolate chips are melted.
Remove from heat and stir in the vanilla and salt.
Pour into mugs and serve!