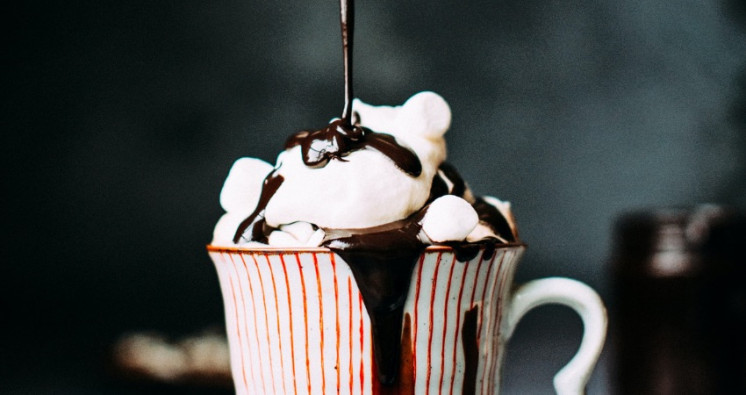 Celebrate Vermont Hot Chocolate Week, February 1st - 7th, with more than just a mug. Even though we aren't hosting or attending gatherings right now, we can still have at-home hot chocolate parties with our families! We can likely all agree that life's simple pleasures, like a mug of hot chocolate, can help make this Vermont winter a little bit more fun.
All you need is a few chocolatey ingredients, special recipes, fun toppings & add-ins, and some local dairy! Below are some great ideas to bring this delicious beverage to the next level, whether you're sipping with your children, roommates, partner, or even over video chat! And who says you can't have a little moment of celebration to yourself if that's more your style? Cheers!
1. Try different flavors of hot chocolate powder!
Traditional: Indulge your love for the rich, satisfying taste of gourmet hot chocolate! Blended from just the essentials - cocoa and sugar - this traditional hot cocoa mix is guaranteed to please the chocolate purist in you. Simply combine with piping hot milk and let every warming, chocolatey sip transport you.
Mocha: Our lively blend of rich cocoa and aromatic coffee is kissed with a hint of vanilla and cinnamon, perfect when mixed with your favorite milk. Make it fresh, then serve it hot — or pour over a tall glass of ice for the grown-up's answer to chocolate milk.
Aztec: Discover the rich flavors of ancient Mexico! Our best-selling cocoa is spiced with fragrant cinnamon and a light kick of ancho chili and chipotle pepper. And with just the right hint of spicy-sweet heat, it's a hot chocolate experience you're guaranteed to love...
Marshmallow: A blend of 100% organic cocoa and sugar infused with the essence of handmade vanilla marshmallows. All you have to do is add your favorite hot milk, get comfortable, and sip into a taste of pure happiness.
Unsweetened Cocoa: Create your next kitchen masterpiece with this organic, fair-trade cocoa powder! Ideal for baking brownies and cakes, cooking up molés, and concocting delicious hot chocolate. Our favorite sugar-free cocoa powder is "Dutch-processed" for optimal baking - which simply means its acidity has been reduced so it can impart nothing but serious, full-chocolate flavor and color.
Photo: Lake Champlain Chocolates
MOCO Classic Hot Coco is made from four simple ingredients, featuring two nutrient-dense Superfoods: Cacao and Maca, which are packed with vitamins, minerals, and antioxidants! Our mix delivers a deep, dark chocolatey flavor with a malty note and our chocolate (cacao) is non-alkalized; meaning it is not chemically processed like your typical Dutched cocoas. Lower in sugar, dairy, and gluten-free makes it deliciously better for you. MOCO is also super versatile. Enjoy it hot or cold, add some to your coffee, smoothie, make some granola with it, or indulge and create the best milkshake ever with any of our flavors. MOCO = chocolate with benefits!
MOCO also comes in Mexican and Peppermint flavors, so be sure to sample them all!
2. Mix up some drinking chocolate!
Lake Champlain Chocolates shared a simple drinking chocolate recipe in honor of Vermont Hot Chocolate Week, made with one of their decadent chocolate bars and cocoa powder.
Rabble-Rouser Chocolate & Craft Co. says that drinking chocolate is a must make! In addition to free hot cocoa with any purchase from February 1st - 7th, Rabble-Rouser is also offering 20% off 1-lb pouches of bulk chocolate, perfect for this European-style treat.
We recommend making hot chocolate with pure chocolate, (rather than cocoa powder,) for a creamier, more full-bodied cup. So we're putting this special on pouches of cocoa in encouragement that folks will mix these chocolate dollops straight in with milk and create a new, European-style hot cocoa tradition for themselves at home!"
Fat Toad Farm makes it easy with their Drinking Chocolate Kit, which includes their Spicy Dark Chocolate & Cinnamon Goat's Milk Caramel Sauces, a disc of Taza Stone Ground Chocolate and a recipe card. One reviewer described this combination as "absolute heaven in a cup." Don't forget the local dairy!
City Market has shared a fun hot chocolate spoon recipe. Customize these spoons with your favorite toppings and flavors, then heat up some of your favorite local milk, stir with one of your spoons, and watch it transform into a steaming cup of cocoa. View the video and full instructions here.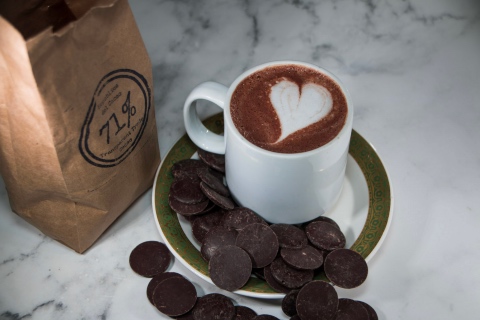 Photo: Rabble-Rouser Chocolate & Craft Co.
3. Speaking of to-go kits...
During Vermont Hot Chocolate Week, pick up a few to-go kits and throw together an easy hot chocolate tasting! Because the hardest part of making hot chocolate should be deciding which one you like the best, right?
Frog Hollow Farm - hot chocolate bar in a box featuring housemade marshmallows, flavors of vanilla, maple, chocolate, and peppermint, Fat Toad Farm caramel, Laughing Moon chocolates, and MOCO mix.
Mad River Distillers - boozy hot chocolate kits featuring Lake Champlain Chocolates hot chocolate and their Vanilla Rum and/or their Revolution Rye whiskey!
Mad River Taste Place - customizable hot chocolate bundles featuring Silly Cow Farms Hot Cocoa Mix, Mad River Distillers Vanilla Rum, Apotheker's Vanilla or Chocolate Topped Vanilla Marshamallows, and a ceramic mug by Luke Iannuzzi Pottery.
Michael's on the Hill - "Serious Hot Chocolate Kit" featuring dark chocolate ganache, double chocolate cookie dough, a special spice blend, vanilla cream, chocolate shavings, and optional boozy options!
Morse Block Deli - hot chocolate kits come with their super-rich mix, a housemade maple marshmallow, and instructions to create a decadent cup!
And more!
Get the full details and find out how and where to order here.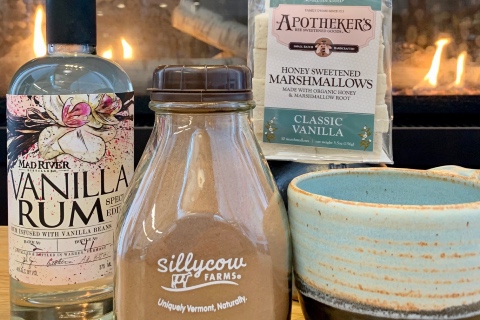 Photo: Mad River Taste Place
4. Marshmallows or whipped cream? Or both?!
Marshmallows
The taste of homemade marshmallows is unbelievably rich compared to the store-bought variety. And with the opportunity to flavor or shape them as you desire, who wouldn't want to try this fun treat? While dealing with the sugar syrup is clearly a job for grownups, spreading the marshmallow in the pan and cutting them out is one kids will enjoy.
Top your hot chocolate off by making your own marshmallows! The ingredient that gives marshmallows their distinctive "bounce" is gelatin. Gelatin is made from animal collagen, a protein that makes up an animal's connective tissues, such as skin, tendons, ligaments, and bones. It's a great ingredient that demonstrates the "nose-to-tail" use of an animal.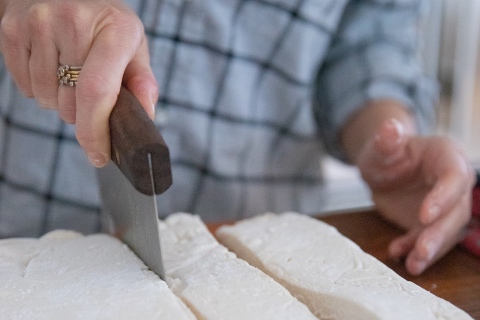 Photo: Shelburne Farms
Whipped Cream
No, we're not talking about Maeve's cow at Cedar Mountain Farm! Whipped cream is such a classic and delicious topping for hot chocolate - you can't have a party without it!
Pick up some cream from your favorite local dairy or food market and make it the old fashioned way. Add in a little sweetener (we're partial to maple, of course) and some vanilla.
Or take our favorite shortcut by picking up some of Cabot Creamery Cooperative's ready-to-serve whipped cream in a can! Use the handy feature on their website to figure out where you can get some (chances are your local grocery store has it in stock right at this very moment).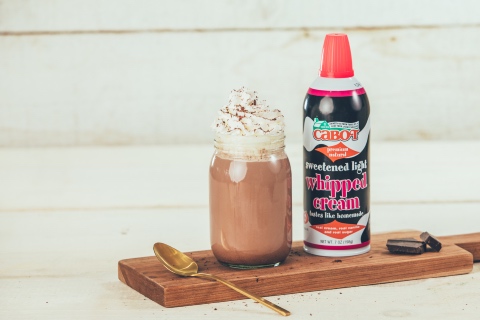 Photo: Cabot Creamery Cooperative
5. Make it boozy!
Hot chocolate isn't just for kids - though it may remind you of your childhood. For a delicious 21+ treat, add in some Made-in-Vermont spirits or wine. It's Friday night fun!
New Recipes
Putney Winery & Spirits - adult hot chocolate and chocolate delight featuring their Simply Chocolate Liqueur.
Shelburne Orchards - salted caramel and brandy hot chocolate featuring their own Dead Bird Brandy.
Snow Farm Vineyard - red wine hot chocolate featuring their farm-made Baco Noir.
And more!
We have so many great distillers here in the Green Mountain State, so take your pick!
Get the full details and even more recipes here.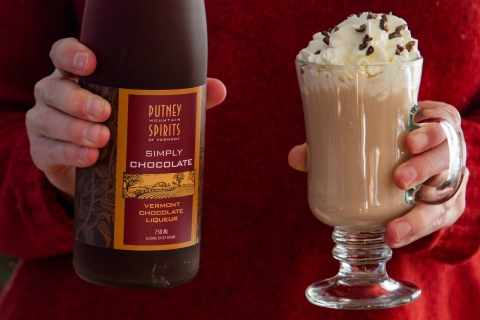 Photo: Putney Mountain Winery & Spirits
6. All the toppings, please!
So you have the marshmallows and whipped cream, but don't just stop there! There are many other local add-ins & toppings that will complete your at-home hot chocolate party!
Infused maple syrups - Summit Maple Farm has several that would compliment hot chocolate very well - cinnamon, hot chili pepper, and more!
Maple sugar - sprinkle a little bit on top of your whipped cream for a little added texture and sweetness! Find a maple producer here.
Ice cream - if you've ever ordered hot chocolate at a Ben & Jerry's Scoop Shop, you know that they steam ice cream into each order. You can do the same thing at home! Check out their blog post with recommendations and a how-to video.
More chocolate - visit Lake Champlain Chocolates or Rabble-Rouser and see what you can find to add to your spread - cut up some truffles, shave off some of your favorite bar, or find another way to incorporate even more chocolate! We're sure the helpful staff at both businesses will have suggestions.
Caramel sauce - Fat Toad Farm's goat's milk caramel sauces are the perfect thing to drizzle on top of a mug, or as an add-in depending on your recipe! They have lots of flavors available.
Baked goods - Find a recipe from King Arthur Baking Co. that you think would compliment your hot chocolate, or even something savory to offset the sweetness.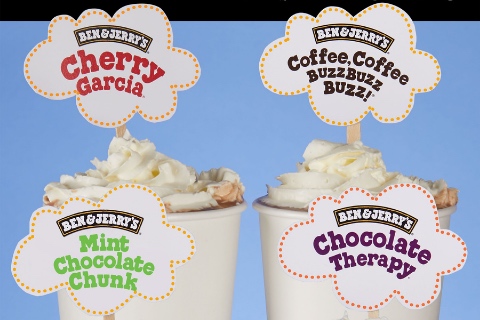 Photo: Ben & Jerry's
All things hot chocolate...
Vermont Hot Chocolate Week Photo Contest
Vermont Hot Chocolate Week is funded through a 2020 Vermont Breakfast on the Farm grant awarded to Vermont Fresh Network to promote Vermont dairy and engage local businesses and the public.