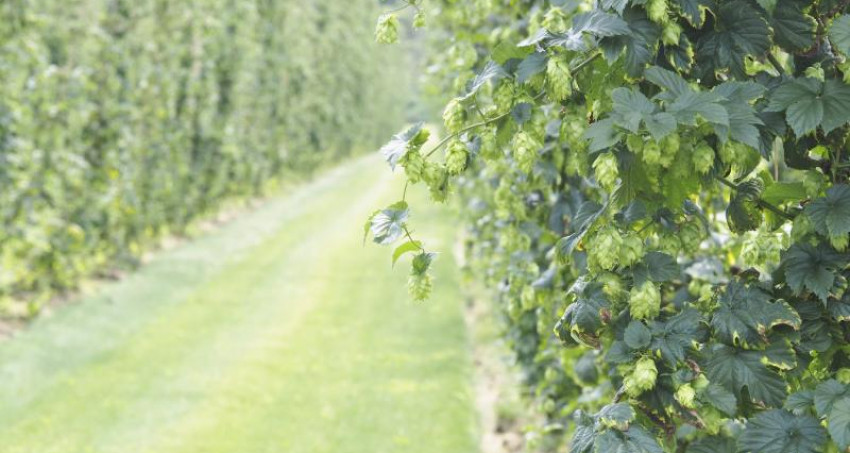 Thu, Aug. 11, 2022 5:30 PM – 6:30 PM
Enjoy a guided tour of Champlain Valley Hops, the largest hop farm in New England! Hops grow vertically up strings to the top of a massive 18 foot trellis. Walking through the yard is like entering a different world, surrounded by walls of living plants. It's truly magical! The folks at Champlain Valley Hops are excited to welcome guests and show them around the farm! Visitors will gather in the hop yard for a discussion about hop farming, learn about Champlain Valley Hop's unique practices, and get an overview of the hop industry.
Hop harvest typically starts mid-August, so there will be lots of (almost ripe) hop cones to smell and plants to admire. The tour will then visit the processing barn to see some of the specialized equipment that is used to turn fresh hop cones into dried pellets for use in the brewing industry. Expect lots of good smells!
Registration not mandatory but encouraged.
Champlain Valley Hops is the largest hop farm in New England. Located about 30 minutes south of Burlington, they grow and process premium hops for the region's growing number of craft breweries as well as home brewers. 98% of hops in the United States are grown in the Pacific Northwest and make their way into the overwhelming majority of local beers. Like many Vermonters, Champlain Valley Hops is passionate about local agriculture as well as local beer. It's time to bring the two together! See their products at Zero Gravity, The Alchemist, Foam Brewers, Four Quarters, and craft breweries throughout the country (and even some international ones).
Related Events (1)
Related Places (1)