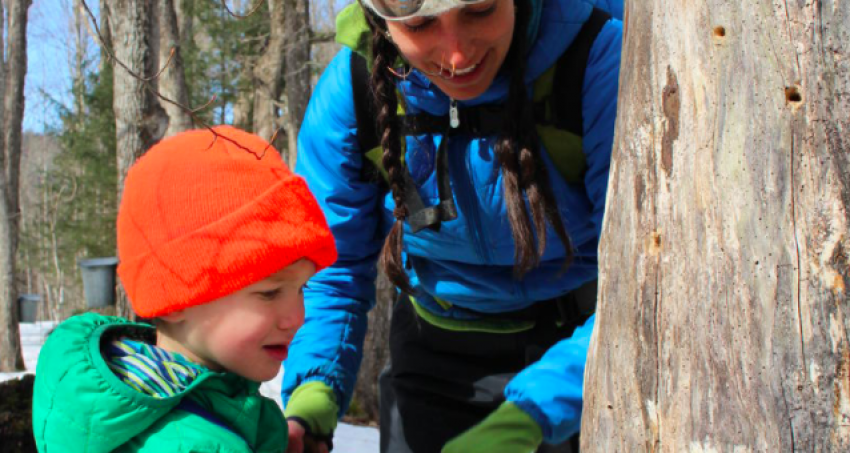 Mar. 25 — 26, 2023 11:00 AM – 4:00 PM
Sugar on Snow Parties are taking place BOTH on Saturday, March 25th and Sunday, March 26th from 11:00am to 4:00pm! This Maple Open House Weekend, Audubon Vermont will have an open Sugarhouse, Sugarbush tours, syrup for sale, scavenger hunts, Sugar on Snow, Story hour by the fire, Syrup taste test station, Find the Golden Tap and win a prize, and so much more!
All ages welcome. Fun for the whole family! Bring your friends!
The events are free of charge! Sugar on snow and maple syrup will be available for purchase. (Bring cash or checks, please.)
Tap a tree, collect sap from buckets, and follow the journey from sap to syrup during our sugarbush tours. Learn about Maple Syrup Produced from Bird-Friendly Habitats and go in search of the elusive birds of the sugarbush. Go in search of the Golden Tap. Find it during a Sugar on Snow party and win a delicious Maple Caramel chocolate bar from Lake Champlain Chocolates (while supplies last)! Enter into our raffle during the parties to help support our education programs and for a chance to win amazing prizes from local businesses! Mark your calendar today, you won't want to miss these fun events.
Trail/accessibility information: Sugar on snow events take place outdoors in the Audubon Center's sugarbush. The trails are wide and mostly flat, but winter weather can make walking difficult if there is ice or snow during recent weather. They do not have a heated facility in the sugarbush, so please wear weather-appropriate clothing, especially warm boots that will keep your feet dry! If you require accommodations or have questions about accessibility, please contact Audubon Vermont at [email protected]. Service dogs welcome, but please leave your pets at home.
Saturday, March 25: 11:00am - 4:00pm
Sunday, March 26: 11:00am - 4:00pm
Directions provided by Audubon:
Google map of Sugarhouse Parking Area: http://bit.ly/1kVbEFV

Directions to Audubon's Sugarhouse Parking Area from Interstate 89:

Interstate 89 to Richmond (exit 11)
Go two miles into Richmond, at stoplight turn RIGHT
After Round Church, continue on road bearing RIGHT
Go approximately 5 miles, following signs for Huntington
After you cross the Huntington River you will see Audubon's Sugarhouse on the right side of the road. Slow down.
Turn RIGHT into the Sugarhouse Parking Area.
If you reach Sherman Hollow Road you've gone too far. Turn around.

Directions to Audubon's Sugarhouse Parking Area from Route 116 heading south towards Hinesburg:

LEFT at light onto CVU Road in Hinesburg
Straight through 4-way intersection past CVU high school
Follow road as it bends to the left and becomes Richmond Road
Turn RIGHT on Swamp Road
At 'T' bear LEFT then follow road curving right onto Sherman Hollow Road
Audubon Vermont's Office and Education Barn will be on your right just before intersection with the Main, Richmond-Huntington Road. CONTINUE DRIVING.
At the end of Sherman Hollow Road, turn LEFT.
Sugarhouse Parking Area will be immediately on your left.
Hurrah! You made it.
Related Events (1)