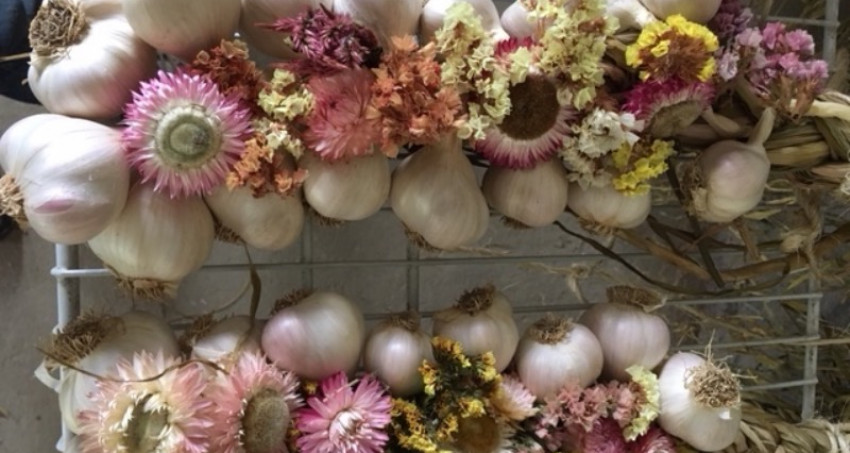 Last Resort Farm
2246 Tyler Bridge Road
Monkton, VT 05443
Get Directions
Garlic braiding blends beauty, spice, and wellness! First, gather the garlic from your garden or pre-order a bundle from Last Resort Farm on their website for pick up (please note that garlic will be available starting in late July).
Join Farmer Eugenie Doyle from home for a YouTube video tutorial on how to make a beautiful braid - it's weather and virus proof learning! You can access the video anytime from this page (below) or on YouTube here: https://youtu.be/--coh-vQup8.
While you're ordering garlic, be sure to also purchase some of LRF's certified organic produce, jams, and pickles.
Last Resort Farm is a family owned berry, vegetable, maple, and hay farm. The farm operates an on-site farm stand, a farm share program, retails at two local farmers markets, and sells wholesale to area schools, restaurants, and to food stores in Burlington, Williston, Winooski, and Bristol. They began as conventional dairy and strawberry farmers, then sold the cows and transitioned to organic production methods in the early 1990s. They have been certified organic with NOFA-VT since 1998. Their 280-acre Monkton farm in Addison County, Vermont, was formerly operated by the Shattuck family for 150 years. In 1992 it was conserved with the Addison County Community Trust / Vermont Land Trust ensuring that the land will remain in agricultural use.
Related Events (1)