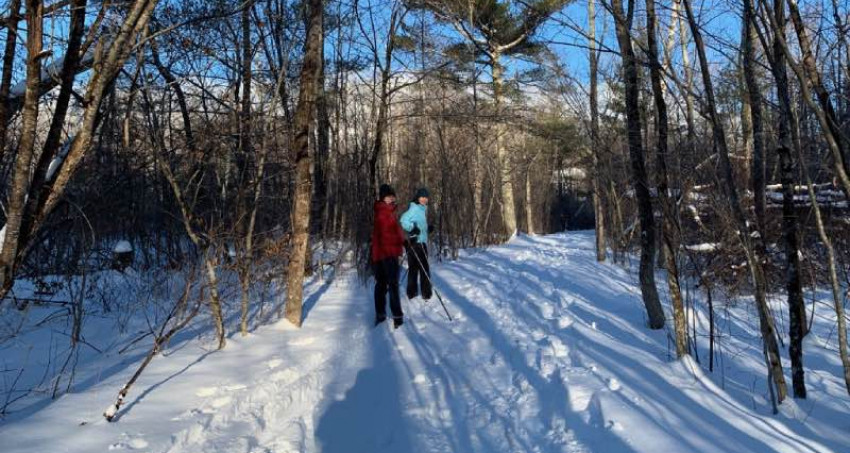 Hildene, The Lincoln Family Home is a 412 acre estate and campus in Manchester Village, built by President Lincoln's son, Robert, in 1905, and home to three generations of Lincoln descendants. A large part of the not-for-profit's mission revolves around the development of best practice in terms of agricultural sustainability and environmental stewardship. Read more about visiting Hildene here.
In the winter months, the Pavilion adjacent to the Welcome Center houses cross-country ski and snowshoe rentals. Our approximately 12 miles of walking trails on the estate become ski trails with varying levels of difficulty. We offer ski and snowshoe rentals for children and adults. Please be aware that we are not a Nordic Center and most of our trails are natural and ungroomed.
Ski free all season by becoming a Hildene member or see their website for daily rates. Everyone must check in first and purchase admission at the Welcome Center.
Winter Activities
Cross country skiing and snowshoeing.
Our Ski Pavilion will open for rentals of skis/boots/poles, snowshoes, and "MicroSpikes," beginning Sunday, December 27, 2020.
Trail Info
Check their website for current conditions.
Trails are all well-marked, and maps may be viewed/recorded on guest devices, at the Welcome Center. Printed trail maps are not currently being distributed, per Vermont state COVID-19 best-practice guidelines.
Parking
Parking is in the main lot adjacent to the Welcome Center. For your safety and so we can be aware that people are on the trails, everyone, including members, must sign in at the Welcome Center. Thank you!
Amenities & Other Info
Guest transportation is not currently available, and restroom facilities are currently limited.
There is cell service in most areas, depending on your carrier.
Food
The Hildene Goat Dairy produces chevre, aged chevre, and award-winning goat and cow tomme, all of which are available for purchase in The Museum Store located in the Welcome Center. Guests will also find beverages and additional snacks, many locally produced, in the store. Please note: The Museum Store is currently operating at limited capacity.