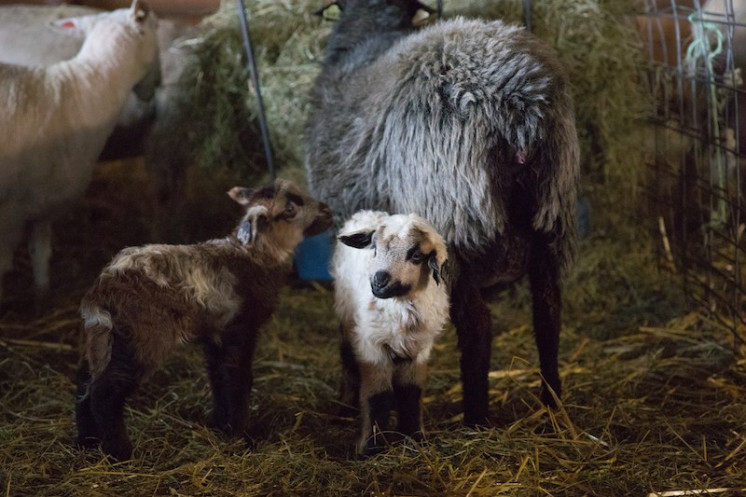 At long last, Vermont is waking from its long winter season and the promised of Spring all around us. The daffodils and crocuses are popping up from the ground, there is a blush of green on the landscape and the antidote to the winter blues arrived. Two words: BABY LAMBS!
Looking for a baby-lamb fix to deliver good spring vibes? DigInVT brings you to the farms who are open to visits to pet, photograph, and if you're lucky, give a little cuddle to a little lamb!
Billings Farm & Museum, Woodstock. Sheep visits daily: 1:00pm and 3:00pm
Shelburne Farms Children's Farmyard, Shelburne. Open weekends from May 16 - June 12. Take the scenic tractor shuttle from the farm store to visit the sheep pastured near the farm barn. Check out these from Sheep to Shawl education cards to learn how fiber products are made.
Smokeshire Hilltop Farms, Chester. Visit Smokeshire's Dorset crossbred sheep and farm store that sells cuts of frozen grass-fed lamb. You can even buy a baby lamb to take home if you're looking to start your own flock! Call ahead to make certain someone is on the farm to assist you during your visit.
Flag Hill Farm, Vershire. The farm opens mid-May to visitors looking to learn about the climate benefits of rotational sheep grazing and to discover their "Birds and Bees, Hat Kits of Vermont" that showcases local fiber and specific yarns in fun kits anyone can knit! While you're there, check out Flag Hill Farm's delicious organic hard ciders (bring ID!). Call ahead or email: 802-685-7724/[email protected].
Fat Sheep Farm and Cabins, Hartland. Check out the video for the farm stay location and book a room in one of their charming cabins which allows you to participate in morning farm chores which include baby lamb cuddles. Now that's an on-farm experience!