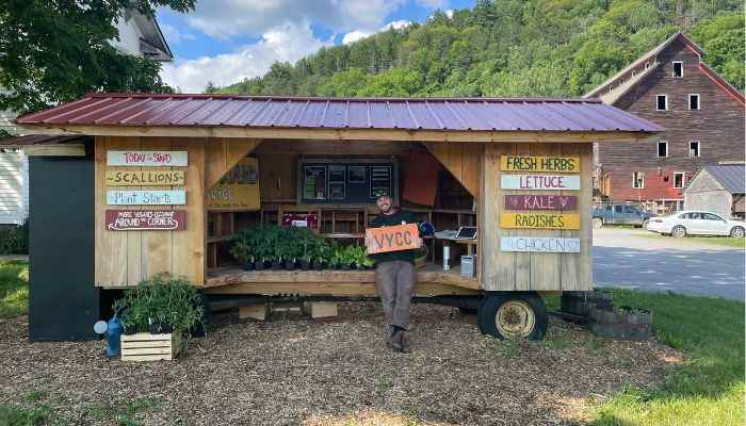 Vermont Open Farm Week wouldn't be as tasty as it is without all of the Farm to Table Menus being offered throughout the week. You can enjoy picnics, tastings, experiential dinners, and more! Vermont Fresh Network's very own Annual Forum Dinner is taking place on August 6th at Shelburne Farms. This event is just one of many events that offer locally sourced food situated in Vermont's uniquely beautiful landscape.
Check out the events below to find a food-centered event near you. There are a range of experiences, small bites to big menus, that are bound to suit your experiential cravings.
Sunday, August 6th
Plainfield
11am-2pm
Bring a blanket, bring a lunch and enjoy a picnic by the pasture, enjoying exquisite mountain vistas and watching the oldest registered fold of Heritage Highland cattle in the United States grazing nearby. There will be fuzzy Highland calves to comb and cuddle and a Highland decorated cake to enjoy after your picnic. Greenfield Highland 100% Grass Fed beef will be available to purchase at the farm. $5.00/person. Under 3 years old, free. Cake will be provided.
Shelburne
5:00-8:00pm
During one special evening, the Vermont Fresh Network brings together some of Vermont's best chefs, farmers, food producers, and specialty food makers to create a sensational meal at the Shelburne Farms Coach Barn, on the shores of Lake Champlain. It is a celebration of the best food of summer, and VFN's largest fundraiser. We're back for our 25th year! Tickets are $150.
Townshend
5:00pm
Enjoy a delicious cheese and caramel tasting of our farmstead products out in the field with the goats! $50 per person. Please sign up at https://bigpicturefarm.com/
Tuesday, August 8th
South Hero
9am-5pm
Come try and taste Hackett's Orchard homemade apple crisp in 3 different flavors- Apple Raspberry, Apple Blueberry and Apple Cranberry.
Richmond
10:30am
Tour VYCC and hear from Corps Members (youth and young adults) along the way. We will check out 12 acres of organic vegetable, poultry, and egg production, and hear about how the Health Care Share connects over 400 families with a CSA. We will enter the active construction site of the East Monitor Barn (built 1901), currently being restored. Then, enjoy a farm-fresh lunch, made from food grown and prepared by Corps Members, in the restored historic West Monitor Barn. Our farm stand will be open. Registration is required. This event is limited to 12 guests. https://www.vycc.org/open-farm-week/ We welcome contributions. Suggested donation is $20 and any amount is appreciated.
Cambridge
5:00pm
Evening begins with a hayride tour (weather permitting) guided tours of greenhouse and cut flower gardens, take home bouquet, an appetizer mingle (BYOB) we offer non-alcoholic beverages, sit down family style meal with two proteins, salad with fresh bread, farm grown organic vegetables, dessert, coffee and lots of Vermont flavors. We accommodate most food allergies like gluten -free, vegan and vegetarian with notice at reservation. $95.00 for adults and $57.00 for children which includes tax and gratuity. Please make a reservation online at valleydreamfarm.com or call the farm at 802.644.6598.
Wednesday, August 9th
Dummerston
5:30pm
Crêpe Nights are seasonal monthly gatherings, held the second Wednesday of each month, at Scott Farm from June through September. These are times to celebrate the harvest, good simple food, and community in a stunning setting – picnic style. Outdoor and indoor tables and chairs are provided, as well as a sprawling grassy hillside ripe for picnic blankets, folding lawn chairs and bare feet. Each month is co-hosted by a different local non-profit who benefits from the evening's proceeds. $20 per meal. Register on the website: https://www.scottfarmvermont.com/crepe-night
Shelburne
6:00pm
During Vermont Open Farm Week, Killeen Crossroads Farm will host a Southern-Inspired Chicken BBQ. Chicken from the farm will be marinated in buttermilk, then grilled and basted with homemade BBQ sauce. Your plate will also include the traditional Southern sides: baked beans, squash casserole, slow-cooked collards, mac & cheese, and a biscuit. Dessert will be cobbler with housemade vanilla ice cream using our eggs. Tables will be set for you to enjoy your meal but you are also welcome to bring a picnic blanket. Please register at https://www.killeencrossroadsfarm.com/event-details/chicken-bbq-dinner
Thursday, August 10th
Berkshire
10:30am-12:30pm
Join Dubs Farms, Healthy Roots Collaborative, and the NOTCH (Northern Tier Center for Health) for a morning of learning! Julie and Marc of Dubs will give a tour of the garden and guide participants in harvesting produce for lunch. The NOTCH will demonstrate cooking up some easy, healthy, and delicious recipes. Finally everyone will sit down for lunch to enjoy the fruits (or vegetables!) of their labor. Kids are more than welcome but the chickens on the farm kindly request dogs be left at home. Free. Please email Miranda Henry ([email protected]) to let her know you'll be attending!
Montpelier
5:30pm
Join us for farm-fresh pizza and a celebration of Ananda Gardens, a diverse, small-scale farm in Montpelier with the goal of wellness in connection with food and nature. Owners Patrick Sullivan and Melisa Oliva use innovative, regenerative practices to serve 150 families with a three-season vegetable CSA, run an on-farm farmstand, and more on just under two acres. Longtime partners of NOFA-VT, they received a 2020 Vermont Family Farmer of the Month Award and 2022 Resilience Grant. This event is part of Open Farm Week; RSVP and enjoy dinner baked in NOFA-VT's wood-fired pizza oven, including vegan options, followed by a farm tour. Online RSVP required: https://www.nofavt.org/events/pizza-social-ananda-gardens Cost for event is a sliding scale from $0-20.
Tunbridge
6:00-8:00pm
Join the White River Land Collaborative and Flying Dog Farm for Burger Night. Enjoy good food, good company, live music, and beautiful views up the First Branch Valley. Chef Hugo Yanez and Shona Sanford-Long of Flying Dog Farm will be cooking up burgers featuring their certified organic grass-fed beef. (There will be a vegetarian option available too!) Luna Bleu Farm's organic salad greens, homemade french fries, and non-alcoholic drinks will all be available for purchase. The White River Land Collaborative will be screening "A Seed to the Future", a short documentary about WRLC created by friends and neighbors, Lisa Zimble and Evan Dunsky. This 15 minute film will give you a full picture of the White River Land Collaborative. The farmers and community members involved in the project will be happy to answer your questions as you enjoy all that our local working farms provide. Please bring a blanket or chair to sit and remember to leave your pets at home. Parking is limited, so we encourage carpooling! Food will be sold for purchase. To reserve a meal, please RSVP by Sunday, August 6th.
Friday, August 11th
Hardwick
3:00-6:00PM
Head to Atkins Field from 3:00pm - 6:00pm on Friday, August 11th for an afternoon of summer fun to celebrate Open Farm Week and the NEK's vibrant agricultural community! There will be traditional craft demonstrations, horse drawn carriage rides, baby goat viewings, tomato tasting, live music, family friendly activities, farmers market vendors, drinks by Caledonia Spirits, and more. DIY screen printing - bring your own shirt or bag! Come celebrate the role agriculture has and continues to play in the community. This event is put on by the Center for an Agricultural Economy and the Hardwick Farmers Market, and is part of Open Farm Week and National Farmers Market Week. The Community Green Space at Atkins Field is owned and operated by the Center for an Agricultural Economy. It's home to an open-air Community Pavilion, Hardwick Community Gardens, Hardwick Farmers Market, Community Orchard, bicycle pump track, trail networks, granite relics, and wide open spaces.
Richmond
5:00-7:00pm
Let us cook for you! Come to the farm in Richmond for a classic Maple Wind Fried Chicken Take Out dinner. Chicken Plate (yes, it's GF chicken!) This delicious farm dinner includes our pasture raised chicken (breast/drum) which is buttermilk brined and dredged in Nitty Gritty Cornmeal then fried to perfection. You also get 2 portions of our side salads (organic veggies by Bear Roots Farm Kitchen!) and our famous maple cornbread (not GF but you can ask for a piece of GF!) Enjoy at home or your favorite picnic spot! $23 per dinner. Please reserve your dinners online. https://www.maplewindfarm.com/products/712
Bakersfield
6:00pm
Sausage Cook Out with live music. Come enjoy our farm-made sausage with homemade 'kraut on a rustic roll from Red Hen Bakery along with garden salad and live music from Rusty Bucket. Please bring money for food.
Saturday, August 12th
Charlotte
8:00am-4:00pm
PIE DAY! all day or until pie runs out Join us on Saturday for blueberry and raspberry pie (served with ice cream of course). Cost of pie and ice cream, no need to register.
East Thetford
9:00-11:00am
Learn to harvest, taste delicious foods, create beautiful flower arrangements, and enjoy fun, kid-friendly activities planned by our farm educators.
Time: 9:00–11:00 a.m. (9:00 & 10:00 sessions)
Cost: $5 per person per activity / $10 per family per activity. Kids activities are free!
Harvest & Taste — From our farm to your table! Join us for a morning harvest—learn how different vegetables are harvested and how to use them in cooking, then harvest your own and try them in a dish prepared by the cooks in our farm kitchen.
Create — Indulge your inner designer with a walk through our certified organic cut flower garden, harvesting your favorites for an arrangement. Learn about growing, harvesting, and design techniques to maximize your enjoyment of blooms in this abundant time and throughout the rest of the year.
Play — Bring the whole family for a full morning of fun! Alongside the harvest and tasting, our educators will be offering kid-friendly craft projects and activities like vegetable printing.
Register by Thursday, August 10 at https://cedarcirclefarm.org/education/openfarmweek
Bakersfield
2:30-4pm
Come join us for an epic tour of our beautiful northern Vermont Farm. Take a pasture walk and meet our goats, witness a working Border Collie demonstration, tour our cheese facility and discuss the importance of regenerative agriculture in providing environmentally sustainable, nutrient-dense food. The tour will culminate with a tasting of our certified organic goat cheeses and farm-made sausages. $30 per person. Please register here: https://www.eventbrite.com/e/farm-tour-with-cheese-and-sausage-tasting-tickets-660475408727
Wolcott
5:30-8:30pm
Come meet the growers Bob and Sara Schlosser, see some of the crops, experience an amazing sunset while enjoying live music from The Maple Run Band. Local musicians Maple Run Band and The Lost Faculty will get you moving and grooving. Option to choose a variety of delicious foods prepared by Hinterland Market. You can choose to come just for the music. Bring a blanket, tables will also be set up outside. If the weather isn't good the event will take place in the large and lovely agritourism greenhouse. This is a rain or shine event. Secure your tickets early. The farms Maple Syrup, produce, eggs and CBD products will also be available. Dinner is optional and $25/person. Registration is highly suggested but not required: https://sandiwoodfarm.com/open-farm-week/
Sunday, August 13th


Westfield
11am-2pm
Join Butterworks for a cow-filled day of Winter Holiday fun in August! RSVP for a Holiday meal featuring their Tourtière (Quebec Meat Pie) with plentiful sides and dessert, and/or enjoy free Farm and Creamery tours, calf snuggles, and pasture portraits; they'll have cows, props and a photographer on hand to capture your family's holiday card... earlier than ever! Kids, couples, singles and non-holiday vibes are all welcome! Be sure to bring a cooler to stock up on certified organic, 100% grass-fed dairy products and ground beef. Tours, calf snuggles and pasture portraits are free; Quebecois Holiday Meal is $22 per person. Please RSVP for a meal to [email protected].
Shelburne
2:30pm
Come smell the herbs, taste the honey, see the hives, check out our alembic still and farm lab. This walking tour lasts approximately 90 min, starting and ending at our Farm Shop. We visit the beehives and take a peek in the observation hive window and sample some honey, then move to the herb garden for a scratch and sniff. We will discuss our entire seed-to-soap process, how we harvest herbs and flowers, distill essential oils and hydrosols, and formulate and manufacture botanical products in our lab. We will take a quick tour of the lab and then end on our patio where we will serve a selection of our herb tea blends as well as fruit salad, vegetable crudité, gluten free macarons and honey cakes from Matryoshkas Bakery. Tickets are $25 and can be purchased at https://www.farmcraftvt.com/product/tour-tea/.
Derby
3:00-4:30pm
Join us at the Lavender Farm for tea time overlooking international Lake Memphremagog! Guests may help themselves to the dessert bar which will be full of delicious lavender themed goodies & treats! We hope to host this fabulous event outside but if rain should come, we will move inside to the event center. $25 per person
Charlotte
4:00-7:00pm
Tour the Ridge Garden while it's in full summer swing bursting with seasonal produce. Meet the farmers who grow the food that is on your plate. Bring your picnic blankets to set up camp on the Event Lawn. We'll be cooking out on the grill - burgers, sausages, salads, and sides - and enjoying live music.Adults $45, Children $20 (kids under 3 are free). Please purchase tickets at https://www.philoridgefarm.com/.


Photo thanks to the Vermont Youth Conservation Corps