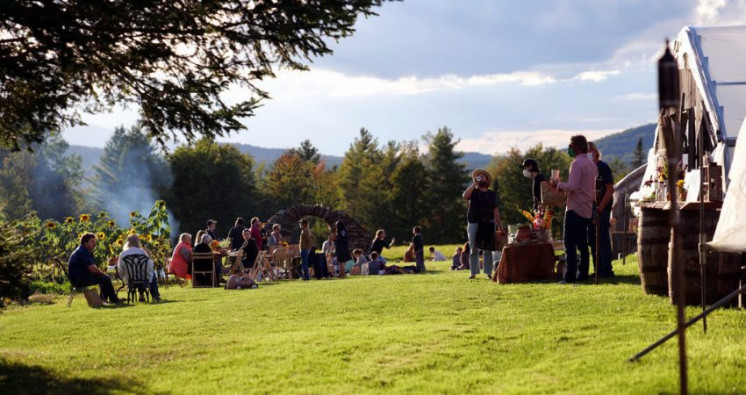 On-farm meals are a unique, fun, and delicious way to experience a farm and the food grown and raised there. Have a fantastic meal and, in some cases, surround yourself with the company of folks from the community who appreciate local food just like you - and the farmers themselves! There are so many ways to enjoy food on the farm during Vermont Open Farm Week, from full on meals to samples, sips, and sweet treats. Make it a point to make it to one or a few near you, or make a day of it and explore a new corner of the beautiful Green Mountain State.
Below are just some of the 90+ events that await you during this fun and delicious week - there's so much to discover! For a full list of Open Farm Week happenings, visit diginvt.com/vtopenfarm.
Be sure to visit the full event listings (linked below) for all the details, including registration requirements & fees.
On-Farm Meals
Westfield
Thursday, August 12th, 3:00pm - 7:00pm
Visit Butterworks Farm during Vermont Open Farm Week to sample products and then join the farmers to walk the pastures, meet the cows, and discover the farm. Bring a picnic blanket or chairs and enjoy homegrown grass-fed hamburgers and fresh local side dishes!
Lyndonville
Thursday, August 12th, 5:30pm - 7:30pm
Join NOFA-VT for farm-fresh pizza, joyful connection, and a celebration of Tamarlane Farm in Lyndonville! Owned and operated by Eric and Cathy Paris, Tamarlane Farm produces certified organic grass-fed beef and certified organic vegetables, and operates an on-farm commercial composting facility. 800 tons of compost from their restaurant,The Freighthouse, surrounding businesses, area schools, and institutions are processed annually into nutrient-rich compost approved for use on organic farms.
Come and enjoy dinner baked in NOFA-VT's wood-fired pizza oven, followed by a farm tour. All are welcome!
Richmond
Friday, August 13th, 5:00pm - 7:00pm
Feast on delicious fried chicken* served with organic side salads and maple cornbread at the farm! There will be live music, lawn games, trivia, and mural painting to round out this fun, family-friendly evening during Vermont Open Farm Week.
Before the dinner, enjoy a hike across the street at the Richmond Town Forest trails.
*Maple Wind's signature cornmeal fried chicken recipe is gluten free!
Wolcott
Friday, August 13th, 6:00pm - 9:00pm
You're invited to Sandiwood Farm on Friday, August 13th for an Open Farm Week boxed picnic dinner & live music event from 6:00pm - 9:00pm. Meet the growers, Bob and Sara Schlosser, see some of the crops, and experience an amazing sunset while enjoying live music from Kind Bud, gratefully inspired guitarist from Randolph, VT. He'll get you moving and grooving.
The vegetarian boxed picnic dinner includes farm raised produce, homemade maple balsamic dressing, local bread, cheese, dessert, and a beverage.
Charlotte
Friday, August 13th, 5:00pm
Join in the fun for dinner on the farm! Golden Apple Family Farm is proud to be celebrating their first Vermont Open Farm Week with a collaboration between a few of their favorites from the local food community: Misery Loves Company, Sweet Roots Farm, and Backdoor Bread. Misery will be serving their famous buttermilk fried chicken from Golden Apple's very own pastured heritage chickens alongside just-picked vegetables and simple greens from Sweet Roots Farm and bread from Backdoor. Enjoy an orchard cocktail by MLC, Lulu's ice cream and Calito's berry popsicles for the kids. Stroll the property, enjoy the farm's extensive perennial gardens, visit the Finnsheep, Mangalitsa pigs, and heritage chickens, and spread out a picnic blanket on the west lawn to enjoy a little bluegrass as the sun sets on the Adirondacks.
Hubbardton
Saturday, August 14th, 7:00pm
Join Frog Hollow Farms for a Farm to Table Dinner, prepared by owner and Executive Chef Janis Reinke in partnership with Appalachian Gap Distillery. Begin the evening with a grazing table filled with local cheeses, charcuterie, and vegetables straight from the fields, along with cocktails from Appalachian Gap Distillery. Dinner will be served by the barn, family style, curated based on the season's bounty. The evening will finish with a bonfire, dessert, and of course s'mores with homemade marshmallows!
Food & Drinks Available for Purchase
Cornwall
Sunday, August 8th & Sunday, August 15th, 10:00am - 4:00pm
Bread Loaf View Farm will swing the sugarhouse doors open once again to welcome guests. Visit during Vermont Open Farm Week for Ice Cream Sundays (August 8th & 15th) and get the complete sugarhouse experience!
Bread Loaf View has a new self-guided "Sugarwoods Trail" where you'll discover what makes maple unique in nature, and view the assorted ecosystem features of their forest. And a visit to the farm is not complete without browsing through the ever-changing Maple Museum, curated and presented by Chuck Hermann. Find out how Vermont's time honored maple harvesting practices came about and how little some have actually changed.
Start or finish your stay with a classic Vermont ice cream sundae. The farm will be serving up vanilla ice cream drizzled with maple syrup or some good old-fashioned homemade maple caramel to create sweet memories of Vermont Open Farm Week!
Tunbridge
Sunday, August 8th, 12:00pm - 4:00pm
Celebrate community and learn about Flying Dog Farm and the new White River Land Collaborative at this special Open Farm Week event! This celebration for all ages will include live music, local food and beverages for sale, guided farm tours, demonstrations and information tables, historic information including from a local Abenaki presenter, and kids' activities. You can also head up the hill for a short meadow hike and views of the valley.
Hubbardton
Thursday, August 12th - Saturday, August 14th, 11:00am - 7:00pm
Come take in the beauty of the Taconic Mountains, and this historic 210 year old farm built around 1810. Built by one of the Hubbard family members, it is one of the original homesteads in what is now known as Hubbardton. The walk will take you through Frog Hollow Farm's 45 acres of fields and pastures on the farm, sharing some of the history and what's being done to restore the buildings and the land. See the sheep and cows in the pasture, the chickens and goats roaming the farm, and walk through the fields growing heirloom produce.
The hike will take you to one of the farmers' favorite spots on the farm: the 100 year old orchard. Here you can take in the incredible views of the mountains and nearby Lake Bomoseen while you enjoy an optional picnic that can be purchased and picked up prior to your hike. Picnic lunches will include everything you need for a lawn picnic, prepared by Frog Hollow Farms owner & executive chef - just bring your own blanket.
Hardwick
Friday, August 13th, 3:00pm - 6:00pm
Head to Atkins Field from 3:00pm - 6:00pm on Friday, August 13th for an afternoon of summer fun to celebrate Open Farm Week and our agricultural community. Enjoy great food, live music, and activities for kids and adults. See baby goats, live oxen and artisan craft demonstrations, and learn how black ash baskets are made. Shop the Hardwick Farmers Market and taste test heritage tomato varieties to vote for your favorite.
In addition to offerings by the weekly market vendors, signature cocktails by Barr Hill in commemorative ceramic mugs and grilled cheese sandwiches from Jasper Hill Farm will be available for purchase. A raffle of local farm and food products will round out the event and it all supports the Center for an Agricultural Economy and their dedication to a thriving local agricultural community.
Grand Isle
Saturday, August 14th
You're invited to Ellison Estate Vineyard during Vermont Open Farm Week to meet the farmers and winemakers and explore the stunning 50-acre farm on Lake Champlain with a self-guided tour - maps will be provided. Afterwards, join for a wine tasting and check out their new tasting room on site! Last year for farm week, they had not yet released their wines, but this year, there is wine! Ellison Estate can't wait to share what they have been up to in the last year!
Westfield
Sunday, August 15th, 11:00am - 4:00pm
Stop in to Butterworks Farm to meet the farmers and cows, tour the farm, sample products, and indulge in one of their fresh and famous Butterworks smoothies!
Tastes & Samples
Free, by donation, or included in the admission fee.
Craftsbury
Monday, August 9th & Wednesday, August 11th, 3:00pm
Experience a small scale no-till production farm first hand. Breadseed Farm's market garden focuses on regenerative practices and soil health. They'll be giving farm tours, offering tastes of crops in the field, and demoing their favorite tool - the broadfork!
Windsor
Monday, August 9th - Friday, August 13th, 10:00am - 5:00pm
Blake Hill Preserves is known for fine our preserve making incorporating locally grown and harvested produce. Stop by the shop to enjoy a special daily talk, tasting, and promo.
Shelburne
Wednesday, August 11th, 4:00pm & Sunday, August 15th, 2:00pm
You're invited to take a tour of the Farm Craft VT herb garden and apiary, where the owner of Rebecca Lindenmeyr will describe each herb grown and its uses, and the process of harvesting, drying, and distilling herbs for their essential oils - and how they are incorporated into products. Guests will have the opportunity to smell each plant and sample the products that are made with it. Rebecca will also open one of the hives and pass out samples of the fresh honey inside and discuss organic beekeeping and what it means to be a Bee Friendly Farm certified by the Pollinator Partnership.
South Burlington
Wednesday, August 11th, 4:00pm - 6:00pm
Join Common Roots Farm at South Village for a guided tour for Vermont Open Farm Week! It will include farm fresh tastings prepared by the Common Roots chef, an Abenaki story at the Seven Sisters Garden, a discussion on pollinators with the beekeeper, samples from local vendors, and much more!
Cambridge
Wednesday, August 11th, 10:00am - 1:00pm
Swarm together starting at 10:00am for an insect scavenger hunt at The Farm Between, followed by bug-themed arts and crafts activities at 11:00am! Limited supplies of insect nets, magnifying glasses, and art supplies will be available for use, but feel free to bring your own, as well.
For a healthy and delicious snack, try some farm-made jams, crafted with berries grown right at The Farm Between! Homemade bread (including a gluten-free option) will be available to accompany the spreads, along with freshly-made beverages. The event will run from 10:00am - 1:00pm and is open to all ages and experience levels. The Farm Between's nursery, where you can find pollinator-friendly native and fruit plants, will be open from 9:00am - 3:00pm.
Northfield Falls
Thursday, August 12th, 10:00am - 12:00pm & 1:00pm - 3:00pm, Sunday, August 15th, 10:00am - 12:00pm
Visit Lightfoot Farm for a FREE tour of the fruit, berry, and nut orchard, herby drying greenhouse, flower drying barn, and herb and flower beds. There will also be time for those who are interested to check out the maple barn and two-acre maple operation. Farmer Carol will demonstrate how the herbs are harvested and dried, and kids will have the opportunity to touch and smell plant samples (recommended for kids over the age of 5). Be sure to dress appropriately for the weather.
Lightfoot Farm's delicious Taste of Summer iced tea and other refreshments will be available.
Sutton
Thursday, August 12th & Friday, August 13th, 12:00pm - 6:00pm, Saturday, August 14th & Sunday, August 15th, 10:00am - 6:00pm
Take a multi-farm dairy tour and enjoy Kingdom Corn Maze during Vermont Open Farm Week!
First, check in at Kingdom Corn Maze and then you'll be off to meet your farm tour guide at Don-Sim Farm (founded by Don Simpson, and still owned by him and his daughter, Karla Barnet, and son-in-law, Mark Barnet) to start your tour. Visit the barn and check out the grounds, cows, calves, chickens, pigs, sugarhouse, and apple orchard! Next, you'll follow your farm tour guide up to Simpson Farm (a farm owned by Don's grandson, Ryan) to see cows milking in a rotary parlor, a tour of the milk cow barns, and calf barn. Both farms are located within a half mile from the Kingdom Corn Maze. Special for Vermont Open Farm Week: get free ice cream with every tour at Kingdom Corn Maze.
Randolph Center
Friday, August 13th, 2:00pm - 7:00pm
Visit Silloway Maple on Friday during Vermont Open Farm Week and explore Vermont maple! Enjoy a sugarhouse tour, taste free samples of the four maple syrup grades, take a self-guided hike through the sugarwoods, and have a maple creemee! They'll be offering hayrides at the top of each hour, too!
Putney
Saturday, August 14th
Have you ever experienced sugar on snow?! Don't miss this Vermont tradition! Taste Morse Brook Farm's delicious syrup and enjoy a cool treat on a hot day in honor of Vermont Open Farm Week!
Windsor
Saturday, August 14th, 1:00pm - 5:00pm
Celebrate the Vermont growing season with the bounty of Blake Hill Preserves! Stop by the Specialty Preserves Shop for a taste of jam via sampling stations that feature locally grown and harvested ingredients. Pair these preserves with delicious creations crafted by other Vermont makers featuring locally harvested goods! Check out the other great makers of Artisan Park, as some will even be featuring Blake Hill inspired menus as part of the celebration.
The first 200 visitors to the event will get goodie bags! And one giveaway winner will receive a fantastic bundle of artisan goodies crafted by Vermont makers.
Danville
Sunday, August 15th, 12:00pm - 6:00pm
Have you ever toured a micro dairy? Meet the cows and see how Sunday Bell's milk is produced. Sample their fresh raw milk with a warm cookie and experience one of Vermont's quintessential foods for yourself.
Bring Your Own Picnic
Plainfield
Tuesday, August 10th, 11:00am - 2:00pm
Bring a blanket and a lunch and enjoy a picnic adjacent to the pasture of the oldest registered fold of Highland Cattle in the United States. Gaze out at the Worcester Range and beyond to the Adirondacks, enjoying one of the most picturesque views in Vermont. Comb a Highland cow or calf and discover how peaceful communing with this heritage breed can be. Greenfield Highland's 100% grass-fed and finished beef can be purchased at the Plainfield farm.
Montpelier
Sunday, August 15th, 5:30pm - 8:30pm
Sunsets at Anderbell Acres never disappoint. Bring a picnic dinner, blanket or chairs and enjoy the wild fields and mountain view (free). Gather an organic flower bouquet to take home for $20.
To see a full list of Vermont Open Farm Week events, visit diginvt.com/vtopenfarm.
Photo: Sandiwood Farm
Funding for Open Farm Week was made possible by the U.S. Department of Agriculture's (USDA) Agricultural Marketing Service through grant
AM190100XXXXG100 . Its contents are solely the responsibility of the authors and do not necessarily represent the official views of the USDA.